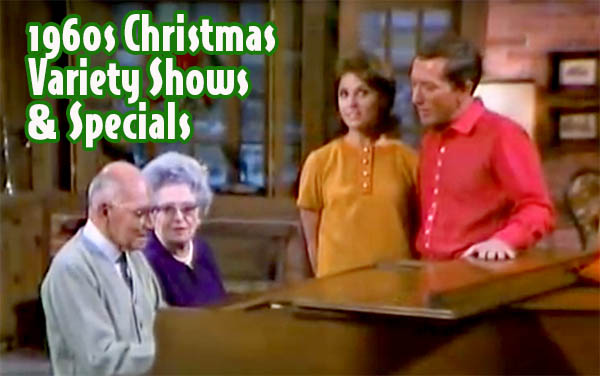 1960s Holiday Variety Shows and Specials
Christmastime moments from those great musical variety shows of the 1960s...
Perhaps the greatest Christmas 'special' of the 1960s was actually just another incredible weekly episode of The Judy Garland Show in 1963. With guests tennis star Tracy Everitt, crooners Jack Jones and Mel Torme, along with Judy's kids Liza Minelli, Lorna Luft, and Joey Luft. When Judy sings 'Have Yourself A Merry Little Christmas' it may break your heart a little.


Rat Packers Dean Martin and Frank Sinatra sing and clown their way through an hour of holiday cheer in 1967. Doesn't get any better than this!

Airing Dec 21, 1968, this is the Hollywood Palace Christmas program hosted by Bing and Kathryn Crosby, with their children Harry, Mary Frances and Nathaniel.
The 1960s was all about the stars celebrating with their actual families. Bing Crosby is one of those vocalists most Americans only hear at Christmastime despite being perhaps the greatest crooner in American history.
Andy Williams' Christmas programs were the ones I enjoyed most as a young person. Andy's ice cream smooth tenor vocals made so many holiday tunes classics that will be enjoyed forever.
This was his 1966 Christmas production for his weekly series on NBC - with the help of his mother, father, and wife, French songstress Claudine Longet. Also on hand, Andy's singing siblings the Williams Brothers and showbiz legends the Osmond Brothers. Now that's a special loaded with families!
Andy sings two of the carols he's best known for: 'The Most Wonderful Time of the Year' and 'We Need a Little Christmas'.
Talk about the other side of the rainbow. Here's Judy Garland around Christmastime (December 17) on the Johnny Carson Tonight Show, just 4 years after her electrifying 1964 Christmas episode.
A musical segment from the Glen Campbell Goodtime Hour 1969 featuring (surprise!) his wife and kids lounging around while Glen sings 'No Place Like Home.'




1960s Holiday Variety
Shows and Specials
Hot Wheels, Superballs, Frisbees, Spirograph, Little Chatty Kathy, E-Z-Bake Oven, GI Joe, Rock 'em Sock 'em Robots, Barrel of Monkeys, Creepy Crawlers, Johnny Seven OMA rifle, and Etch-A-Sketch were all hot gifts for kids at Christmas in the 1960s.
Please consider a donation
so we can continue this work!