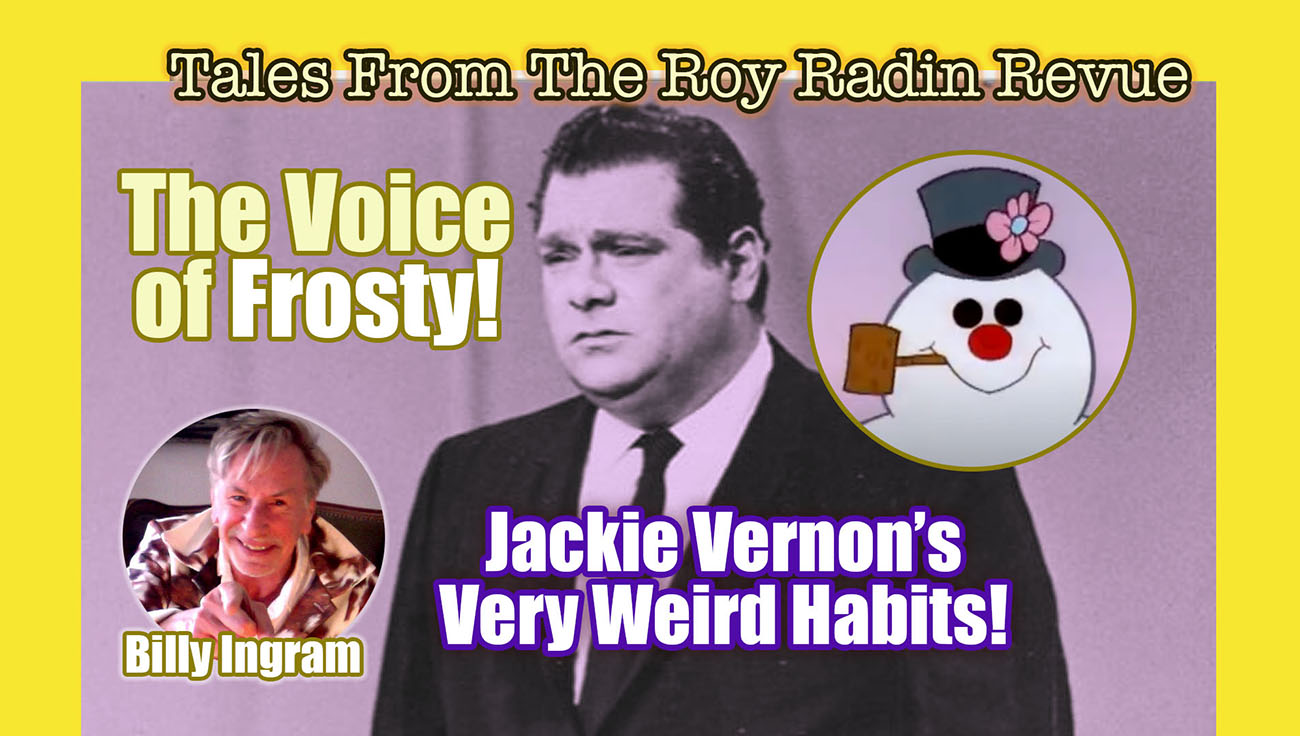 by Billy Ingram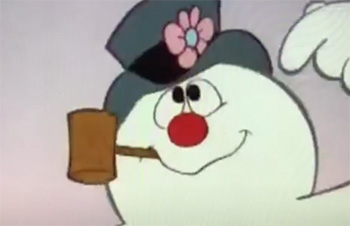 Jackie Vernon was a popular comedy guest star on TV variety and talk shows and nightclubs around the country and Las Vegas from the 1950s into the '70s. You might know him best as the voice of Frosty the Snowman in the popular family friendly Rankin-Bass television special from 1969 and its 1976 sequel 'Frosty's Winter Wonderland.'
A very unique comedian who was most famous for his hilarious vacation slideshow bits, a typical joke of Vernon's: "We lived in a small town built on a one-way street. If you miss it you have to drive all the way around the world to get back."

Orchestra leader Tim Fowlar reveals that, while out on the Roy Radin Revue tour, Jackie Vernon had two weird habits...
"Oh, Jackie. Jackie was a sweetheart. Jackie was the best. He was a maniac. He had two weird things going for him that nobody knows about. One was he had a luggage fetish. He'd go out and he'd buy luggage. He'd start out… everybody had one piece of luggage, and he'd keep coming back and going to Carl the bus driver and go, 'Hey, Carl, put this on the bus.' And he'd find in the newspaper… he'd find a sale on luggage and he'd go buy it. And so every couple of weeks, Carl would have to take it a few minutes and go somewhere and ship the luggage home for him. Otherwise, it took up too much room on the bus. There was nothing in it. He just bought all this luggage.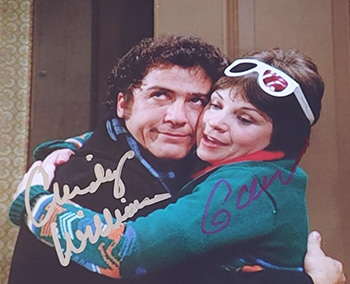 "The other thing was, he was a kleptomaniac. And I think we were in Johnstown, New York and Eddie Mekka, and Jackie comes up, 'Hey Eddie, I'm going to go down to this store. Come on.' So they go walking down to a store and they're walking around, and Jackie keeps bumping into Eddie. And it was kind of chilly at that time. We were doing one of the fall tours, so they both had jackets on, and they'd be walking through the store, and Jackie keep bumping into Eddie.
"And he'd finally looked at Jackie and said, 'what the hell are you doing?' And he says, 'no, nothing. I said I'm sorry, I keep bumping into you.' So it turns out he walks out, they finally get out of the store, and as they get back to the hotel, Jackie said, 'Hey, come here for a minute, Eddie.' So they go over, Eddie starts reaching Eddie's pockets and pulling all this stuff out that he had shoved in his pocket, and Eddie's going, 'what the hell did you do?'
"Everybody loved him, everybody absolutely adored Jackie. He was just too funny. But he had this thing with Tiny Tim. He loved picking on Tiny, because he always sat in the bus right behind Tiny and Tiny had this thing about venereal diseases, and he didn't believe in having sex out of marriage. And then once you got married, you only had sex to procreate. And that was it.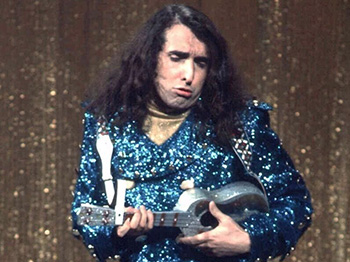 "Jackie was always giving him a bad time about it, saying, oh, all these girls are falling all over you, Tiny. What's the matter with you? And he'd actually pull out a bible that he carried, and he had pictures that he cut out of newspapers and magazines and stuff about these grotesque deformities from venereal disease where gonorrhea or syphilis or something had gone rampant and just grotesque, grotesque things.
"And Jackie, of course, would laugh at him. And then when we went to those buffets after the shows, Tiny never ate in public. He would take his bag or go and get a bag of food, take stuff from the buffet, and then go back on the bus. And then when he got back to the hotel, he'd eat. And we could never figure out what the story was if he ate with his feet or what the hell he does. But we could never quite figure out what the catch was."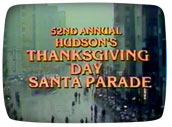 TV on DVD / / TV Shows on DVD Reviews
Holiday Specials on DVD / / TV Commercials on DVD