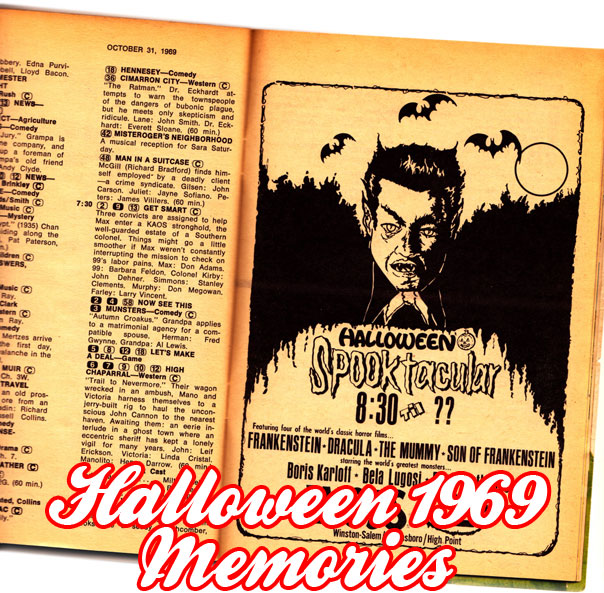 by Billy Ingram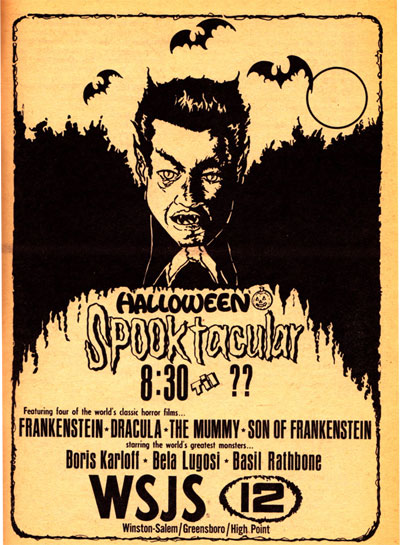 My favorite memory of Halloween came in 1969. I was 13 at the time, a little old for trick or treat but I was a small skinny kid so I could get away with it. I crunched the dry leaves in neighborhoods far away that I'd never walked through before and brought home a HUGE stash of candy that lasted the month, I'm sure.
But the real treat was at 8:30, after the sun had set - the first Halloween Spooktacular on WSJS (now WXII) channel 12 in Winston Salem, NC. On this night in 1969 they played a collection of the best Universal horror movies - Frankenstein, Dracula, The Mummy and Son of Frankenstein.
I had only ever seen The Mummy, the weakest of the quartet for me, so I sat glued to the screen, my younger brother and sister were appropriately terrified.
I assume most people reading this have seen the first three films, but Son of Frankenstein is surprisingly good with Boris Karloff back as the monster, Basil Rathbone in the role of the mad scientist's son, and Bela Lugosi as Igor. The weirdo moderne sets are a sight to behold.
For Halloween 1970 WSJS once again returned to the Universal well with Bride of Frankenstein, Dracula's Daughter, The Invisible Man and The Wolf Man, another great lineup of chillers. Bride of Frankenstein is a classic of the genre for good reasons, Dracula's Daughter is more obscure but it's beautifully executed on every level with overt (to the modern viewer) Lesbian undertones.
In 1971, if I'm not mistaken, the lineup included The Mummy's Curse, Frankenstein Meets The Wolf Man, The Invisible Woman, and maybe another weak sequel. There may have been one more Spooktacular in 1972 where WSJS went back to the original films but I can't be sure. It was a practice that died out on WSJS as the seventies unfolded, interrupting an entire night of primetime fare might not have been worth it any longer.