'Twas the Night Before Christmas 1947
by Billy Ingram
Greensboro, NC's beloved Santa Claus to generations of youngsters beginning in the early 1930s, Calvin "Moon" Wyrick, was one of the most respected firefighters in the nation, his beaming face seen in 1950s magazine ads endorsing Akron Brass and Scott Air-Paks, the latest in firefighting technology.
When the city hired their first professional smoke eaters in 1926 Moon Wyrick was with that freshman class. Elected president of the Interna- tional Association of Fire ghters he was, by all accounts, a brilliant but strict by-the-book tactician who served as Greensboro Fire Department Chief from 1946-1969. Unless they were taming ames, his highly disciplined troops wore long sleeve white shirts and black ties while on duty.
Moon Wyrick donned a more colorful uniform between Thanksgiving and Boxing Day, appearing as Santa Claus in the yearly Holiday Jubilee Parades. Visiting children's wards, retirement homes, orphanages, private parties for Jefferson Standard and Southern Life, Jaycees events; arriving atop one of his trucks, by helicopter, airplane, scooter, the hockey team pulling him around the ice on a sled... every possible way it seemed except via chimney.
A tireless ambassador of yuletide cheer for almost forty years, whenever Wyrick was asked to look back on those times he would inevitably flashback the startling events of Christmas Eve, 1947.
Have Yourself a Scary Little Christmas
The city is adjusting to a new normal now that the war is over. Prosperity reigns, 1947 holiday sales are breaking all records, shoppers filling their arms with stockings, shoes, bicycles, metal toy cars (and the real thing for dad). Once precious rationed goods are now in plentiful supply for the rst time in five years. With soldiers, sailors and Marines reuniting with their families, holiday parties are the grandest anyone can remember... and the sweetest. While shops traditionally call it quits at 5:30 on Christmas Eve a few department stores are experimenting with staying open until the unheard of hour of 9:00pm.
1947 marks Moon Wyrick's twenty-first Christmas season at Fire Station Engine Company No. 1 on Greene Street, his second as Chief. Thirty-five years earlier, as a young lad in short pants, Calvin was adopted as No. 1's mascot after jumping aboard the city's only horseless truck then hanging on for dear life as folks along the route cheered and laughed. He assisted on his first fire at age six, around the time our all-volunteer GFD nicknamed him "Moon," derived from "Half-Moon," the shape of his mom's skillet apple pies he loved so much.
Wyrick's men are busy just before sunset on Christmas Eve 1947, making a joyful noise parcelling groceries bought with proceeds from the Empty Stocking Fund, cars speeding out with bundles to needy homes. Following Moon's first full year as Chief there have been major improvements system-wide, a result of his aggressive, you might even say confrontational style. If something needs doing, by God, he can make it happen.
Both an immovable object and an unstoppable force, it's what makes him such a damn fine firefighter... and what the Chief desires most this year is A-1 accreditation for the Greensboro Fire Department. A successful bond issue recently netted them two 1,000 and one 750 gallon per minute Pumpers along with a couple of Ladder Trucks, one an eighty-five foot, all-metal Arial. Construction has been completed on new quarters for Engines No. 3 and No. 6; two-way radios are being installed in all trucks, rescue and administration vehicles.
Earlier in the week, despite repeated pleas not to go, Moon paid a visit as Santa to the makeshift polio triage unit operating out of ORD. "If God wanted me to have Polio then I was goin' to get it whether I went in there or not," was his attitude. Those one hundred twenty sick youngsters housed in abandoned wooden barracks left him deeply affected, it was more than he could stomach. On monday morning he'll get the ball rolling on a permanent hospital, put together the right folks to get it done. He'll enlist Rich Preyer to handle the money, Ed Loewenstein will agree to draw up the plans. If Wyrick has a weakness it's children in despair, known to sob
uncontrollably if a child suffered on his watch. Only at home, of course. Never so the men could see.
A six foot tall radio antennae mounted to the rear fender of his customized Pontiac Chieftain whips in the wind as Moon pulls out of the station to make the rounds, he'll be touching base with each and every re ghter on duty to thank them personally for their service on Christmas Eve. There are seven stations now, when there were just two companies competition could be erce to be rst on the scene. The boys coming in second would, on occasion, get pretty heated about it, turning their hoses on the guys trying to extinguish the re. Good times. A lot to look back on and look forward to. But Moon Wyrick can't possibly envision the headline in tomorrow's newspaper—"Maniacal Killer Shoots Self After Slaying Three And Injuring Three"—that someone very familiar to him would be that maniac or that the unthinkable horror will culminate in gun re on the very spot he was standing just moments ago.
7:00pm Wednesday, December 24, 1947
Alone in a house at the edge of town on Route 2, an avenue some are taking to calling 'Battleground,' recently red auto mechanic Joseph DeSantis is in the process of removing his belongings. Days ago Sheriff John Waters served the sixty-year old with eviction papers on behalf of his landlord David Martin, who happens to live next door. Cursing the Martin family for making his life miserable, DeSantis' rage is manifesting itself in an acute paranoia. In his mind it's the Martin's fault he doesn't have a home for Christmas... what more would they do to destroy him, are they plotting to kill him and his wife?
Spying David Martin's twenty-seven year old son Charles sauntering across his front lawn DeSantis confronts the young man, ordering him inside at gunpoint. As if no longer in control of his actions, perhaps hoping to cir- cumvent the inevitable, he bargains with Charles, "I'll spare your life but you have to tie up my feet and hands." Martin refuses this bizarre request, instead lunging for the weapon. DeSantis, a bull of a man, short but stocky, pistol whips David Martin mercilessly about the head and upper body.
Breaking away, Martin hides in a back room as his assailant calls out, "I'm going to kill every member of your family!" Waiting for Joe DeSantis to leave the premises Charles Martin retreats to a gas station on the corner in search of a rearm, then to the Brookbank residence a few doors down. Meanwhile, shotgun in one hand and a .38 caliber automatic gripped in the other, Joe Desantis marches methodically to the Martin home next door.
Peering into the kitchen, the shadowy figure first notices Mrs. Ollie Martin, for whom this Christmastime is so very merry. With sugar and flour shortages a thing of the past, three multi-layer cakes sit cooling on the piano. After some last minute shopping for her two baby grandchildren Mrs. Martin is overall quite happy with the carefully wrapped packages she's placed under the tree. She's ironing her husband's Santa Claus suit for a big to-do in the morning when, from outside the window, DeSantis unloads his shotgun twice into David Martin who's relaxing nearby in his rocking chair. Two more rounds tear through Martin's daughter-in-law Madella as she tries to stand. Attempting to make it out of the home, Ollie Martin cries out when the gunman appears in her path, pumping two buckshot charges through the glass front door. She falls backward into the gaily decorated entrance hall spattered now in blood and shards.
Upon hearing gun reports and a scream Charles Martin bolts into the back of his family home to find his father and wife dead, his mother very nearly so. In a state of panic on the phone to police he doesn't spot the killer fleeing to the other side of a wooded parkway across Route 2 where, fifteen minutes later, Desantis rings the doorbell of a newly built two-story brick dwelling at 2412 Lawndale Drive.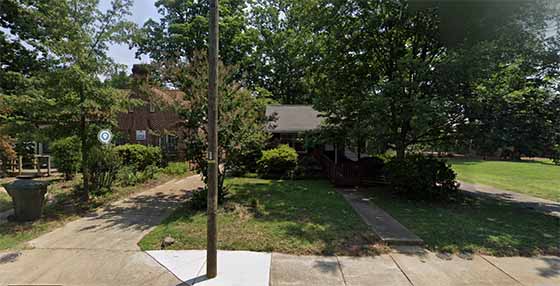 (You can trace the killer's path by turning east from Battleground onto Markland Drive towards Lawndale, into the Lawndale Crossing Shopping Center with Golden Corral on the right, Panera on the left. Before being developed, this was all wooded area.)
Determined to spend a quiet Christmas Eve at home, David A. Williams opens his door to a man with a foreign accent brandishing a handgun with a rifle at the ready. The stranger demands, "I want you to take me to police headquarters." Williams tries to explain that he doesn't drive, that he has no license, but the armed man insists, "Yes. Yes, you can. I just killed two men and I don't want to have to kill you."
DeSantis leads the homeowner into the den where his daughter-in-law Evelyn Williams frantically digs through her purse, unable locate the car keys. She suggests, "Let's go next door to the Seawell's and see if they can drive you." Rather than notify law enforcement about being accosted by an armed man who just confessed to double homicide, Mr. Williams goes back to reading the Saturday Evening Post while twenty-year old Evelyn and Joe DeSantis cut across a vacant lot (there's a house there now) to knock at the front door of 2408 Lawndale (which is now a vacant lot).
A traveling mechanic for Standard Oil, Burt Seawell is none too happy to see his neighbor Evelyn standing alongside a deeply disturbed two hundred pound bruiser pointing a handgun mere inches from his face.
To keep the peace Burt agrees to drop DeSantis off at the police station if he first relinquishes the pistol. Responding to the commotion Pearl Seawell, two-year old daughter in tow, joins her husband on the front porch to demand Desantis stop swearing and put away his weapons before anybody does anything. Blithely unaware how tenuous her situation is, a shouting match breaks out between the two.
DeSantis raises his handgun to Mrs. Seawell's head just as Burt tackles him to the ground. In the scuffle the shotgun discharges, scattershot pelts Evelyn Williams across her face. Gaining the upper hand, DeSantis empties his .38 into Burt Seawell, killing him with the fifth and last slug. Evelyn Williams, Pearl Seawell and the toddler take off to the back of the house to call an ambulance. Hearing gunshots, rushing towards the carnage, David Williams spies DeSantis further down Lawndale near Cornwallis, lumbering towards the brightly lit center of town.
Chief of Police L. L. Jarvis, that very evening celebrating his 28th anniversary with the department, runs from his home across the street to discover Mr. Seawell with multiple entrance wounds lying dead on top of the shotgun. Appraised of two brutal, interconnected crime scenes in his own neighborhood Jarvis takes control of the investigation, dispatching every on and off-duty of cer to the streets, enlisting the Highway Patrol to choke off roads leading out of town.
Word of the massacre and ensuing manhunt spreads by word of mouth long before radio stations begin preempting primetime network feeds and non-stop Christmas carols with breathless news bulletins alerting the citizenry that a murderous psychopath is on the loose, the perpetrator reportedly seen last in Sunset Hills.
Authorities instruct folks to remain indoors and turn on all exterior lighting. The GPD is inundated with thousands of phone calls, so many it overwhelms the switchboard trunk lines, hindering communication with officers in the field. Prowl cars combed neighborhoods with mounted spotlights, directing beams into shadows and shrubs while police bloodhounds bay into the night. A terrified populace seized in fear await some sort of resolution, four hours after the Martin and Seawell attacks there was still no trace of Greensboro's most wanted.
Who could sleep not knowing if the nocturnal visitor that night might be a homicidal lunatic in place of Jolly Old St. Nick?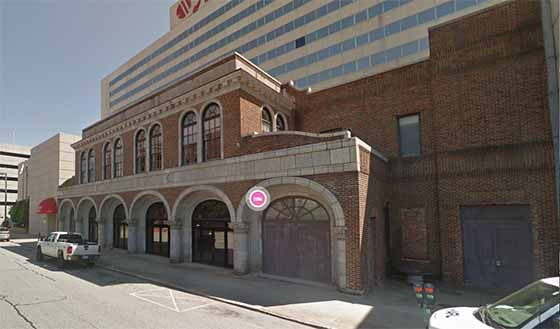 'Round Midnight at Engine No. 1
When three overnighters congregating around a radio in the main area of the Central Fire Station at 318 N. Greene Street hear the suspect's name read by a newsman they're stunned, shocked into disbelief. Joseph DeSantis? Frequent hanger-on at their headquarters for years, that Joe DeSantis? Each firefighter shares with the others some instance in the near past causing them to question DeSantis' volatility or general sanity — excited chatter that ends abruptly at 11:25 when who should walk into the firehouse but old Joe himself, greeting the assembled with a hearty, "Merry Christmas!"
Everyone momentarily freezes, DeSantis has a pistol pointed at his forehead shouting, "I'm going to kill myself!" Pleading for their friend to reconsider, a worker steals away to alert police that the fugitive they're searching so desperately for is practically right under their noses.
With sirens wailing back towards downtown Trooper William Burch slips in through a side door, service revolver drawn. The patrolman sees DeSantis leaning on one of the rigs facing the entrance, a .38 resting at his side. As Burch approaches the gunman raises the rearm to his temple. They jostle as the madman's trigger nger tightens; the of cer recoils, his face scorched by the muzzle ash. A bullet enters DeSantis' skull exiting through the top, brain matter mists across the pristine, glossy-coated concrete floor.
Chief Wyrick raced to Company No. 1 to assess the situation just as DeSantis is wheeled into Wesley Long Emergency under heavy guard. Judged to be in serious but not fatal condition, investigators are present when he awakens to take down a detailed confession.
The auto worker expresses regret over killing Burt Seawell before asking whether his former landlord David Martin is dead. When officers tell him yes, the killer raises his right hand to exclaim, "Thank God for that!"
Initial diagnosis not withstanding, after a fretful eight hours DeSantis dies from his head wound early Christmas day. Charles Martin and his mother lay hospitalized at Piedmont Memorial, she in grave condition. Funeral arrangements are being made for the three lives taken, two young children will have to adjust to losing their mother and grandfather on what was anticipated to be the happiest day of all.
It begins to rain.
Around 10:30 that morning the temperature drops nine degrees in just a few minutes, turning rain to sleet then sleet to snow. By 1:45, when the Carolina Theater opens its doors to patrons there to watch 'Good News,' a newsreel and a Mickey Mouse cartoon, everything is covered with a three inch white frosting. Sunset Hills' kids are juicing their new sleds by applying steel wool, olive oil and lard to the skids before maneuvering West End Street's winding path from Mayflower down to College Park. Snow flakes continue falling at a leisurely pace well into the night... with that the most terrifying Christmas on record would become, for most anyway, purely magical.
Moon Wyrick retired from the Greensboro Fire Department in 1969 and from his duties as Santa that same year after a teenager hurled a rock at him as he was waving from the parade oat. He unleashed some decidedly unsaintly words on that punk and, by extension, all the little kids in the vicinity. Moon decided he'd had enough after that, never again appearing as his bearded alter ego.
"He couldn't imagine Santy Claus deserving that treatment," daughter Anne Wyrick Olson told the Greensboro Record. "It hurt his feelings so bad, it just about killed him."