MORE CLASSIC TV
CHRISTMAS MOMENTS!
Another TVparty by YOU, the TV viewer!
1960s & 1970s Christmas TV Shows
Kids in the 1950s were enthralled with a puppet show airing weekdays called Howdy Doody. Howdy, Clarabelle the Clown, and Buffalo Bob celebrated Christmas with the kiddies back in 1957:
---
In 1961 The Price Is Right was a highly rated nighttime program. This episode aired on Christmas day of that year.
---
In 1968 Bing Crosby's annual Christmas special aired as an episode of The Hollywood Palace with guests the Lennon Sisters, another musical family that 1960s audiences embraced. Want to hear a wonderful version of Der Bingle's 'White Christmas'? It's here in this medley of Bing's most beloved Christmas tunes. Glen Campbell and Crosby's family also appeared on this show, a chance to show off his talentless kids. Those Crosby boys were lousy singers!
Here's the 1967 Hollywood Palace starring Bing with more classic Christmas melodies, this time with the King Family, another musical collection of relatives that were popular back in the day. You'll also see the original commercials!
---
A fixture on NBC during the Holidays was The Bob Hope Christmas Special - here's a clip from one of his 1970's outings. Lots of pretty girls on stage, natch! It didn't get any cornier than this but this was what families were used to watching together.
---
A Holiday commercial series that led to big sales for Polaroid in the Seventies featured James Garner ('Rockford Files') and Mariette Hartley as a bickering couple. They were very convincing together, Hartley used to wear a T-shirt that read: "Not James Garner's wife!" They filmed 250 Polaroid commercials before finally ending their battle of the sexes in the early-Eighties. (They were the 1970's equivalent to those Taster's Choice ads in the 1990s and the Radio Shack spots with Teri Hatcher and Howie Long in 2000. Remember those?)
This is one of the very best Polaroid spots the two actors did, from 1979:
---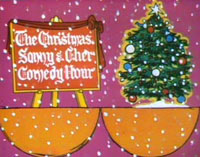 Sonny & Cher did two Christmas episodes of their variety series - once before they were divorced and one after. That was weird!
But it sure was fun. On The Sonny & Cher Comedy Hour (the first series) there was lots of comedy and musical numbers centered around chilly snowy scenery with traditional garb from Dickensian days - like a Holiday card come to life.

NOW YOU CAN OWN THE SONNY AND CHER CHRISTMAS SHOWS ON DVD! Order now!
After a two year break, the post-divorce Sonny & Cher Show Christmas episode was a glitzier affair and more subdued but still loads of fun and tinsel - and a nice ad lib from Cher in the monologue.
---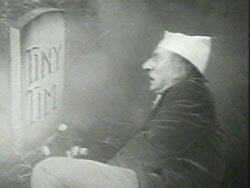 Rare clips from Christmas past:
(Embeded links are Real Player format)
Highlights from the acclaimed 1957 broadcast of A Christmas Carol starring Fredrick Marsh as Scrooge. Seen as the Ghost of Christmas Past was Basil Rathbone.

Edd "Kookie" Byrnes from 77 Sunset Strip (1958-1963) was such a huge teen idol he even had several hit records. Here's his hilarious Christmas release from 1959, a hip rendition of "The Night Before Christmas" called Yulesville.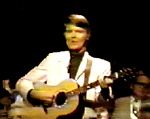 Here is a clip from the Glen Campbell Goodtime Hour (1969-1972) Christmas episode from 1969. It has the familiar opening with the band and Glen standing up in the audience ("Hi everybody, I'm Glen Campbell!") to sing the opening theme - this time with a holiday twist.
I really miss those great afternoon variety shows like 'Merv' and 'The Mike Douglas Show.' Here is a brief holiday audio clip from The Merv Griffin Show circa 1974 with Henny Youngman doing his stand up act with Steve Allen and Merv on the sidelines.

Pat Paulsen / Christmas 1976
A very funny monologue from the recently deceased comedic genius (and perpetual political candidate) Pat Paulsen. It's topical political humor from 1976, so if you weren't alive at the time don't bother listening to this clip - you probably won't understand a thing he's talking about. It's a history lesson now! Think of Pat Paulsen as a precursor to the Daily Show's Jon Stewart.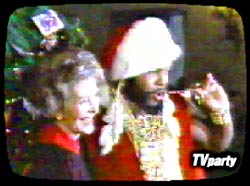 Who can forget Mr. T playing Santa for Nancy Reagan at the White House? A true '80's moment.
The Late Show with Joan Rivers / 1987
Pee-wee Herman made an appearance right after the holidays on this early FOX network talk show. He took the opportunity to show off some of the great Christmas gifts he got, including a Cher doll - which Joan Rivers didn't recognize until it was lying down!
McDonald's always unleashes a fresh bunch of holiday commercials each year, most are touching family portraits. Here's one of the best from 1976.

1986 Christmas Commercials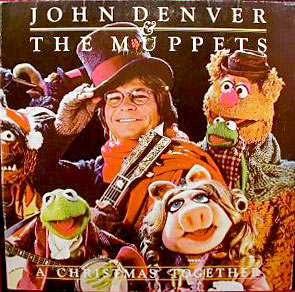 "One of my favorite TV Christmas specials that aired in the late 70's, was a John Denver show called
Rocky Mountain Christmas
. It had Steve Martin and Valerie Harper as guest stars and was filmed under a huge clear plastic dome set in the snow covered Rocky Mountains of Colorado.
"They had all kinds of green plants and butterflies inside the dome while outside it was cold and snowy. I had hoped that one of the video companies would release it after Denver's death, but it never happened."
- Rich P
---