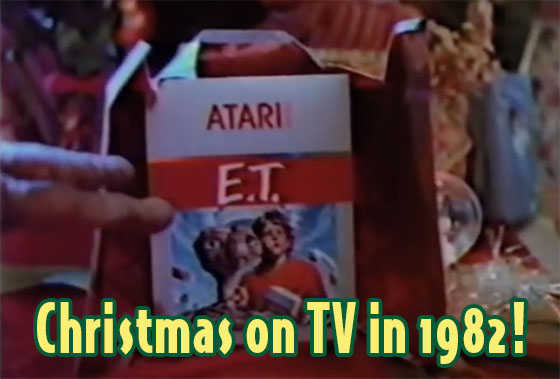 by Billy Ingram

Christmas memories are some of my cherished remembrances and 1982 was no exception. Travel with me back 40 years when our hearts were young and families were intact.

Christmastime Commercials 1982
The Atari ET game was one of the hottest toys this season. You'll once again (or for the first time) experience the excitement of the dawning of the video game and computer era with commercials for the Atari 5200 game system and the Commodore Vic 20 computer as well as: Barbie, Indiana Jones, Hot Wheels, Sears, Bell System, Playmobil, Pillsbury, GE, Enjoli and more.
Sears 1982 Christmas Holiday Season Computers & Games
Speaking of early desktop computers, this is raw footage of people sampling the latest in video games and computers at a local Sears store. Ms. Pac-Man debuted in 1982.
Manufactured by Atari, 40 years ago these were the most advanced home computers on the market. The Apple Macintosh didn't come along until two years later, introduced by a television commercial directed by Ridley Scott (Alien) entitled '1984' shown during Super Bowl XVIII on January 22, 1984.
Andy Williams Early New England Christmas 1982
Andy Williams' Christmas Specials were a yearly tradition on NBC during the 1960s & 70s but became less frequent after that. This 1982 song filled hour featuring Aileen Quinn, Dorothy Hamill, and James Galway was broadcast on CBS, it begins with Williams' signature Holiday tune 'Sleigh Ride' originally released on vinyl in 1965.
Perry Como's Christmas in Paris (1982)
Like Andy Williams, Perry Como was also a holiday fave in the 1960s and 70s with semi-yearly broadcasts, but during the 1980s Como's specials, always shot in some exotic locale, became even more popular, a new one each year.
Perry Como's first Christmas special was in 1960 as host of The Kraft Music Hall. Perry Como Comes To London was the first, they would eventually air over the next twenty-five years. Angry after ABC broadcast his 1987 special at 10:00pm, outside the 'Family Hour,' he moved over to PBS where his final Christmas special, Perry Como's Irish Christmas, was seen in 1994.
Johnny Cash: A Merry Memphis Christmas (1982)
With special guests Eddie Rabbit, the Mighty Clouds of Joy, and Crystal Gayle, this was Johnny Cash's 7th annual Christmas special, presented from Memphis, Tennessee. Aldo joining Johnny were June Carter Cash and Roseanne Cash.
Kodak Christmas 1982 TV commercial
Kodak always had heartwarming TV spots at Christmastime, back when they were the king of the camera business.