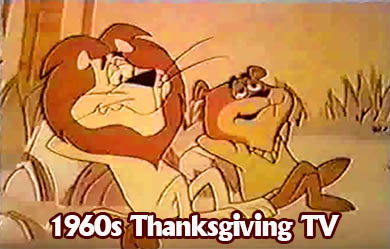 Thanksgiving Television in the 1960s
by Billy Ingram
It went down in sports history as the "Thanksgiving Day Massacre." The Detroit Lions up against the undefeated Green Bay Packers on Thanksgiving Day 1962. It wasn't supposed to go down like this... and yet!
Love That Bob was a peppy sitcom starring Bob Cummings, a likeable guy by TV standards. Look for Ann B. Davis as Schultzie, she later played housekeeper Alice on The Brady Bunch. But you knew that...
Here's an obscure program - Accidental Family from 1967. This NBC sitcom is filled with familiar faces from that television era. Starring Jerry Van Dyke as Jerry Webster, a widowed comedian who buys a farm in the San Fernando Valley to raise his son. Somehow he and the farm's manager, divorcée Sue Kramer (Lois Nettleton) who has a young daughter, get confused for husband and wife. Big bomb.
Freeman Godsen and Charles Correll, the men behind Amos 'n' Andy on both NBC and CBS, gave network TV another try in 1961, this time in animated form with Calvin and the Colonel for ABC. Basically, it's just Kingfish & Andy from their previous, too-controversial show, only this time they're portraying animal characters to avoid any hint of racial insensitivity. Who were they kidding?
Calvin and the Colonel flopped badly in primetime but aired on Saturday mornings for a year before entering syndication. It's not something I remember seeing on TV in the 1960s...
'Holiday Time at Disneyland', a 1962 episode of Walt Disney's Wonderful World of Color, a Sunday night TV staple on ABC in the fifties, then NBC beginning September 24, 1961.
Linus the Lionhearted ran from 1964-66 on CBS then 1966-69 on ABC. Here is the opening, closing and wrap-around segments for the Thanksgiving episode. This character appeared on Post Crispy Critter cereal boxes and commercials. Also seen: Sugar Bear from Frosted Sugar Smacks. Talk about tie-ins!
BONUS: Thanksgiving TV Shows / Thanksgiving Day Parade TV History / Thanksgiving TV Cartoon Specials of the 1970s /WPIX Thanksgiving Day TV Specials / Christmas TV Companion