A Christmas Carol
Review by John Stahl
Don't be miserly about seeing it
My reactions while watching the new extraordinary IMAX 3-D computer-animated version of "A Christmas Carol" included sadness that I was too young to see any version of what has become an epic story at theaters. Like most folks, I had only watched the decades old film versions and horribly dismal made-for-TV variations on television.
The good news is that, no matter how good most of the older versions are, this one is far better. Many aspects of it also seemed a bit truer to the original Charles Dickens story than other adaptations that I recall from childhood.
In fairness to the classic versions of "Carol," the technical advancements that made this incredible production possible where not even dreamed of in the days of those other films. The sequences that panned over London or had Scrooge flying across the countryside produced almost as much dizziness as I experienced on the Soarin ride at Epcot. I truly expected to hear Patrick Warburton begin narrating the film.
Another scene that brought a Disney attraction to mind was one in which Scrooge discovered an entire herd of ghosts hovering outside his house. These apparitions had the same appearance as the inhabitants of the Haunted Mansion but were far spookier.
This wizardry is only part of what makes this film so special. The truly expert direction of Robert "Back to the Future" Zemeckis is so great that he deserves an Oscar nomination and should bring Kanye West to the ceremony as a precaution against another director winning the award.
The film just looked wonderful with a perfect amount of lighting that ranged from depressing underlit, to eerily shadowy, to cheerfully bright.
Additionally, the 3D effects were used very well and not excessively. A sense that snow was falling in the theater was one of my favorites.
However, the lighting and effects were only part of the fantabulous job that Zemeckis did setting different moods for scenes and eliciting a countless variety of emotions in a 90-minute film. The depiction of the scene in which the knocker on the front door of Scrooge's house turned into Marley's face is an excellent example of this. Scrooge's double-take was hilarious and the next shot was horrifying enough to cause children nightmares.
Zemeckis also benefitted from an excellent cast. Jim Carrey put his rubber face and great impersonation of a cranky old man to good use as Scrooge and the three Christmas ghosts, the wonderfully creepy Gary Oldman played the beaten-down but still cheerful Bob Cratchit to a t, and Colin Firth did a great job conveying the cheerful nature of Scrooge's nephew Fred.
Firth also had the best line in the film when he remarked in response to Scrooge saying that Fred was too poor to be so happy about Christmas that being wealthy had not helped Scrooge enjoy Christmas.
I saw the film in an IMAX theater in a multiplex but think that seeing it in a larger IMAX theater will make a very special experience even better. The film truly is made to fill your entire field of vision and to have the best possible sound. It also justifies smashing the cell phone of any yahoo who texts during this masterpiece.
Anyone who wants to share their opinion about this film is encouraged to e-mail me at tvdvdguy@gmail.com.
---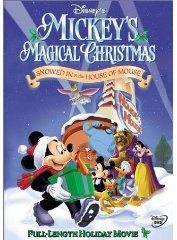 Mickey's Magical Christmas
All-star Disney special
The special "Mickey's Magical Christmas: Snowed in at the House of Mouse," which was released recently on DVD, is a true treat for Disney fans that offers a "The Love Boat" array of classic and modern Disney characters. It is also simply a really fun presentation with funny Disney cartoons.
"The House of Mouse" is a cartoon series that ran between 2001-2003. It was set in night club that Mickey Mouse, who also served as host, operated and from which he showed short Disney cartoons. The house band was the Quack Street Boys, which consisted of the three nephews of Donald Duck.
The audience consisted of a plethora of Disney characters from every era of the studio. Simon and Pumba of "The Lion King" interacted with Jiminy Cricket, Cinderella waited in line with the Aladdin gang, and the evil queen from "Snow White" hung out with other villains.
"Magical Christmas" involves Mickey, his crew, and the audience getting snowed into the club on Christmas Eve. Wanting to keep the Christmas spirit going, Mickey shows Christmas and winter-themed cartoons.
One of the shorter cartoons involves Donald and his nephews ice skating and competing in a snowman-building contest; the abominable snowman in the episode is a great character.
Another hilarious short cartoon has Mickey and his dog Pluto choosing the tree in which chipmunks Chip and Dale live as their Christmas tree. Hilarity and mayhem ensue when the 'munks enter Mickey's house in the tree. Unfortunately, they do not sing Christmas carols.
"Mickey's Christmas Carol," which was released separately on DVD earlier this year and which I have reviewed, is the centerpiece cartoon. This is a fun and short version of the Dickens classic starring classic Disney characters.
"Magical Christmas" offers the holiday present of the premiere episode of "House of Mouse." This amusing episode has Mickey et al dealing with the new owner of the club threatening to shut them down.
I also like the slightly dark and modern tone of the premiere episode. Mickey reminds audience members to not eat each other, and Jafar hypnotizes Daisy Duck into letting him in the club.
The other special features on the DVD are some sing-along videos of holiday songs.