by Billy Ingram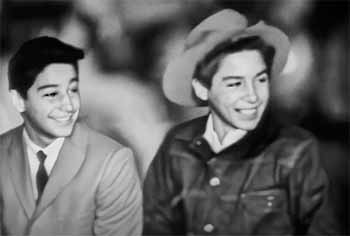 Hollywood's Santa Claus Lane Christmas Parade has been a Los Angeles holiday tradition (under one name or another) since 1828. This 1961 presentation was an all-star event broadcast on Thanksgiving Day over KTLA, Channel 5. The moderator is newsman Bill Welsh.
In 1961, western shows were all the rage on television so naturally the primary guest stars for this Hollywood extravaganza include actors appearing on some of the most highly rated programs - parade Grand Marshall Gene Autry, Ty Hardin from ABC's Bronco, John Russell from Lawman, the recently passed Johnny Crawford from The Rifleman, and Clint Eastwood from Rawhide.
Gene Autry rode his horse in the 1946 parade, 15 years earlier than his appearance here, and became overwhelmed by the children yelling, "Here comes Santa Claus, here comes Santa Claus." This inspired him to write, along with Oakley Haldeman, one of the best-selling songs of all time - Here Comes Santa Claus.
Naturally kiddie stars like KTLA's Bozo (Vance Colving) make an appearance, as does Skipper Frank, Chucko the Birthday Clown, and Sheriff John, all beloved local kid show hosts in LA. 'Crash' Corrigan appears on a bucking horse, he has a tenuous connection to the murder of Carl 'Alfalfa' Switzer but we won't go into that.
Sitcom stars Jerry Mathers, Tony Dow, and Barbara Billingsley from Leave It To Beaver ride by as well. Francis X. Bushman makes an appearance, he was a silent film star who retired to Salisbury, NC in the late-1960s but before that he hosted Films to Remember Sunday nights on channel 11.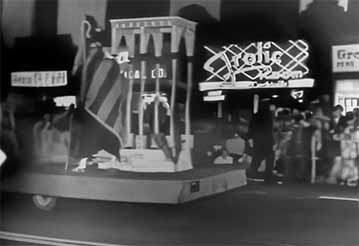 In the Bullwinkle car, voice artist June Foray (Rocket J. Squirrel) waves to the fans, then Elliot Ness and his squad from The Untouchables stage a shootout in the streets.
You'll notice the Frolic Room in the background, I spent one of my birthdays there. What was once a neighborhood dive bar is now a Hollywood hipster hot spot.
To wrap things up Santa makes his presence (as opposed to presents) known.
Enjoy this blast from Christmases past!