The Ghost & Mrs Muir -
The Ghost and Christmas Past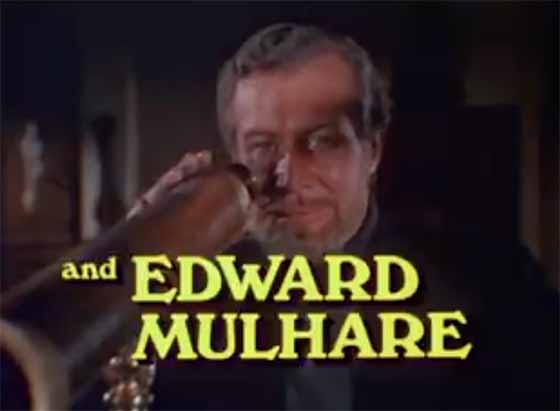 by Billy Ingram
Starring Hope Lange as Carolyn Muir, The Ghost & Mrs. Muir was centered around a young widowed writer who rents Gull Cottage as a home for her two children, a housekeeper (played by the wonderful Reta Shaw), and their dog Scruffy. Gull Cottage, near the fictional fishing village of Schooner Bay, Maine, is haunted by the ghost of its original owner Daniel Gregg, a 19th-century sea captain, played by Edward Mulhare.
Charles Nelson Reilly plays the captain's imbecilic nephew Claymore Gregg, the only person other that Mrs. Muir and her son Jonathan who can see the ghost, although he reveals himself to others when he chooses.
This NBC Sunday night sitcom was based on the 1947 film of the same name, the motion picture was based on the 1945 novel by R. A. Dick. Hope Lange won two Emmy Awards for Lead Actress in a Comedy Series for 1968–1969 and 1969–1970.
For the second season, The Ghost & Mrs Muir underwent a bit of a change both in format and network. Moving from NBC to ABC, the show became more fantasy oriented to make it more aligned with sitcoms like Bewitched which also aired on Thursday nights in 1969-70. Even as a kid, I noticed there was a marked drop in the quality of the scripts after the show moved to ABC.
Beginning in the second episode of season 2 Mrs. Muir's daughter can suddenly see the captain. Towards the end of the series, the captain also reveals himself to the housekeeper --- but during most of the series, she is unaware of the ghost.
This is the series' Christmas episode, The Ghost and Christmas Past, a familiar but somewhat tiresome sitcom holiday storyline adapting Dicken's A Christmas Carol. Still, it's a prime example of how Christmas was depicted in late-60s TV shows.

After The Ghost & Mrs Muir, Hope Lange went on to play Dick Van Dyke's wife on The New Dick Van Dyke Show on CBS from 1971-74.
Hope Lange also starred in a short-lived sitcom Knight & Daye with Jack Warden and Mason Adams airing on NBC from July 8 to August 14, 1989.