MOMENTS FROM CHRISTMAS TV SHOWS OF THE 1970s
by Billy Ingram
I went You Tubing to collect clips from cartoons, sitcoms & variety programs of the 1970s, yuletide joy sure to catapult you back in time... just a random sampling of what it was like to celebrate Christmas on TV back in the day.
---
In 1970, The Town that Forgot Christmas animated special aired, based on the best-selling children's book. It's the story of a village woodcarver that had forgotten about Christmas. When he taught the uncaring children of the town about the birth of Jesus, they were filled with the joy of Christ; featured the voices of Sebastian Cabot, Charles Nelson Reilly, and Louis Nye.
Arnie was a CBS sitcom about a working class guy who gets kicked up to management. It lasted two seasons, here's the first part of the Christmas episode in 1971, the show's second season - note the groovy, pepped up theme song.
Every kid growing up in the 1970s remembers the Norelco Santa, here's a commercial from 1978.
Meco had a line of toys based on superheroes but they also offered a Star Trek Communicator in the early-1970s.
A 1977 NBC Big Event brought the cast of one of the most beloved sitcoms (from 20 years ealier) together one more time for a Christmas celebration, Father Knows Best: Home for Christmas.
Following that special, Dean Martin celebrated Christmas in California, his second holiday outing with that theme.
Burger King commercial for their fifty cent gift certificates, a popular idea that was relatively new at the time.
Scotch Magic Transparent Tape was a game changer, especially around the Holiday season. The Invisible Man was the product spokesperson in the '70s.
Kodak was a big advertiser on TV at Christmas, they spent a lot of money and creativity on their yearly tug at the heart. They almost guilted you into buying their products - Christmas will be gone soon!
Underoos were introduced in the late-1970s and they stayed popular through the next decade thanks to tie-ins like DC and Marvel comics characters' inspired undies.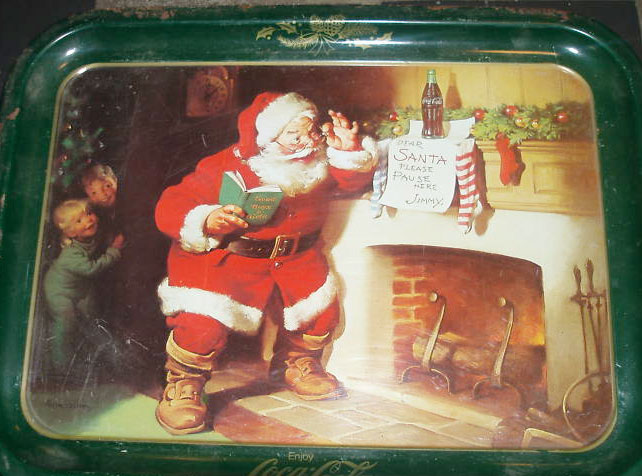 In the 1970s nostalgia was big - so Coke issued a series of trays with reproductions of their iconic Santa magazine ads from decades gone by. Also seen under Chistmas trees in the seventies: a reprint of the 1927 Sears Wish Book catalog.
Stay tuned for more 1970's Christmas TV moments!
Would You Like To Comment?