MOMENTS FROM CHRISTMAS TV SHOWS OF THE 1970s
by Billy Ingram
I went You Tubing to collect clips from cartoons, sitcoms & variety programs of the 1970s, yuletide joy sure to catapult you back in time... just a random sampling of what it was like to celebrate Christmas on TV back in the day.
---
In 1970, The City that Forgot Christmas animated special aired, based on the best-selling children's book. It's the story of a village woodcarver that had forgotten about Christmas. When he taught the uncaring children of the town about the birth of Jesus, they were filled with the joy of Christ; featured the voices of Sebastian Cabot, Charles Nelson Reilly, and Louis Nye.
Arnie was a CBS sitcom about a working class guy who gets kicked up to management. It lasted two seasons, here's the first part of the Christmas episode in 1971, the show's second season - note the groovy, pepped up theme song.
Every kid growing up in the 1970s remembers the Norelco Santa, here's a commercial from 1978.
Meco had a line of toys based on superheroes but they also offered a Star Trek Communicator in the early-1970s.
Christmas Day episode of The Price is Right in 1979 with Bob Barker...
A 1977 NBC Big Event brought the cast of one of the most beloved sitcoms (from 20 years ealier) together one more time for a Christmas celebration, Father Knows Best: Home for Christmas.
Dean Martin celebrated Christmas in California, his second holiday outing with that theme.
Burger King commercial for their fifty cent gift certificates, a popular idea that was relatively new at the time.
Scotch Magic Transparent Tape was a game changer, especially around the Holiday season. The Invisible Man was the product spokesperson in the '70s.
Kodak was a big advertiser on TV at Christmas, they spent a lot of money and creativity on their yearly tug at the heart. They almost guilted you into buying their products - Christmas will be gone soon!
Underoos were introduced in the late-1970s and they stayed popular through the next decade thanks to tie-ins like DC and Marvel comics characters' inspired undies.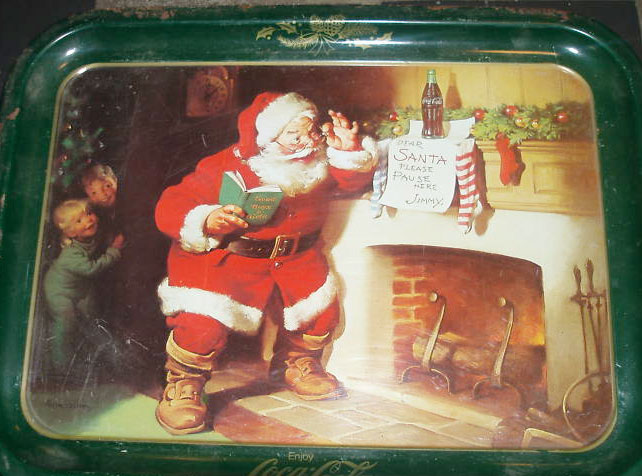 In the 1970s nostalgia was big - so Coke issued a series of trays with reproductions of their iconic Santa magazine ads from decades gone by. Also seen under Chistmas trees in the seventies: a reprint of the 1927 Sears Wish Book catalog.
Stay tuned for more 1970's Christmas TV moments!
Would You Like To Comment?
I really miss those great afternoon variety shows like 'Merv' and 'The Mike Douglas Show.' Here is a brief holiday audio clip from The Merv Griffin Show circa 1974 with Henny Youngman doing his stand up act with Steve Allen and Merv on the sidelines.

Pat Paulsen / Christmas 1976
A very funny monologue from the recently deceased comedic genius (and perpetual political candidate) Pat Paulsen. It's topical political humor from 1976, so if you weren't alive at the time don't bother listening to this clip - you probably won't understand a thing he's talking about. It's a history lesson now! Think of Pat Paulsen as a precursor to the Daily Show's Jon Stewart.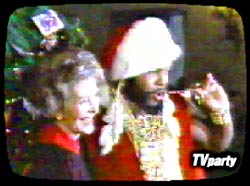 Who can forget Mr. T playing Santa for Nancy Reagan at the White House? A true '80's moment.
The Late Show with Joan Rivers / 1987
Pee-wee Herman made an appearance right after the holidays on this early FOX network talk show. He took the opportunity to show off some of the great Christmas gifts he got, including a Cher doll - which Joan Rivers didn't recognize until it was lying down!
McDonald's always unleashes a fresh bunch of holiday commercials each year, most are touching family portraits. Here's one of the best from 1976.

1986 Christmas Commercials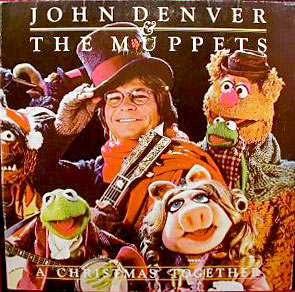 "One of my favorite TV Christmas specials that aired in the late 70's, was a John Denver show called
Rocky Mountain Christmas
. It had Steve Martin and Valerie Harper as guest stars and was filmed under a huge clear plastic dome set in the snow covered Rocky Mountains of Colorado.
"They had all kinds of green plants and butterflies inside the dome while outside it was cold and snowy. I had hoped that one of the video companies would release it after Denver's death, but it never happened."
- Rich P