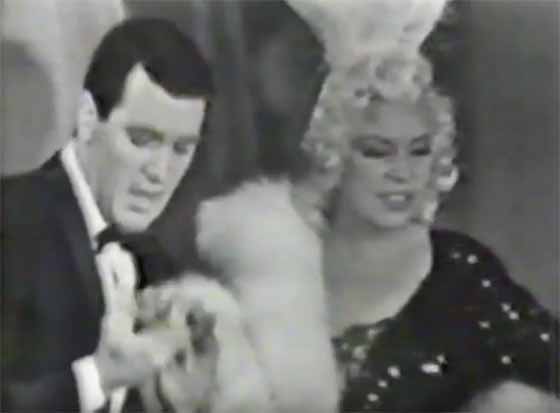 Best Version of 'Baby It's Cold Outside' is by Rock Hudson & Mae West
by Billy Ingram
There's been tremendous controversy about a song written in the 1940s, "Baby It's Cold Outside," a perennial Holiday favorite that the media has been attacking as sexist. Last year during the holiday season, several radio stations refused to play it because of its supposed sexual predator connotations. Bah humbug!
John Legend's highly anticipated 2019 cover of "Baby It's Cold Outside" featuring Kelly Clarkson which features new, more PC lyrics like "It's your body and your choice" and "I want you to stay, it's not up to me." Oh brother!
I never saw it as anything more than two people being coy while adhering the the social norms of the day - that is, a woman doesn't spend the night with a gentleman unless they want to start tongues wagging. And not THEIR tongues, the gossipy mouths of the nosy neighbors.
"You do not change the lyrics to the song," critic of the new version Deana Martin, daughter of the late Dean Martin, told ABC. "I think what he's done is, he's stealing the thunder from [composer] Frank Loesser's song and from my dad. He should write his own song if he doesn't like this one, but don't change the lyrics. It's a classic, perfect song." If anything, John Legend's new lyrics made her father's song seem even more sexual.
In fairness, in the original score notes, the guy's part is referred to as "Wolf" and the female part "Mouse."
Well, in this version of "Baby It's Cold Outside," Mae West turns the tables, the woman becomes the aggressor in an attempt to seduce the guy. This was broadcast live on the 1959 Academy Awards program.

WIKI: "Baby, It's Cold Outside" is an Academy Award-winning popular song written by Frank Loesser in 1944, which gained wide recognition in 1949 when it was performed in the film Neptune's Daughter. While the lyrics make no mention of any holiday, it is popularly regarded as a Christmas song owing to its winter theme. The song was released in no fewer than eight recordings in 1949 and has been covered numerous times since.