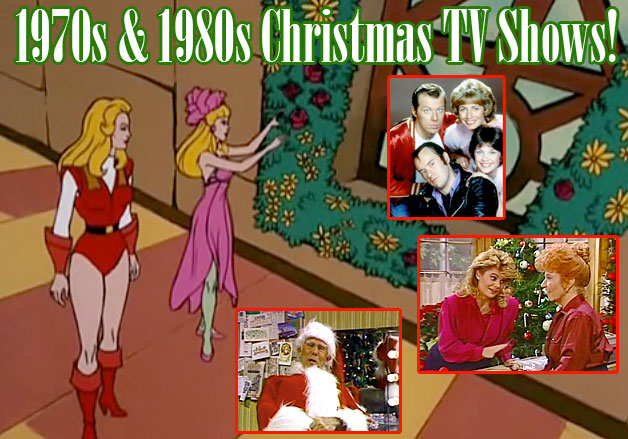 by Billy Ingram
Call me an old crank but I don't think the holidays are as special as they were when I was growing up in the 60s & 70s. I feel the end of Christmas' golden age was the mid-1980s, by then many Americans had to work on Christmas Day or right up to it - and toil too hard to keep up with Christmases of old.
Few TV programs embodied the 1970s like Laverne & Shirley... oddly because the show supposedly took place in the 1950s. It reflected a seventies sensibility however, and reflected the optimism that young people felt at the time, living in a prosperous economy with the promise of an ever brighter future. Depressing, huh? Here's a clip from a Christmas outing...
Probably the most impactful Christmas special of all but certainly of the 1970s was The Homecoming which introduced The Waltons to an America steeped in nostalgia. Was it because we knew intrinsically that the good times were coming to an end?
This is an emotionally resonate movie with a script by Earl Hamner, Jr. (Twilight Zone), genuinely sweet at its core, perhaps the last time a major network presented such a fine script and top notch production for the holidays. The Homecoming was a genuine achievement in TV history...
On the other side of the coin, a broad comedy - Sanford and Son celebrate the holidays in "Ebenezer Sanford." When in doubt just adapt Charles Dickens and the script writes itself...
Let's end the decade with Donny & Marie's 1979 Christmas special - a bit more muted than their earlier TV holiday extravaganza.
---
1980s TV Christmas Shows
A holiday themed Tonight show from 1988 with guest Steve Martin, actress Helen Shaver, Letters to Santa, Nixon's Sandwich, all wrapped up in the incomparable Johnny Carson - who bombs in this monologue, that's always funny. Not his best but it's Christmas...
What do Saturday morning's He-Man and She-Ra have in common with the holidays? They're toys aren't they? That's why they got their own Christmas special in the eighties.
For TV Christmas on autopilot there's no better example than this Facts of Life episode from the 5th season in 1984. The kids are leaving Mrs. Garrett alone for the big day - or are they? I've only seen the first 2 minutes and I think I have the plotline down already... If you want to see more original and fresh Christmas scripts go to this page on TVparty! for 1970s Christmas TV Shows.
Dear John was a popular sitcom that lasted 4 years beginning in 1988, starring Judd Hirsh. I haven't seen it in forever but found it entertaining as I recall... let's see:
A best of Christmas music album offered in 1980 - did you listen to this one opening presents back in the day?
Christmas ads seen in December 1982. These commercials still have a sentimentality that is carried over from earlier decades. Few advertisers will waste their precious ad time with this heartwarming approach, folks today are looking for bargains and sensations.