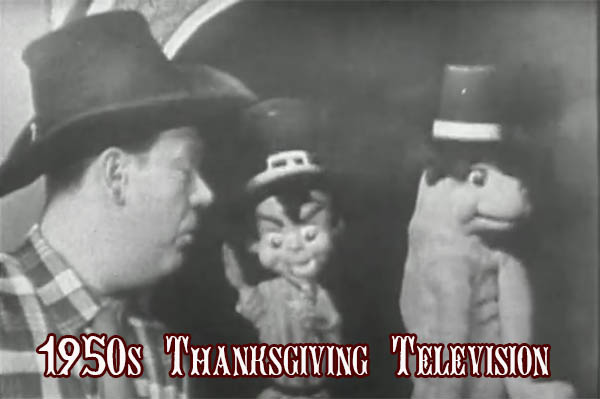 Thanksgiving on
Television in the Fifties
by Billy Ingram
The George Burns and Gracie Allen Show was the rare network radio hit that translated well into television. That's because of terrific scripts, like this 1951 Thanksgiving episode. This series ran from 1950-1958, ending only because Gracie retired.
This is truly an obscure TV oddity. The Rootie Tootie Club began as a local kids show on the New York NBC affiliate WNBT. The show went live over the NBC network in the summer of 1951, this is that year's Thanksgiving Day broadcast.
The lead puppet character's name was changed in 1952 when the kids at home began calling him "Rootie Kazootie." The show would open with a studio audience filled with children singing the theme song, "Who is the boy who is full of zip and joy? He's Rootie Kazootie!"
Although the series ended in 1954, Rootie Kazootie was one of those characters that TV-exposed children of that era never forgot - thanks to puppeteer Paul Ashley, the guy who brought Rootie so vividly to life.
The Adventures of Ozzie and Harriet episode 'The Day After Thanksgiving' from 1952. The Nelsons have Thanksgiving dinner at a relative's home so there are no leftovers for a family craving turkey the next day. That's the best part of Thanksgiving! Apparently, Ricky and David agree...
Our Miss Brooks celebrating the holiday in 1950 on radio. This very funny series starred Eve Arden as a smart-alecky high-school English teacher. A hit on CBS Radio from 1948 to 1957, then adapted to television where it aired in primetime from 1952–56.
One of early TV's biggest successes. With Gale Gordon (The Lucy Show) as Eve's nemesis, how could it go wrong?
For those who want a helping of law and order with their turkey and dressing, here's Dragnet's Thanksgiving themed drama 'The Big Net' from 25 October 1956 (Season 6, Episode 4). Joe Friday and Frank Smith's holiday is interrupted by a perp who's pistol whipping women around town. What a downer! Starring Jack Webb and Ben Alexander.
The George Gobel Show was one of those shows audiences loved or hated. Gobel's warped, sometimes corny, humor was not for everyone. Here he does a serious musical number about Thanksgiving...
Macy's Thanksgiving Day Parade on NBC TV in 1959.
BONUS: Thanksgiving TV Shows / Thanksgiving Day Parade TV History / Thanksgiving TV Cartoon Specials of the 1970s /WPIX Thanksgiving Day TV Specials / Christmas TV Companion