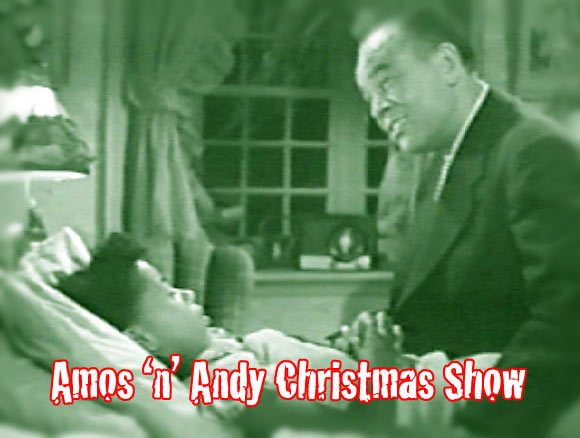 TV's First Holiday Classic
by Billy Ingram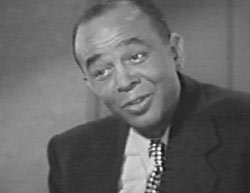 The 1952 Amos 'n' Andy Christmas episode ('The Christmas Story') was one of TV's first holiday themed broadcasts - based on a script that had been performed yearly for more than a decade on network radio's most popular program.
This moving holiday tradition began in 1940 with a 15-minute episode that centered around Amos sitting by his daughter's bedside and explaining the Lord's Prayer to her. It was a powerful and touching moment, perfectly capturing that simpler, religiously inspired Christmas spirit that prevailed decades ago.
Nearly half the nation tuned in to those annual holiday broadcasts.
This Christmas dialogue from 1941 (with the nation at war) was typical:
Daughter Arbadella: "What does the Lord's Prayer mean, Daddy?"
Amos: "Well, it means an awful lot. And with the world like it is now, darlin', it seems to have a bigger meaning than ever before.
"Now you lay down and listen. The first line of the Lord's Prayer is this, "Our Father, which art in Heaven." That means, Father of all that is good where no wrong can dwell.
"And the next line is, 'Hallowed be thy name.' That means, Darlin', that we should love and respect all that is good. 'Thy Kingdom come, thy will be done, in Earth as it is in Heaven.' That means Darlin' as we clean our hearts of all hate and selfishness and fill our hearts with love, the good the true and the beautiful, then this earth will be exactly like Heaven."
Arbadella: "Oh, that would be wonderful, Daddy."
Amos: "Then it says, 'Give us this day our daily bread.' Now that means to feed our hearts with kindness, love and courage, which will make us strong for our daily tasks. And then it says, 'And forgive us our debts as we forgive our debtors.' Do you remember the Golden Rule?"
Arbadella: "Oh, yes, sir."
Amos: "Well, that means we must keep the Golden Rule and do unto others as we would want them to do unto us. And then it says, 'And Lead us not into temptation, but deliver us from evil.' That means, my Darlin,' to ask God to help us do and see and think right so that we will neither be led or tempted by anything that is bad."
Arbadella: "Uh, huh."
Amos: "And then it says, 'For thine is the kingdom, the power and the glory forever. Amen.' That means, Darlin,' that all the world and everything that's in it belongs to God's kingdom. Everything. Mommy, your Daddy, your little brother, your Grandma, you and everybody. And as we know that, and act AS IF we know that, my Darlin' - THAT is the real spirit of Christmas."
'Andy Plays Santa Claus' was expanded (with Andy playing a department store Santa to earn money to buy Amos' daughter a special Christmas gift) when the show moved to a 30-minute format in 1943. It was performed almost exactly word for word every Christmas season through 1954 on radio (and once on TV).
And in all those years, Arbadella never grew up!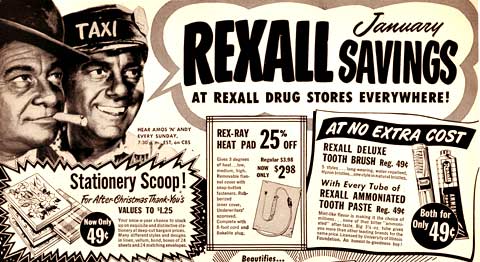 CONTROVERSY
Here's the Amos 'n' Andy radio Christmas episode from 1950 (broadcast Sunday night, Christmas Eve). The storyline was very close to the TV adaptation that would be performed a year later - except that the cast of the video version proved superior in every way.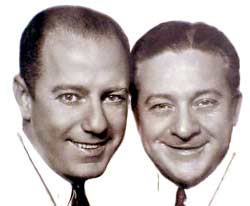 On the radio, caucasions Freeman Gosden and Charles Correll gave voice to Kingfish, Amos and Andrew H. Brown. Deserved or not, Amos 'n' Andy was criticized for being racist in nature. While it can be argued that the radio version was offensive - the whole idea of white guys portraying black guys was problematic right there - the TV program was a different matter; a superb, all-African-American cast helped to mitigate the program's inherent ridicule factor.
In general, the best Amos 'n' Andy radio scripts from years past were adapted to TV with few significant changes beginning in 1951; these were original stories penned by the guys who went on to write and produce such seminal television shows as Leave it to Beaver, The Munsters, Andy Griffith Show and other classics.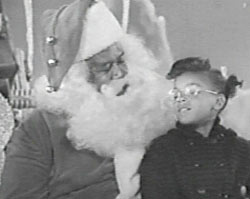 'The Christmas Story' holiday tradition was also carried over from radio to television; the script remained virtually unchanged, right down to Andy playing Santa.
(That's right - one of the first glimpses of Santa Claus that people got from their television sets and he was African-American.)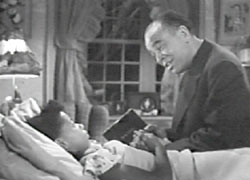 As on radio, Amos interprets the Lord's Prayer for his daughter at her bedside and a Christmas TV classic was born.
Amos 'n' Andy only filmed 2 1/2 seasons but remained popular in syndicated reruns until 1966 when the series was withdrawn from the market.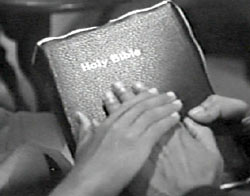 Freeman F. Gosden, Jr., the son of one of the creators, recalled in an interview those long-ago Christmas radio shows."It is probably safe to conclude that more people heard Amos' description of the Lord's Prayer than that of anyone else in the world. There is no question that he felt this was his proudest lifetime achievement. We would go to the studio and watch the show from the client's booth. Then Dad would bring the recording home and after dinner play it over and over again until midnight, with tears in his eyes."