RANDOM NOTES ON HOLIDAY CLASSICS
by Billy Ingram
The toy industry, which barely existed before TV, realized there was no better way to showcase their products during the holidays than on Christmas specials that brought the whole family together.
---
SANTA CLAUS IS COMIN' TO TOWN (1970)
From the same team that brought us Rudolph; features the toy-hating Burgermeister Meisterburger and the Winter Warlock.

Answers all the questions about Santa's origin - where he came from (he was apparently an orphan raised by elves), why he wears a red suit, why he hands out toys, why he comes down the chimney, everything you ever wanted to know about Santa Claus. Santa learned early on that he could change the world by spreading around a the bling.

Produced by Jules Bass & Arthur Rankin Jr., the key to their hugely successful Christmas specials was getting a big name actor to be the narrator. For Frosty the Snowman, it was Jimmy Durante; Fred Astaire for Santa Claus Is Comin' to Town; Joel Grey for Twas the Night Before Christmas; Andy Griffith for Frosty's Winter Wonderland; Red Skelton for Rudolph's Shiny New Year; Greer Garson for The Little Drummer Boy.
---
THE YEAR WITHOUT A SANTA CLAUS (1974)
Another Animagic spectacular produced by Jules Bass & Arthur Rankin Jr. with Oscar winner Shirley Booth (Hazel) as Mrs. Santa, Mickey Rooney as Santa Claus and Dick Shawn as the Snow Miser.

"Did you ever hear,
of that terrible year,
way back before you were born,
when Santa Claus took a holiday,
on the night before Christmas morn."

This one is plenty funny but packs an emotional punch - the true stars are Snow Miser and Heat Miser.

From the mid-seventies through the mid-eighties, Rankin/Bass pumped out a new Xmas special every year - Twas the Night Before Christmas, Year without a Santa Claus,The First Christmas, Frosty's Winter Wonderland, Rudolph's Shiny New Year, Pinocchio's Christmas and on and on. There was even a Rudolph and Frosty feature film in theaters.
---
MACYS THANKSGIVING DAY PARADE
There's Christmas - then there's Christmas in New York! And the Macy's parade is a huge draw on TV and in person - why else would people stand in frigid temperatures for hour after hour, with the wind cutting between those Manhattan skyscrapers like a sword?
The first Macy's parade was held in 1924 but was cancelled in 1942, 1943, and 1944 due to World War II. Because of the rubber shortage, the famous balloons were chopped up and donated to the war effort. Even the flagship of the fleet - Superman.
There have been mishaps. In 1975, the Underdog balloon (1965-1984) collided with a light pole; in 1998, the Cat in the Hat balloon bounced a lamppost into the crowd and put a Manhattan lady in a coma for nearly a month. She sued Macy's, she sued the city, she sued the lamppost. As a result, balloons can be no larger than 70 feet high, 78 feet long and 40 feet wide. That meant bidding farewell to a few of the familiar gaseous creatures: the Pink Panther, Woody Woodpecker and the Cat in the Hat were retired.
1980 Macy's Thanksgiving Day Parade
In 2004, Spongebob Squarepants joined the balloon lineup. Since the 1940s here have been balloons made of Superman, Bullwinkle, Underdog, Linus The Lionhearted, The Simpsons, Rugrats, Mighty Mouse (1956-1972), Smokey Bear, Popeye (1957-1969)a nd Bullwinkle (1961-1983). The balloons are managed by balloon handling teams, consisting of 12 leaders.
NBC first broadcast the parade in 1948. It's great for the parents because you can't pull the kids away from the TV set and the adults can actually get dinner prepared.
---
HOW THE GRINCH STOLE CHRISTMAS (1966)
In 1957, at the age of 53, Dr. Seuss published The Grinch. The TV special was directed by Chuck Jones who created so many of those classic Warner Bros. cartoons starring Bugs Bunny and the Road Runner. It was Jones' idea was to make the character, drawn in black & white in the book, into a green meanie.

It was narrated by horror movie icon Boris Karloff, who was a genuinely nice person in real life. He tempered his menacing performance with a gooey pathos - you sympathy for the guy before the half hour was over. To Dr. Seuss, the Grinch wasn't a villain but a guy whose heart was "two sizes too small" - he just needed a dose of the true spirit of the Holiday.

One of the signature songs was "You're a Mean One, Mister Grinch" - the rich baritone on that tune was provided by Thurl Ravenscroft, the original and only voice of Tony the Tiger until he passed away in 2005.

Ratings were spectacular and the special returned for the next 22 seasons and still commands big ratings whenever it's shown. There were 2 sequels - Halloween Is Grinch Night (1977) and The Grinch Grinches the Cat in the Hat (1982) both without Chuck Jones or Boris Karloff.
---
A CHARLIE BROWN CHRISTMAS (1965)
Of all the Charlie Brown specials, this was the Charlie Browniest.

Debuted in December of 1965. At the heart of the cartoon was the message that Christmas is really about the joyful miracle of Jesus's birth. Charles Schulz was after an inspired innocence but most Christmas specials since have moved away from that central message - but look how successful this program was.

When the special was finished, the producers thought they had blown it and CBS executives hated it from the start. It was criticized by the network as being too religious (Linus quotes straight from the King James Bible, specifically Luke 2:8-14), for featuring a contemporary jazz by an unknown Vince Guaraldi (an offbeat choice for a cartoon) and for not having a laugh track (how would people know if it was funny or not)?

The first year alone the special was seen in more than 15 million homes, capturing nearly 50% of the possible audience - number two in the ratings that week, after Bonanza - and won an Emmy Award for Outstanding Children's Program and a Peabody Award.

Made in America, A Charlie Brown Christmas taught white kids how to dance.
---
BOB HOPE CHRISTMAS SPECIALS
The idea was to bring a bit of America to the troops serving abroad at Christmas. Scantily clad buxom beauties, lots of sexual innuendo and lackluster one-liners punctuated Bob's simple but effective act.

Miss World, sports stars, dancers, singers and comedians all got stuffed into transport planes and catapulted off of aircraft carriers - circling the globe to bring Christmas cheer to the troops serving in far-flung, God-forsaken places. The troupe would travel from frigid locales to the tropics from one day to the next.

Bob Hope starred in some 400 radio programs from 1941 to 1948 that he recorded at Navy, Army and Air Force bases in the USA. In 1948, he began a Christmas tradition of touring overseas military bases, eventually filming these shows for television starting in 1954. These 90-minute Christmas specials were broadcast every holiday season until 1972 when we lost the Vietnam war.

Hope went back out to entertain the troops for the Holidays several times after that. In 1973, Hope gathered a troupe to do Christmas shows in veteran's hospitals; in 1983 he was back entertaining servicemen in Beirut, Lebanon; in 1987, on Christmas day, Hope entertained Marines serving in the Persian Gulf. In 1990, he again traveled to the Persian Gulf to perform for troops preparing for war with Iraq - but because Saudi Arabia bars female entertainers, he had to leave Marie Osmond and the Pointer Sisters behind in Bahrain.

Hope's 1970 Christmas special was the highest-rated program in television history until 'Gone With The Wind' deposed it in 1976. People watched Bob Hope specials because it was there - it had always been there. Same reason you go home for the Holidays. It's there.

From the1970 Bob Hope Christmas Special
---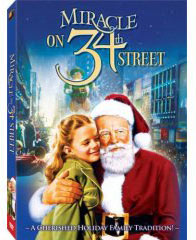 MIRACLE ON 34th STREET (1947 Movie)
Despite the fact that this film is set during Christmas and it's all about Christmas, studio head Darryl F. Zanuck insisted that it be released in May because he argued that more people went to the movies during the summer - so the studio scrambled to promote the movie while trying to keep the fact that it was a holiday film a secret.

Natalie Wood was nine years old when she made this film. There were several later versions including a 1994 theatrical release with Richard Attenborough as Santa.

There were TV adaptations as well. Kevin S. Butler tells us,"In the late 1950's an installment of ABC's 20th Century Fox Hour (a weekly anthology program that created and produced the first TV adaptations of former 20th Century Fox movies) aired a version of the story of an old man who tries to convince the citizens of NYC and the world that he is the real Santa Claus. Character actor Thomas Mitchell played the lead role.

"In the 1960s, CBS did their version of the story with clown Ed Wynn playing "Kris Kringle."

"The last TV adaptation of the tale was the 1973 production that starred Sebastian Cabot, Jane Alexander as Mrs. Walker, Jim Backus as Mrs. Walker's boss, David Doyle as Mr. Macy, Roddy McDowell as the obnoxious shrink Mr. Shellhammer, Tom Bosley as the judge, Jason Wintgrin as the DA, and a gentleman that I was lucky enough to meet, Mr. David Hartman as Fred Gailey.

"There was also a stage musical version of the tale titled Here's Love created by Mr. Meredith Wilson (of The Music Man and Unsinkable Molly Brown fame). Here's Love starred Laurence Neismith as Kris Kringle, David Doyle and Fred Gwynne as Fred Gailey, the lawyer."
---
A CHRISTMAS STORY (1983)
"A Tribute to the Original, Traditional, One-Hundred-Percent, Red-Blooded, Two-Fisted, All-American Christmas..." - the film's ad campaign

Jean Sheperd, one of America's great storytellers, wrote and narrated this wonderful motion picture that only gained popularity after yearly TV showings.

And no wonder, A Christmas Story had all the hallmarks of a classic- it was set in the forties, takes place in the midwest, portrays an eccentric family and the kid's greatest wish is to get his hands on a gun. A Red Ryder Carbine Action 200-Shot Range Model Air Rifle, no less.

Remember the kid who got his tongue stuck on an icy pole? The character's name was Flick. Ten years after filming this bit of Americana, he tried to make it as a porn star.
---
BING CROSBY CHRISTMAS SPECIALS
Bing's voice was and is the velveteen cream of Christmas - you could fall into a spell listening to his voice. Before Elvis, before Sinatra, Bing was the America's very first teenybopper star.

Bing's very first TV holiday special, The Timex Show (ABC, Dec. 20, 1957) contained some superb vocal performances of classic Christmas carols, with brassy arrangements that fit the nifty-Fifties' style of swing.

By the 1970s, Bing had largely left television behind except for his yearly Christmas specials. They were an annual event beginning on radio in 1936 and continuing on television until the singer's death in 1977. He died just weeks before his last TV Holiday special (his 20th) aired that year - that's the one with the great David Bowie duet.
---
SINATRA & BING
This is the opening to one of the hippest Christmas specials of the late-1950s - an episode of the Frank Sinatra Show with guest Bing Crosby. This show was so popular there was even a soundtrack album available.
---
GRANDMA GOT RUN OVER BY A REINDEER (2000)
1970's novelty hit that twenty five years later got made it into one of the worst animated TV movies of all time.

By the year 2000, there had been a four decade tradition of making Xmas specials out of seasonal songs - Rudolph, Frosty, the Chipmunks - when they got all the way down to GRANDMA GOT RUNOVER BY A REINDEER
you knew the well had run dry, they had scraped the barrel. But songs are like automobiles - after 25 years, it's a classic.
---
CHRISTMAS IN SOUTH PARK
How can something be brilliant and disgusting at the same time?
---
A VERY BRADY CHRISTMAS
They used Christmas' powers of redemption to resuscitate this venerable TV family. One of the highest-rated holiday specials of all time.
---
FROM YOU TUBE
Here's a behind-the-scenes look at shooting a McDonald's Christmas commercial in 1973. I remember this one. Talk about rare video!
---
THANKSGIVING HOLIDAY TV SPECIALS
Here are some rare Thanksgiving moments from television's distant past.
First, the 3 hour Rootie Tootie Club Thanksgiving Day Special from 1950. Rootie Tootie was a popular afternoon local kiddie show in New York, aimed at the Howdy Doody set; the show was later renamed The Rootie Kazootie Club and broadcast nationally. There was an amazing lineup of guests on this show including TV artist Jon Gnagy, Tex Antione, Kukla Fran & Ollie, Ed Herlihy, Ted Mack, Frankie Laine, and a score of early TV personalities.
On the day after Thanksgiving, before 'Black Friday' became the busiest shopping day of the year, ABC aired a morning schedule featuring episodes of their Saturday morning programs.
Kevin S. Butler writes: "ABC's tradition of airing a block of their popular Saturday morning cartoons on the Friday after Thanksgiving began back around 1966 and lasted well into the 1970s. The specials aired for four hours and featured Spiderman, The Fantastic Four, King Kong (the Rankin/Bass animated TV series), The Beatles, The New Casper Cartoon Show, Hoppity Hooper, etc.
Here's a promo from 1972:
"The 1972 broadcast of the fest featured a rarity - a live action kid's special hosted by former basketball great turned local NJ politician and amateur magician Jerry Lucas. The Jerry Lucas Super Kid's Day Magic Jamboree had Mr. Lucas performing magic tricks for a group of kids in the studio, he also filmed tips on how to improve basketball playing skills.The special was very entertaining and informative but it was never repeated and he never hosted another. As far as I know, The Jerry Lucas Super Kids Day Magic Jamboree is not available on VHS or DVD.
"The last live performer to host a cartoon fest on ABC was my dear friend and fellow performer Soupy Sales. He MC'd The ABC TV Funshine Festival not after but on Thanksgiving Day itself, November 25, 1976.
"Soupy taped his segments at an amusement park (I can't recall which) along with a lot of actors dressed as Hanna-Barbera's most popular TV cartoon characters. They performed comedy skits between reruns of the cartoons and Soupy's own Saturday afternoon kid's comedy game show Junior Almost Anything Goes.
"ABC TV aired one more after Thanksgiving Day cartoon festival in the 1980s, again this special show was taped at an amusement park and featured Hanna Barbera characters (on this last one I can remember some actors dressed up as Jane, Judy and George Jetson)."