BING CROSBY CHRISTMAS SPECIALS ON DVD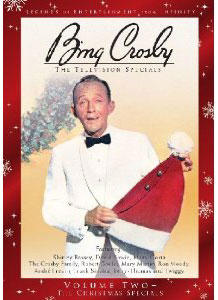 Bing Crosby Archive Opens Up
Vault Once Again

Bing Crosby: The Television Specials: Volume 2 – The Christmas Specials (DVD)
New Bing Crosby DVD Releases Set For November 9th From Infinity Entertainment Group


From the press release: Once again, the Bing Crosby Archive digs deep into the vault to release a treasure trove of rare and unreleased material guaranteed to satisfy fans of Der Bingle. And what better time of the year than Christmas, because as everyone knows, no Christmas celebration is complete without that warm Crosby tone casting a glow on the proceedings.
Infinity Entertainment Group's BING CROSBY: THE TELEVISION SPECIALS – Volume Two: The Christmas Specials showcases Bing's beloved holiday shows, all of which are making their DVD debut. Included in this premiere, four-hour plus, two-disc collection are Bing's first holiday special; his first color special; Bing Crosby and the Sounds of Christmas from 1971 and his final special, taped just five weeks before his death in 1977, Bing Crosby's Merrie Olde Christmas, which features the iconic duet of The Little Drummer Boy/Peace on Earth with David Bowie. All four specials are presented in their original uncut form. Bonus Material includes: Happy Holidays with Bing and Frank Show, a 1957 holiday episode of The Frank Sinatra Show filmed in color, and out-takes from the 1962 Bing Crosby Christmas special with Mary Martin.
And last month, on September 28th 2010, the DVD of the acclaimed public broadcasting special, The Legendary Bing Crosby, originally available only through public broadcasting subscription, made its retail debut.

PRODUCT DESCRIPTIONS:


BING CROSBY: THE TELEVISION SPECIALS – Volume Two: The Christmas Specials features Bing's first holiday special, produced in 1961; his first color special from 1962 with Mary Martin; Bing Crosby and the Sounds of Christmas from 1971; and his final special, Bing Crosby's Merrie Olde Christmas, which includes the iconic duet of "The Little Drummer Boy/Peace on Earth" with David Bowie. All specials are presented in their original uncut form. Bonus Material includes: Happy Holidays with Bing and Frank, the 1957 color Christmas episode of The Frank Sinatra Show; out-takes from the 1962 Bing Crosby Christmas special; a rare Toys for Tots PSA; and the 1976 tourism film, Bing's Britain. Approximate Running Time: 268 Minutes. Suggested Retail Price: $29.98

The Legendary Bing Crosby presents many of the entertainer's best performances from his classic network specials, which aired from 1954 to 1977, including recently discovered, digitally restored footage and clips that have not been seen since their original broadcast. The program seamlessly blends full-song performances and duets with enlightening interviews from his wife Kathryn, daughter Mary, film critic Leonard Maltin, television personality Regis Philbin, music legend Andy Williams, and performer/musicologist Michael Feinstein. Performing with Bing in the show are Louis Armstrong, Fred Astaire, David Bowie, Carol Burnett, Jose Feliciano, Bob Hope, Dean Martin, Frank Sinatra and Andy Williams. 35 minutes of bonus material not seen in the broadcast includes additional interview segments and Crosby solos as well as performances with Maurice Chevalier, Andy Williams and The Crosby Boys. Suggested Retail Price: $19.98

Bing Crosby remains the most recorded performer in history, during his lifetime (1903 – 1977) he made over 2000 commercial recordings including White Christmas, the best selling record of all time. The Guinness Book of World Records reports worldwide sales for Crosby's recording of the song at over 100 million copies. White Christmas has entered the American pop charts twenty separate times.

To date, Bing Crosby has sold close to one billion records, tapes, compact discs and digital downloads around the world. He may be the biggest selling recording artist of all time. Only The Beatles, Elvis Presley and Michael Jackson can rival his sales figures. He scored 38 number one records – more than The Beatles (24) and Elvis Presley (18). His recordings reached the charts 396 times - more than Frank Sinatra (209) and Elvis Presley (149) combined.


www.bingcrosby.com
BONUS: Thanksgiving TV Shows / Thanksgiving Day Parade TV History / Thanksgiving TV Cartoon Specials of the 1970s /WPIX Thanksgiving Day TV Specials / Christmas TV Companion
BING CROSBY CHRISTMAS
SPECIALS ON DVD

BONUS: Thanksgiving TV Shows / Thanksgiving Day Parade TV History / Thanksgiving TV Cartoon Specials of the 1970s /WPIX Thanksgiving Day TV Specials / Christmas TV Companion