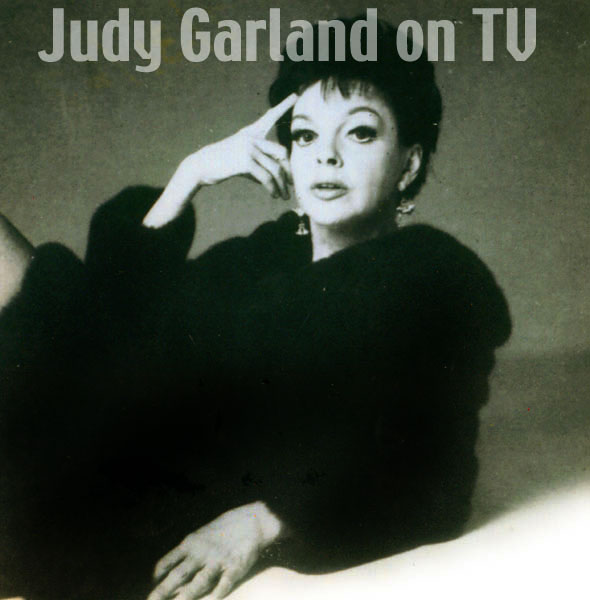 The Judy Garland Show
PART THREE: by Billy Ingram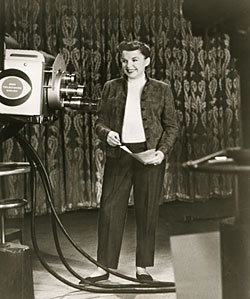 "The only place I ever felt useful as a person was in my work."
- Judy Garland
By 1963, Judy was pinning her future on her new agents Freddie Fields and David Begelman. Both were Hollywood sharks, but Begelman in particular led a shameless lifestyle of dicey deals and outright scams that ultimately resulted in his suicide in 1995. It was Begelman and Fields that landed Garland the CBS deal, she was their fledgling talent agency's first client.
Begelman promised the TV series would leave Judy financially independent. Offices were set up and The Judy Garland Show was an instant, bustling, multi-million-dollar business with a mandate to knock off the most popular show on television, Bonanza.
Instead of positioning Judy for success, Begelman ripped her off at every turn, even scamming her with a phony blackmail scheme just weeks before the show premiered. "He told me that there was a picture of my trying to commit suicide in England and within 24 hours, somebody had to fly over so he could get the negative," Garland recounted years later. "Nobody ever heard of that negative, or saw it. Nobody saw it."
The series got off to a rousing start. The LA Times reported from the first taping that, "Judy, almost paper thin, stood on her spike heels, feet wide apart in that way of hers, rolled those wide, haunted eyes at the lights above, and sang her heart out. The audience was with her all the way."
Unfortunately CBS didn't share that optimism, firing the show's producer and revamping the program before the first episode premiered; it was one of those retooled shows that kicked off the series.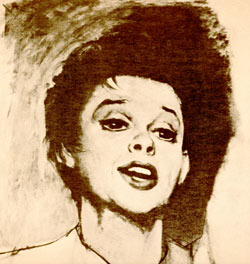 Critics liked Judy but not the show they saw on opening night. The New York Times barked, "What should never happen to Judy Garland did last evening in the premiere of her weekly program over the Columbia Broadcasting System. The busybodies got so in the way that the singer never had a chance to sing out as only she can.
"Thinking of CBS executives apparently was to develop a 'new' Judy, one who will indulge in light banter and make way for suitable guests to share the weekly tasks."
Judy earned strong numbers on the first broadcast but ratings dipped slightly for the second week with special guest Barbra Streisand. After that, audience numbers hovered in the low twenties and thirties before dropping in November to 66th out of 80 shows.
NEXT: Part Four: The Show is Cancelled
Judy cries out in her own voice from the depths of despair!
---
Judy Garland's Comeback
Judy Garland on TV
Judy Garland TV Show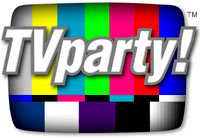 Your Classic TV Blog!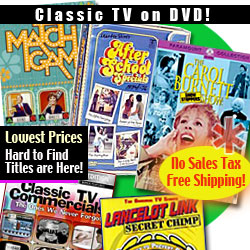 Classic TV!!
News Bites you can use!
---
Judy Garland's Comeback
Judy Garland on TV
Judy Garland TV Show

Judy Garland & TV - part 4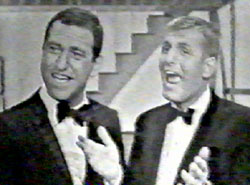 Soupy Sales and Jerry Van Dyke appeared
on The Judy Garland Show.
---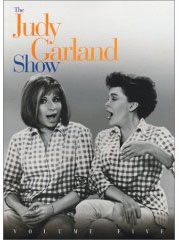 Product Description
Academy Award and Golden Globe recipient Judy Garland was and still is a super star of her time. She was the consummate performer. Starring in over 40 films, Judy Garland had no limits to her singing and acting talents that included radio, theatre, television, and film. She also starred in her own television series "The Judy Garland Show." In honoring the 35th anniversary of the series and the 30th anniversary of her passing, Pioneer Entertainment is proud to present "The Judy Garland Show" on DVD. In these first two episodes which originally aired between 1963 through 1964, Judy welcomes guests Liza Minelli, Mickey Rooney, Soupy Sales and regular guest Jerry Van Dyke.