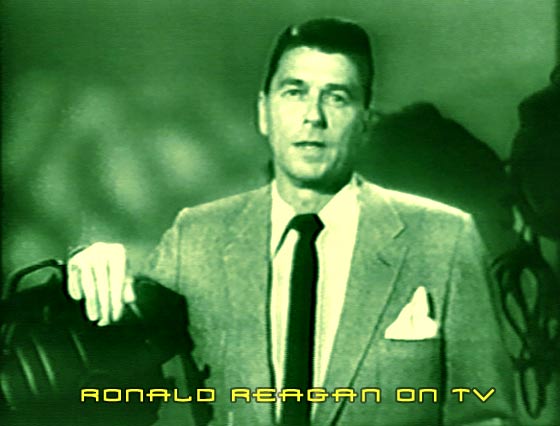 by Billy Ingram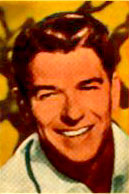 Legendary actress Laurette Taylor once defined acting as, "the physical representation of a mental picture and the projection of an emotional concept."
Radio broadcaster, motion picture star, TV host and former President of the United States Ronald Wilson Reagan understood as well as anyone how that related to politics - how a nod of the head or a defferential pause can project a relaxed style and make your opponent look stiff. That's part of what made him one of the great communicators of all time. Politicians by the score have emulated Reagan's folksy, 'aw-shucks' style but no one has mastered it in quite the same way.
In today's relentless media Whurlitzer, a politician can gain experience in front of the camera in any number of ways - C-SPAN, cable and local TV news programs, for example. But in the sixties, no politico had (or could hope to have) the public face time that Ronald Reagan enjoyed.
THE TV YEARS

By 1947, motion picture actor and leading man Ronald Reagan was in transition. Despite having made three dozen movies in the previous ten years, his career was beginning to wind down. That year, his baby girl, born four months premature, died after surviving a single day. His marriage to actress Jane Wyman (Falcon Crest) dissolved soon after.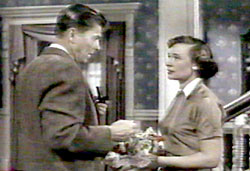 There were positives - the new medium of television was breaking over the horizon and Reagan was elected president of the Screen Actors Guild in 1947.
That was the same year the FBI visited the Reagans, accusing them of having Communist Party affiliations. The actor agreed to become an informant and testify as a friendly witness before the House Un-American Activities Committee. This was the height of the Hollywood blacklist era and Ronald Reagan was proud to turn names of suspected Hollywood communists over to the FBI; he and others fought vociferously against what they saw as "communist-like activity" in the entertainment industry.
A Ronald Reagan political speech from 1948 in which he sounds like a modern day liberal.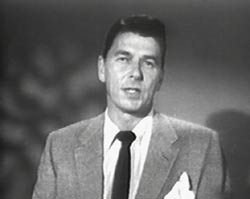 Reagan married actress Nancy Davis (his co-star in Hellcats of the Navy) on March 4, 1952 and made the transition to television a year later as the MC of ABC's weekly celebrity profile show, The Orchid Award.
As president of the actor's union, he came under government scrutiny after signing a secret, exclusive waiver for MCA (the talent agency that represented him) to produce television programs in 1952 - this despite laws against agencies employing their own clients. The FBI in tandem with the Justice Department investigated; both MCA and the Screen Actors Guild were charged with violatiing federal antitrust laws while Reagan himself narrowly avoided prosecution.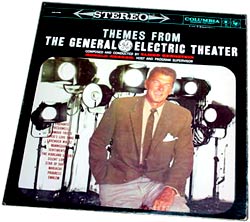 Shortly after this sweetheart deal was finalized, Reagan was made a partner at MCA and given the hosting gig on MCA's prestigious General Electric Theater, a weekly anthology series that debuted on CBS in 1953.
A landmark television production, General Electric Theater broadcast some of the finest dramas of TV's early days, with big-event performances by major film stars who rarely appeared on the small screen, including James Stewart, Bette Davis, Myrna Loy, Joan Crawford and Gene Tierney.
GE wisely positioned Ronald Reagan as their respected TV spokesperson and corporate ambassador - essentially casting him in a role that would propel him all the way to the White House.
GE Theater rose to the third most popular show in 1956 and stayed locked in the top twenty for most of its run, with a quarter of the nation's TVs tuning in each week. During the series' eight-year run, Reagan made hundreds of personal appearances around the country on GE's behalf. There was even an LP for sale in record stores, Themes from the GE Theater, with a smiling Ronald Reagan front and center on the cover.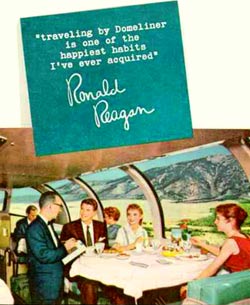 Reagan resigned as SAG president in 1960 following a bitter actor's strike, but not before presiding over what was known by some in Hollywood as "The Great Giveaway" - a SAG contract with the studios that provided residuals only for actors in films made after 1961. He was roundly criticized by many of his fellow old-Hollywood stars for this; on the other hand, a lump sum payment from producers created the Guild's first Pension and Welfare Plan.
Between the years 1950 - 1964, Ronald Reagan had been a guest actor on dozens of dramatic anthology programs like Ford Theater, Schlitz Playhouse of the Stars and Kraft Suspense Theater, in addition to a rare regular series appearance on Wagon Train in 1963.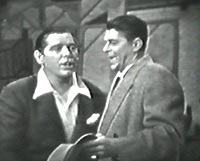 But it was on comedy-variety shows like The Milton Berle Texaco Star Theater, Bob Hope Buick Show and Art Linkletter's House Party that Reagan developed the unflappable, self-deprecating style that served him so well as a world leader.
NEXT: PART TWO
Ronald Reagan's Last Dramatic Role
(on TV anyway...)
---
Ronald Reagan part one
Ronald Reagan on Television
Ronald Reagan in Advertising