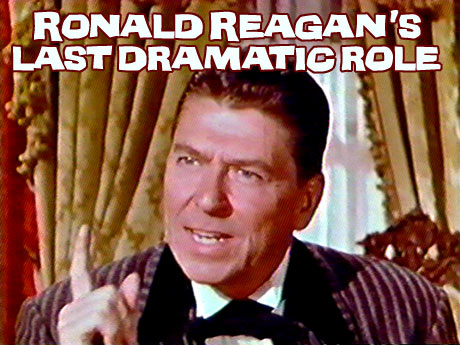 RONALD REAGAN ON TV - PART TWO
Ronald Reagan on Television - part one here
by Billy Ingram
"How do you tell a communist? Well, it's someone who reads Marx and Lenin. And how do you tell an anti-Communist? It's someone who understands Marx and Lenin."
- Ronald Reagan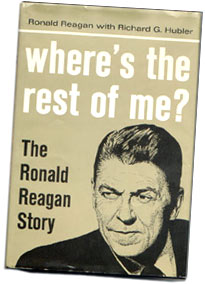 Having recently switched his political affiliation to the Republican party, Ronald Reagan was becoming more politically active as the sixties unfolded. General Electric found this activism distressing and dropped his contract; as a result, GE Theater was cancelled in 1962.
Reagan delivered a rousing television speech, A Time for Choosing, on behalf of Barry Goldwater in 1964. Impressed by his forceful performance, California business leaders approached Reagan to run for Governor of California and he agreed. The first step - the publication of his autobiography, Where's the Rest of Me?
The 1964 motion picture, The Killers co-starring Ronald Reagan, Lee Marvin and Angie Dickinson, was originally filmed to be the very first made-for-TV movie. Judged by the network to be too violent for the small screen, the film was released to movie theaters instead. It was Reagan's last motion picture role and the only time he played the villain on screen.
In 1965, Ronald Reagan signed on to host another weekly anthology program - Death Valley Days (1952-1970), a syndicated, half-hour western sponsored by US Borax.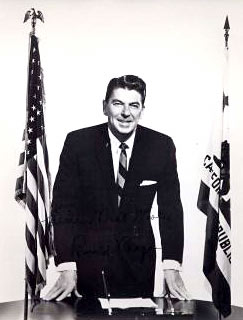 Because he announced his candidacy on January 1, 1966, Death Valley Days aired prior to - and during - Reagan's gubernatorial run. His opponent (the sitting governor) felt that weekly TV exposure gave Reagan an unfair advantage. As a result, California stations were forced to drop the series to conform with equal time laws.
Reagan handily won that election and surely would have with or without Death Valley Days.

Commercial with Ronald Reagan from Death Valley Days.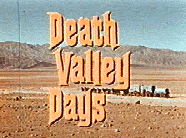 Despite giving up the acting profession - and his TV hosting duties - to serve as the governor of California in 1967, there was a special episode of Death Valley Days broadcast that same year that featured Reagan as the lead actor - it was his last dramatic role.
In 'Raid on the San Francisco Mint,' the newly elected Governor portrayed banker William Chapman Ralston, the man who almost single-handedly saved San Francisco from financial ruin in the 1800s.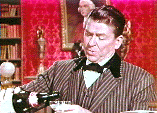 In this episode based on a true story, Reagan (with portraits of past presidents strategically placed in the background) tried to convince an angry mob not to withdraw their money due to a Y1K rush on his bank. In truth, Ralston didn't have the cash on hand to satisfy depositors.
The script followed affable Reagan as he pulled a fast one on the U.S. Mint in order to convince the townspeople that the city's economy was stronger than it was. He tricks the Mint out of millions in gold coins, placing them on display just as anxious depositors rushed the joint demanding their money.
The deception worked - except in real life Ralston went to prison for defrauding the US government. He was later pardoned by President Grant.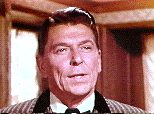 Cynical types might point out that Mr. Reagan was cleverly able to take the plot of this TV show, re-brand it as 'Reaganomics' and sell it to the nation all over again on television - this time in his role as President. Others might point out that this policy led to a run on the Savings and Loans during Reagan's presidency - just like in this episode. In the immortal words of Pat Paulsen, "Picky, picky, picky!"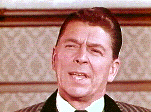 With the stature his position as Governor afforded, Reagan wisely limited his primetime TV work to brief appearances on popular variety shows where he could walk on for a short comedy segment and project a dignified, yet easy going air; impeccably dressed in a black tux, ready with the joke to top everyone at the end.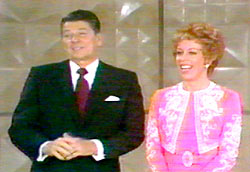 For example, after reelection to the Governor's office in 1970, Reagan appeared in an opening segment of the Carol Burnett Show to field questions from the audience.
"He's a fan of the show," Burnett told a reporter in 1970. "He asked if he could come on. It's the first entertainment show he's been on since he was elected, and we were delighted." TV Guide described him that night as, "affable, charming, turning every audience question into a straight line and his every answer into a quip."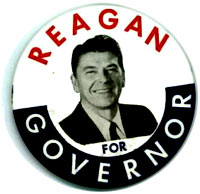 In his official capacity as Governor, he was the first guest on Johnny Carson's tenth anniversary special in 1972, welcoming The Tonight Show to its new permanent home in Burbank.
Reagan appeared on The Sonny and Cher Comedy Hour in 1972 and was the subject of an hour-long Dean Martin Roast in the fall of 1973.
He turned up again on a Dean Martin Roast in 1975 when the recipient was Bob Hope. "Bob would do well in politics," Reagan quipped. "He has entertained over 10 million troops and been seen by more than 100 million TV viewers. If you throw in the 27 people who have seen his movies, you have a pretty sizable constituency." He also roasted Frank Sinatra on another Dean Martin special.
Reagan served as Governor of California until 1975 when he made an unsuccessful run for the presidency. Many TV shows treated his candidacy as a joke - but he won the role four years later, serving as POTUS from 1980-1988.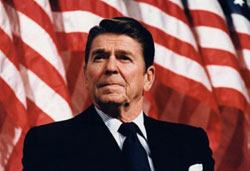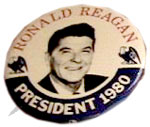 Bringing that easy going style he perfected on television to the highest office in the land, Reagan told the assembled for his first State of the Union address, "President Washington began this tradition in 1790 after reminding the nation that the destiny self-government and the preservation of the sacred fire of liberty is finally staked on the experiment entrusted to the hands of of the American people. For our friends in the press who place a high premium on accuracy, I did not actually hear George Washington say that."
("...the press, who place a high premium on accuracy" - that's a good one!)
1984 re-election spot, 'Morning in America.'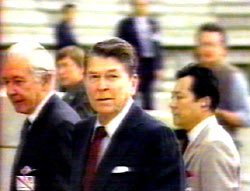 Leaving office after two terms, rumors swirled about a possible return to acting for Ronald Reagan - but it was not to be. Reagan disclosed in 1994 that he was suffering the effects of Alzheimer's disease, making a show business comeback impossible.
Although he lived longer than any other U.S. president in history, Reagan had been out of the public eye for a decade, since releasing a final, poignant letter to the nation that read, in part, "I now begin the journey that will lead me into the sunset of my life. I know that for America there will always be a bright dawn ahead."
Ronald Reagan died on June 5, 2004.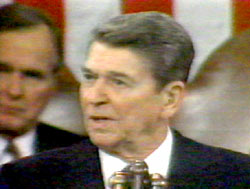 "Wasn't old Reagan a blast on Death Valley Days? To think he ran the country for 8 years!
"I sent that Death Valley Days episode to him, and he sent me back an 8x10 autograph and a few letters from the White House, I even got a call from one of his staff to thank me. I think I have about 5 letters from him while in office."
- Jeff Vilencia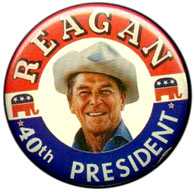 ---
DID YOU KNOW: Reagan told derisive tales of cadillac-driving welfare cheats on the campaign trail - but his own father received public assistance at one time.
President Reagan's approval rating never rose above 68%.
Death Valley Days was hosted by Robert Taylor in 1967.
MORE RONALD
REAGAN ON TV
Jack Benny on the Dean Martin Roast -
the roastee is Governor Ronald Reagan.

MORE: Ronald Reagan in 1950's Advertising
---