---
Jimmy Stewart, Tallulah Bankhead,
Gloria Swanson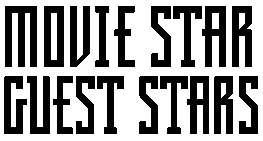 ---
by Billy Ingram
Since the very inception of the medium, there has been an attitude in Hollywood that television is a step down from motion picture work. In the early days of TV it was a big event when a film star like Bette Davis, Henry Fonda, or Joan Crawford appeared on the small screen. This was something most established film stars were loathe to do, but hard times often forced them into it.
Just as the studio system in Hollywood was unravelling in the Fifties, television was becoming a major force in the entertainment industry. The stars of radio were mostly eager to start television versions of their radio hits, but the major film studios held out for as long as they could, refusing to produce programs or even release decent movies to the networks until well into the Sixties.
Television viewers of the Fifties and early Sixties who wanted to watch a movie on TV had only bad foreign films, cheap b-movies from independent studios (like the 'Little Rascals' and the 'Dead End Kids') and silent pictures to choose from. The upside was that you got to see Charlie Chaplin, Buster Keaton and films like "Nosferatu" - better than what most of the major studios had to offer anyway.
Film stars believed that television was too up close and personal, that it would tarnish their finely-honed images and crack the thin veneer of stardom. But with the movie studios cutting back on production, and with no guaranteed contracts like they were used to, television was an inevitable choice for many aging film stars with lavish lifestyles.
Some stars, like Ava Gardner, avoided television until almost the end. Miss Gardner made her first appearance on the home screen in a TV-movie called The Kidnapping of the President in 1980 - then surprised everyone when she joined the cast of Knots Landing for a year in 1985. Ava Gardner acted in three more TV movies before she died in 1990.

Other stars, like Tallulah Bankhead, openly embraced the new medium. Bankhead was a silent film star that successfully made the transition to talkies, radio and then television. She was a frequent guest-star on popular radio programs in the Forties when her film career slowed.
She was outrageous and outspoken in public. "Cocaine isn't habit-forming," the actress was quoted as saying. "I should know - I've been using it for years." In later years, she gained a reputation for answering the door in the nude.
Tallulah Bankhead starred in her own TV series, the All-Star Revue from 1952 - 53 and made a flurry of guest appearances on variety shows and specials spoofing her "Daaaahhhhling" image throughout the Fifties until failing health (and severe alchoholism) forced her to cut back.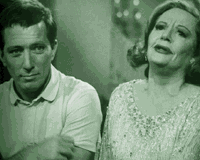 Tallulah Bankhead's last network guest-shots were on the 'Andy Williams Show' in 1966 and as the villianous Black Widow on two episodes of Batman in 1967. She died in 1968.

---
Gloria Swanson was a movie sex symbol from the silent era who made a comeback in 1950 by playing the demented has-been screen actress Nora Desmond in the movie Sunset Boulevard. Some say this was type casting of the most obvious sort - in real life this oooold-school movie star could be difficult and demanding on the set and off. As such, subsequent roles were scarce in motion pictures despite the success of 'Sunset Boulevard', so the aging goddess very reluctantly turned to television for a paycheck.
In 1954, a half-hour syndicated anthology show called Crown Theatre with Gloria Swanson debuted. This series gave the star the luxury of not having to carry a show by herself, some weeks not appearing at all except as the hostess. The production lasted only one year and was to be the only regular series for Swanson.
After taping a few variety/talk shows in the late Fifties, the star turned in the Sixties to doing guest-star roles on shows like The Alfred Hitchcock Hour, Kraft Suspense Theatre, Burke's Law, My Three Sons, Dr. Kildare, Ben Casey - including a memorable turn as herself on The Beverly Hillbillies when Jed Clampett buys a bankrupt movie studio.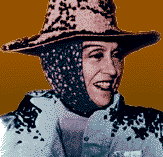 In 1974, Swanson starred in the infamous TV movie The Killer Bees - playing a hag who keeps a horde of deadly bees that she unleashes on her enemies. (Soon we'll all be starring in the sequel.) The legendary actress was in top form in her last network appearance on The Carol Burnett Show 'flirting' with series regular Lyle Wagoner in 1975. Gloria Swanson died in 1983 after a long illness.

---
Jimmy Stewart saw no reason to do television and rarely made small screen appearances during the Fifties and Sixties outside of his three episodes of GE Theatre from 1955 - 1957 and his six guest-turns on The Jack Benny Program from 1958 - 1964. In the Sixties he mostly turned up on tribute shows, his rare sitcom appearances include Julia and My Three Sons.
In 1972, Jimmy Stewart reprised his Broadway role in Hallmark Hall of Fame's production of 'Harvey', a production which won him acclaim and high ratings. This undoubtedly helped take the sting off of the failure he was having with his first, long-awaited NBC situation comedy series The Jimmy Stewart Show (1971-72).
On the show, Stewart played Jim Howard, a professor of anthropology, with Julie Adams as his wife Martha and Dennis Larson as the couple's eight-year old son Teddy. Also in the series: Jonathan Daly as P.J., Jim and Martha's 29 year old son, Ellen Geer as P.J.'s wife and Kirby Fulong as their young son Jake.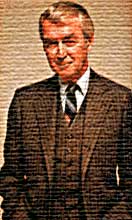 John McGiver co-stars as professor Luther Quince, one of Jim's colleauges in this awkward generation gap comedy that was mercifully cancelled after one year.
Network execs couldn't believe that a star as beloved (and underexposed in the medium) as Jimmy Stewart could possibly fail, so CBS tried a different approach in 1973 - an easy going ninety-minute crime drama called Hawkins (1973-1974) that rotated with 'Shaft' and the 'Tuesday Night Movies'. Stewart starred as Billy Jim Hawkins, a well-known, shrewd but soft-spoken country lawyer from West Virginia who goes to any length to clear his important clients of murder. Strother Martin co-starred as his cousin R.J. Hawkins who helps out in the investigations. This show lasted only one season, and Jimmy Stewart went back to doing tribute shows.
It was long ago when movie star dinosaurs roamed the land. We won't see stars like John Wayne, Tallulah Bankhead and Jimmy Stewart pass this way again, much less parade across our television screens.