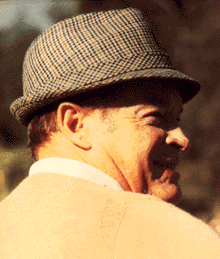 PART TWO
THE 60s AND BEYOND
The Bob Hope Specials continued on an irregular schedule (whenever the network needed ratings) until NBC revived the once-a-month concept in 1963, rotating Hope specials with dramatic productions under the title Bob Hope presents the Chrysler Theater.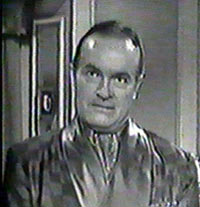 Chrysler Theater brought to the small screen stars like Peter Falk, Don Knotts, Robert Wagner, Shelly Winters, John Cassevettes, and Lauren Bacall. Hope was seen as the announcer three weeks a month and as the host of his own musical-variety show the remaining week, under the title Chrysler Presents a Bob Hope Special. Occasionally, Bob was cast in one of the dramatic productions during the off weeks.
The January 24, 1964 episode of the Chrysler show aired an unsold pilot based on Bob's movie The Seven Little Foys - this time Eddie Foy, Jr. played his real-life father and the very young Osmond kids played the younger Foys. This rotating format was discontinued in 1967, but the Bob Hope Specials continued unabated.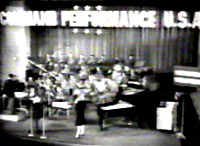 Bob began performing at American military bases and overseas deployments at the start of World War II and continued to do so right up until his retirement. Beginning in 1954, with the telecast of Hope's Christmas shows at Tule Strategic Air Command Base in Greenland, the Bob Hope Christmas Specials from different overseas military bases became a yearly tradition.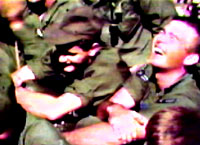 Performing for the troops over the years must have been a very gratifying experience. Bandleader Kay Kyser quit show business entirely in 1951, claiming that he could never get back the rush he experienced performing for the troops during World War II. For these wartime entertainers, soldiers were the most grateful audience imaginable because many of them knew they could be killed in battle the next day.
STORY CONTINUES - AFTER THIS AD FOR VIDEO DOWNLOADS:
---
---
On the early troop tours, Hope and company would venture as close to combat areas as they could get. In the sixties, it was decided that the beloved American icon made too tempting a target for the Viet-Cong (there were plans for his assasination) and the productions were mounted in somewhat safer territory.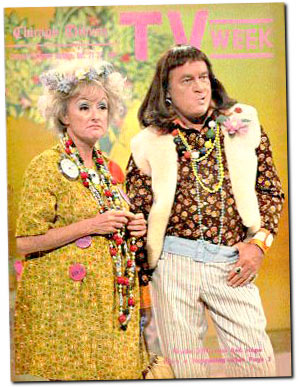 Bob Hope won an Emmy for his 1966 Christmas show, filmed in Southeast Asia and his 1970 Christmas special was the highest-rated program in television history (until 'Gone With The Wind' deposed it in 1976).
A controversy erupted during the sixties centered around the fact that the USO and Christmas specials were being underwritten by the US government - and Bob Hope profited handsomely from the television broadcasts. "It's a criticism by groups that are anti-fun." was his terse reply. "Nobody goes to Vietnam and lays their life on the line unless they want to do it." Of course, that didn't address the question, but that's the way things were then.


Texaco commercial from a 1970's Bob Hope special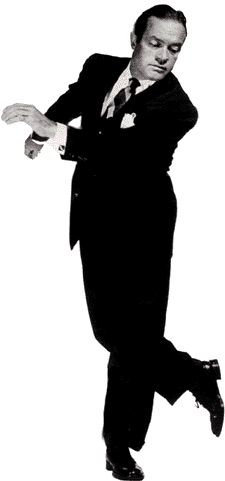 A Typical
Bob Hope Special
from the Seventies:
Starting in the mid-seventies, the Bob Hope specials began to take on a 'big event' feel - each one more spectacular than the last, usually involving a take-off on a popular movie of the time. In the eighties, all Bob had to do was trot out the latest cheesecake celebs of the hour and a roster of college football players to score big ratings.
On March 5, 1976 NBC broadcast Texaco presents Bob Hope in "Joys" (A Comedy Whodunit), featuring the biggest collection of comedians ever assembled for one television show.
The ninety-minute special featured: Don Adams, Jack Albertson, Marty Allen, Steve Allen, Desi Arnaz, Rona Barrett, Billy Barty, Milton Berle, Foster Brooks, George Burns, Red Buttons, Pat Buttram, John Byner, Sid Caesar, Sammy Cahn, Glen Campbell, Jack Carter, Charo, Jerry Colonna, Mike Connors, Scatman Crothers, Bill Dana, Angie Dickinson, Phyllis Diller, Jamie Farr, George Gobel, Jim Hutton, David Janssen, Alan King, George Kirby, Don Knotts, Fred MacMurray, Dean Martin, Groucho Marx, Jan Murray, Wayne Newton, Freddie Prinze, Don Rickles, Harry Ritz, Telly Savalas, Phil Silvers, Larry Storch, Abe Vigoda, Jimmie Walker, and Flip Wilson.
The 'plot' goes like this, a human shark ("Jaws" was hot in 1976, so was the "Land Shark" from SNL) is devouring comedians assembled at Bob's house for a party. Hope enlists the help of TV detectives Mannix, Police Woman, Kojak, Ellery Queen, Fish and Harry O to solve the mystery. This was just a cheap set-up for one-liners traded back and forth between the celebs, shot wherever and whenever producer Hal Kanter ('Julia', 'All in the Family') could corral whatever stars he could get.
This was Kanter's third Hope special and the third sponsored by Texaco. In late 1975, the comedian fired the staff he had worked with since the fifties in an effort to shake things up. "It was time for a change. For 25 years we did the same thing all the time. It was successful, or we wouldn't be sitting here. But when I signed with Texaco I said I wanted something different. Throw everything away, replace it with new ideas every shot."
Bob Hope explained how some of the casting for the March, 1976 special was locked up; "I did the Dean Martin show last night, so he'll be on. When I went on for Don Rickles I brought along Bing Crosby and John Wayne - which means we'll have Rickles forever."
"Now, exactly who gets knocked off when depends on when the guests can make it to NBC for the taping. Or if they can make it at all," producer Kanter explained. "A few of the stars can be here for the full three day's taping. OK, they get killed off last."
The show itself was (of course), a total mess - one scene after another of Bob Hope walking up to another Hollywood celebrity. "Surprised" to see him/her, they trade barbs (or plugs) and the guest disappears, then on to the next guest. And most of these guys were really, really old.
In all fairness, people didn't tune into a Bob Hope special looking for anything but the most superficial entertainment, and on that level the show works very well - notable for featuring a rare appearance by Desi Arnaz and one last look at TV greats Groucho Marx and Pat Buttram (Mr. Haney on 'Green Acres').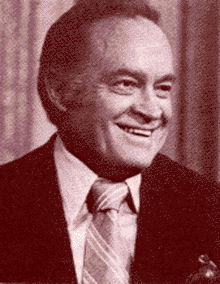 Because Hope had practically every celebrity in the Hollywood galaxy as a guest on his many specials at one time or another, it meant that he naturally turned up as a guest on other shows quite frequently.
In the late-seventies, you almost couldn't turn on the television without seeing Bob Hope mechanically reciting one-liners in front of a curtain - in some cases, barely aware of what program he might be on.
Throughout the seventies and eighties, there was a new Bob Hope 'spectacular' every few weeks - Bob with the Dallas Cowboy Cheerleaders, Bob with the All-Star teams, Bob with the biggest number of celebrities ever assembled for one show, and of course, Bob with the troops again at Christmas in some far-flung region of the world - and top-ten ratings were assured virtually every single time.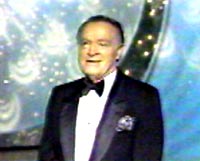 A regular feature of every special from the beginning was the opening monologue, with lots of topical but mild political humor. He would be lightly ribbing his subjects, but with a wink that told you he was buying into the deal as well. "I think a long time before using a joke that's on the borderline of hurting someone," Hope stated in 1975.
There were also musical numbers and skits (with Bob and his guests delivering most of their lines as asides to the camera), as well as a parade of athletes, cheerleaders and sitcom bimbos. After over three hundred specials, the package and the message grew just about as square as you could get.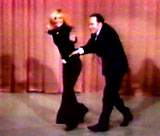 In a town known for fleeting relationships, Bob remained married to his devoted wife of 69 years, Dolores. This despite the fact that Hope dallied with dozens (if not hundreds) of Hollywood 'chorus girls.'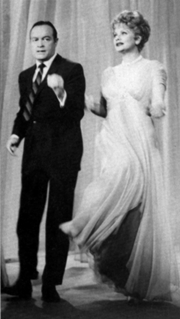 Middle America loved Bob Hope because he was always there, through good times and bad. He was comfortable to watch, played golf with all the presidents, could sing and dance without it being a big deal, and was always there with a quip on the news of the day.
One of the few things in life that you could count on.
---
Here are a few
random clips
from a long run
on television:
outtakes from 'Bob Hope Specials' featuring Sammy Davis, Jr. and Fred McMurray.
Hard to hear, but here's a very funny audio clip of Bob Hope and Bing Crosby trading insults and each other's tunes on an unknown Awards Show circa 1972.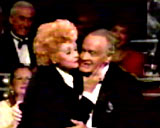 So many stars made their last or penultimate appearances on Bob Hope Specials. Lucille Ball joined Bob in one of her last guest shots - a Bob Hope Special from 1988. The duo looked back on their work together in song and dance - and Lucy is in top form. It was one of their most relaxed appearances together.
Lucy and Bob appeared on 37 television programs together - including Lucy's last, the 1989 Academy Awards Show.
Bob Hope Specials
Bob Hope Christmas Shows
Bob Hope DVDs
BOB HOPE TV SHOWS
BOB HOPE IN THE 1980s
BOB HOPE'S 1976 TV SPECIALS