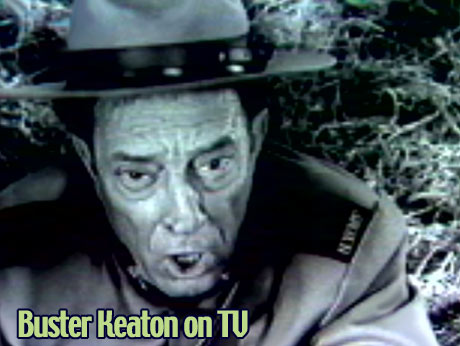 Buster Keaton was a true genius of the silent film era, an acclaimed director and masterful physical comedian, many believe the best of all time. The advent of talkies ended his brilliant career when bad investments (and alcohol) left him nearly destitute.
As television developed, it offered the poker-faced comedian a chance to work again at his craft. He had one of the first syndicated series in the late-1940s, The Buster Keaton Show, filmed at KTTV in Los Angeles. Some episodes were directed by Eddie Cline, who had been with Sennett, Hal Roach and Harold Lloyd. Other writers and directors included Albert Mannheimer and Clyde Bruckman.
After that, he turned up on the small screen four or five times a year as a guest on a variety of programs, mostly in small bit parts.
Buster Keaton turned up on a number of sitcoms including: The Betty White Show in the Fifties and two turns on The Donna Reed Show in the Fifties and Sixties.
Variety show appearances include: The Rosemary Clooney Show, The Ed Sullivan Show, The Garry Moore Show in the Fifties, and The Jack Paar Program and Tonight Show in the Sixties.
Quiz Shows: This is your Life, I've Got a Secret, and You Asked for it in the Fifties. Keaton's appearances on Candid Camera starting in 1960 are some of the funniest moments ever captured on film. He also did some very unusual commercials for Ford, Northwest Airlines, Alka-Seltzer and the Simon Pure Beer company around the same time.
These commercials were mostly pantomimed, harkening back to the comedian's silent days. Keaton didn't particularly like doing commercials, telling his agent, "I'm not a commercial actor, so price me out of the market." But clients liked his work.
Buster Keaton also appeared on dramatic shows as well, like Best of Broadway, Playhouse 90, and Producer's Showcase in the Fifties and Sunday Showcase, The Twilight Zone, Route 66, Burke's Law, The Greatest Show on Earth in the Sixties.
His last network appearance was on the CBS special 'Salute to Stan Laurel' in 1965. He also did a TV-movie that year called "The Man Who Bought Paradise".
Few in the television audience knew that this old, frumpy guest-star playing a small role on their favorite show was one of the greatest comedians of all time, but it showed in the quality his work. Every movement precise, every facial expression a frozen masterpiece.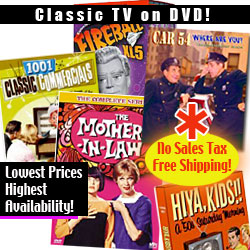 PR4 & PR5 Pages for ads - CHEAP!

TELEVISION FOREVER -
TV Shows on DVD Reviews,
DVD releases you might have missed!

Enjoy Obscure 70s Music!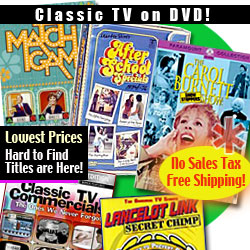 News Regurgitator!
News Bites you can use!
News Regurgitator - Political News Links
Television's Greatest - local & national TV kid shows
N.C. Actor Billy Ingram / Southern Actors
TV on DVD
Holiday Specials on DVD
TV Commercials on DVD
Everything you're looking for is here:
Shop Amazon's New Kindle Fire
Las Vegas Legends

Obscure 70s music & more!