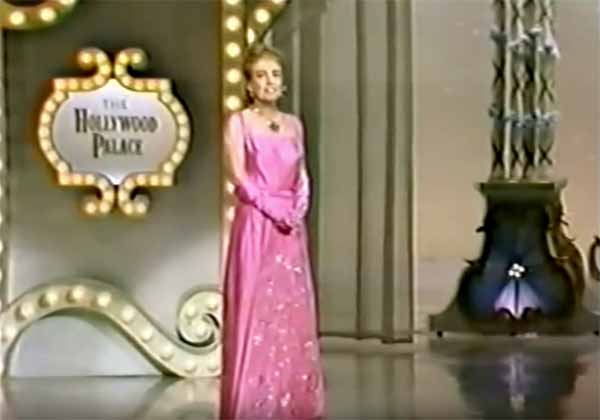 Hollywood Palace with host Joan Crawford 1965
Hollywood Palace Season 3 Episode 4 with host Joan Crawford and guests Jack Jones, Joanie Sommers, Allen & Rossi
Originally airing on Oct 9, 1965, Joan Crawford was 59 years old in 1965; she was also guest star Jack Jones' godmother. Jack Jones is most famous for singing the Love Boat theme song.
Hollywood Palace was very much like the Ed Sullivan Show except the host was a different star each week. Bing Crosby hosted many episodes of this series.
Joanie Sommers wasn't very well known but she was was the vocalist behind the seminal ad campaign "We Are the Pepsi Generation." It was no coincidence that Crawford's husband, John Steele, Chairman of the Board for Pepsi. After his death, Joan Crawford took a seat on the Pepsi Board of Directors and traveled the world promoting the soft drink and attending grand opening celebrations for their new bottling plants.
This program features:
- Joan Crawford: "A Prayer for Little Children"
- Jack Jones: "Just Yesterday" & "More"
- Jack Jones & Joanie Sommers: "Call Me"
- Joanie Sommers: "Till There Was You"
- Allen and Rossi (comedy team)
- Steve Rossi: "Al Di La" & "Battle Hymn of the Republic"
- Godfrey Cambridge: Stand up comedy
- Lily Yokoi: Japanese bicyclist
- The Rodos: Acrobats from West Germany
- Stebbings' Boxers: Comic dog act from England