The Golden West
Mae West in the Movies, on Radio & Television
by Billy Ingram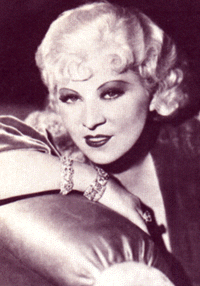 Mae West was a massive film star in the 1930s who basically walked away from full-time show business when censorship made her sexually suggestive brand of humor impossible for the studios to distribute.
Both on screen and off, for all of her life, Mae West played the broadly seductive Diamond Li'l character she created in vaudeville in the 1920s.
She was the very first sex symbol. "'Cause nobody used the word 'sex' until I used it in my play," she remarked to an interviewer in the 1970s. "Except to differentiate between the male and female, like he's of the male sex. After I was called a sex symbol and the studios saw how much money my films made, they wanted others."
Mae single-handedly rescued Paramount Pictures from bankruptcy when She Done Him Wrong grossed $2 million in 1933. That would be $140 million in today's dollars. (Paramount recognizes that debt of gratitude with a building on the lot named after her.)
What did she do to create such controversy? Her movies were suggestive to be sure, but they contained no nudity, no profanity, and very little violence. But the honky tonk atmosphere she crafted melted off the screen, you could almost smell the cigarette smoke and cheap booze coming off the screen.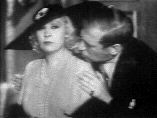 Though her films are filled with broad characterizations, ethnic and otherwise, she was one of the first to allow black characters to have their own identities and interact with her as equals. This served as some kind of balance to the pervasive subservient Mammy characters that inhabited her films (and almost every other movie of the thirties).
What uptight people objected to was that Mae West had the nerve to portray confident women who weren't afraid to use their sexual wiles to get what they wanted. "I was the first liberated woman, you know. No guy was going to get the best of me, that's what I wrote all my scripts about." Her best movies are pastiches of Mae dealing with men she just met, the men in her past, and the man she's after next.
She also had total creative control over her projects. That couldn't protect her from the censors who were targeting her in particular.
One of the best films, I'm No Angel also from 1933, had Mae playing the thirties' version of the stripper with a heart of gold and a keen eye for sugar daddies in the form of Miss Tira, who goes from a tent to the penthouse thanks to the kindness of strangers.
In it, the carnival barker announces Tira's act with suggestive comments like: "Boys, with the right kind of encouragement, she'll throw discretion to the winds and her hips to the north, south, east, and west." While audience members are leering in the most unsavory way, Mae is moaning low and slinking slowly down the platform before belting, 'They Call Me Sister Honky Tonk.' She catches every eye in the crowd but when she saunters off stage she mutters under her breath, "Suckers!"
A common theme in modern movies like Pretty Woman, this type of wanton behavior was unheard of in motion pictures of the era. Take Tira's advice to a runaway girl: "Always remember, honey, a good motto is; take all you can get and give as little as possible. Never let one man worry your mind. Find 'em, fool 'em and forget 'em."
Religious leaders condemned Mae West as a negative role model, and forced the Hollywood studios to curtail her films drastically. They were offended by lines like; "Between two evils, I always pick the one I haven't tried before," "Why don't you come up and see me sometime" and "Is that a gun in your pocket, or are you just glad to see me?" (now you know where THAT came from).
Powerful muckraking newspaper publisher William Randolph Hearst even called on Congress to do something about the Mae West "menace."
She dabbled in radio in the forties, usually making headlines with her brash (and always hilarious) appearances. Especially shocking to the faint hearted was her Christmastime, 1937 guest spot on the Edgar Bergen and Charlie McCarthy program where Mae West and Don Ameche performed a skit set in the Garden of Eden that was loaded with double-entendres. Here's an excerpt:
Eve: "Listen Adam, I tell ya' you gotta get me out of this place. You gotta break the lease."
Adam: "Yeah, but what for, this is Eden everything is peaceful and quiet and safe."
Eve: "That's the trouble, it's too safe. I tell ya' it's disgustin'"
Adam: "What are you talking about?"
Eve: "Adam, you don't know a thing about women."
Adam: "Oh, you apparently forget you were originally one of my own ribs.
Eve: "A rib once and now I'm beefin'"
Adam: "Me, I know everything about women."
Eve: "That's coverin' a lot of territory. Listen long, lazy and lukewarm, you think I want to stay in this place all my life?"
Adam: "I do and I tell you you're one of my ribs."
Eve: "Yeah, but one of your broken ribs. Couple of months of peace and security and a woman's bored all the way down to the bottom of her marriage certificate"
Adam: "Well, what do you want, trouble?"
Eve: "Trouble? Listen, if trouble means something that makes you catch your breath, if trouble means somethin' that makes your blood run through your veins like seltzer water... uuummm, Adam my man, give me trouble."
In an exchange with Charlie McCarthy she quipped, "Charles, I remember our date and have the splinters to prove it"
Tame by modern standards but it was serious business in 1937 - NBC banned Mae West from appearing or even being mentioned on their network and the FCC issued a letter of reprimand to the network and the affiliates. The public was outraged and Ameche recalled, "The Mae West episode? I almost got thrown off the air for life because of that skit." Bergen was forced to apologize for the incident the next week and Mae was left scandalized. Again.
She didn't return to radio until 1949, ironically on NBC, with an appearance on The Chesterfield Supper Club starring Perry Como, originally simulcast on radio and supposedly shot for television with the cast standing at the microphone.
Perry Como: "Ah, Miss West, you're as pretty as ever. You're as pretty as a picture."
Mae West: "What are you looking at, the picture
or the frame?"
On that show, they performed a skit entitled, Little Red Riding Hood in which she quips, "I'm on my way to see my sick old grandma, but I could be talked out of it."
It was around this time that the star mounted a bombastic Las Vegas revue that was a smash hit, she toured with that show and others that she wrote and produced throughout the 1950s.
The singer/comedienne could afford to do as she liked, an incredibly shrewd investor, she bought up major parcels of land in what is now downtown Van Nuys, a thriving suburb of Los Angeles. As a result, she became one of the wealthiest women in the world by the 1950's.
NEXT: PART TWO: MAE WEST ON TELEVISION
...and a notorious return to motion pictures!