The Golden West
Mae West on Radio & Television /
Part Two / Part One Here / by Billy Ingram
When television took hold, Mae West wasn't too keen to get involved; she believed every appearance should be a big event and the video screen was too miniscule for her larger than life persona.
For her first major TV appearance on the Oscars telecast in 1958, Mae and Rock Hudson rocked the audience with their campy rendition of 'Baby It's Cold Outside.'
A CBS talk show appearance was taped in October of 1959 but the network was terrified that prudish viewers would be shocked by the plain talking actress who was plugging her new, 'racy' autobiography.
For instance, when interviewer Charles Collingwood asked Miss West why she had mirrors on her bedroom ceiling, she replied, "I like to see how I'm doing". The show never aired, that remark alone was too sexually explicit for TV in the nifty-fifties.
That same year Mae guest starred on a Dean Martin special where she traded barbs with Bob Hope and sang two rousing numbers with Deano. Their version of 'I Can't Give You Anything But Love' remains one of the funniest moments in TV history.
The Red Skelton Show in March of 1960 followed where she repeated many of her best jokes from the past and added a zinger that wouldn't pass the censors today.
Interviewer: "First, I want to thank you for allowing us visit you. You've been most cooperative."
Mae: "Well, that's been the secret to my success. Cooperation."
Interviewer: "Now about your book, Miss West. It's an autobiography of course."
Mae: "Yes, and it's called Goodness Had Nothing To Do With It."
Interviewer: "Isn't that title a little spicy for a life story?"
Mae: "Well, maybe for yours but not for mine."
Interviewer: "Now, if we may, let's discuss the men in your life."
Mae: "Well, aah, Mr. Copeland, I've often said, it's not the men in your life that counts, it's the life in your men."
Interviewer: "That's quite true. But about those men in your life, Miss West. Have you included all of them in your book?"
Mae: "Oh please, the book is only two hundred and seventy-one pages."
Interviewer: "I understand the original manuscript was over six hundred pages. Did the editors boil it down?"
Mae: "Sort of. Well, let's say it boiled itself down."
Interviewer: "And now how about a real exclusive for our television audience? Could we hear about the men who don't appear in your book?"
Mae: "You mean the men that was taken out of the book?"
Interviewer: "Yes."
Mae: "Ooh, aah, stand by, we're about to start a telethon."
Interviewer: "No, Miss West, I simply meant we wanted to hear about some of the unusual men, the men who are off-beat."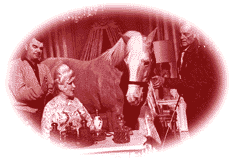 Mae: "Well, a smart girl never beats off any man."
In 1965 Mae West turned in her most bizarre TV performance. On Mr. Ed (her only sitcom appearance), West played herself trying to seduce the talking horse. (At least they skipped the obvious jokes which would have never made it past the network censors, anyway!)
"I'm in a class by myself. I star in everything and I break records all over the world. My *ego's* breakin' records!"
Indeed she did, her beach house was adorned with ornatemurals of naked men with golden cocks and disembodied testicles floating in the air like clouds.
Her last major television appearance was on Back Lot, USA, a special airing April 4, 1976 on CBS with host Dick Cavett. On the prime time program, the aging diva chatted about her life and performed a long, elaborately staged medley of her saucy thirties' hits - even though the former temptress was almost 80 years old by that time.
The critics were not kind.
She released 3 rock and roll albums in the late-1960s and 1970s and returned to motion pictures in 1970 with two notorious bombs, the truly awful Myra Breckenridge and the even worse Sextette (1976).
By the time she died November 22, 1980 of natural causes her considerable estate had dwindled to around a million dollars. Finally, after years of neglect, Mae West's films were released on DVD and they are still spectacularly funny.
MOVIE STARS ON TV
JOHN WAYNE I JIMMY STEWART, GLORIA SWANSON I TALLULAH BANKHEAD
MAE WEST I GROUCHO MARX I BOB HOPE ON TV I RONALD REAGAN
BUSTER KEATON I LUCILLE BALL I BETTE DAVIS I JAMES DEAN
WOODY ALLEN I JUDY GARLAND