The one, the only -


From 1950 until 1961, Groucho Marx ruled on NBC-TV Thursday nights with, of all things, a game show.
During the Fifties, quiz shows were giving away record amounts of money - on some shows hundreds of thousands (in today's) dollars. In this era of big money quiz shows, You Bet Your Life rarely gave away more than a thousand dollars - and that was for a pair of contestants to split.
You Bet Your Life was originally broadcast on radio beginning in 1947, initially moving to television in 1950 as a radio show with cameras. On the program, contestants could "say the secret word and win a hundred dollars" and a paper-mache duck would come down with the loot. People tuned in to see and hear Groucho grill the contestants, the game itself was almost inconsequential.
'You Bet Your Life' was almost cancelled before it began - the original sponsor DeSoto ("Go to see your nearest DeSoto-Plymouth dealer and tell him Groucho sent you"), assumed when they signed Groucho that he would do the show in his familiar black frock coat and painted-on mustache.
When he refused, the sponsors tried to pull the plug, but discovered that there was no clause in the comedian's contract requiring him to wear a costume - "If I can't be funny on television without funny clothes and makeup, to hell with it" was Groucho's attitude.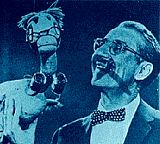 The emphasis of You Bet Your Life was on the banter between Groucho and the carefully selected contestants (often one of the players was a semi-famous person - one episode featured Groucho's daughter Melinda Marx and a pre-teen Candice Bergen).
GROUCHO!
Groucho's quick wit made for some of the funniest moments in television history, with much of the humor coming from the leering comments Groucho directed at the many gorgeous, well-endowed women that frequented the show.
A typical exchange between contestant and host:
Groucho: "Where are you from?"
Girl: "I'm from Ralph's Grocery Store."
Groucho: "You were born in a supermarket, eh? I thought supermarkets didn't make deliveries anymore. . . Oh? You're the cashier? Now it begins to register!" Groucho Marx won an Emmy in 1951 (the third year of the ceremonies) as 'Most Outstanding Personality'.

In the fall of 1960, the series was retitled The Groucho Show, a move meant to distance the production from the quiz show scandal that was erupting at the time.
On 'The Groucho Show', whenever a contestant uttered the secret word, the lovely Marylin Burtis was lowered down on a swing with the cash. On one episode, Harpo Marx descended from the swing instead, to the delight of the studio audience. The series was cancelled after one season in 1961, a casualty of the public's wholesale desertion of all game shows.

Dinah Shore (from her primetime variety series) and Groucho sing 'Peesie Weesie.'


NEXT: GROUCHO IN THE SIXTIES -
Was Groucho hijacked in his old age?