PART TWO - THE SIXTIES AND SEVENTIES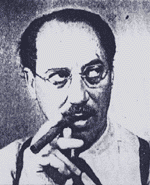 In January 1962, after being off the air for only a half-season, Groucho returned to Thursday nights in a familiar game show format, a series called Tell it to Groucho (replacing 'The Investigators' on CBS). The top prize this time was only five hundred dollars, which a contestant won by recognizing a celebrity puzzle photo.
Groucho was joined on the show by two young people that he discovered on 'You Bet Your Life'. The emphasis here was even more on the interviews, but the production lasted only until May 31. Quiz shows of all types had fallen completely out of favor with the viewing public by 1962.
After 'Tell it to Groucho' was cancelled, the comic guest-hosted The Tonight Show after Jack Paar left the program and just before Johnny Carson began his decades-long run (Groucho was also Carson's first 'Tonight Show' guest).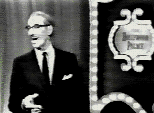 The Fifties and Sixties saw the comedian as a guest on a number of variety shows including The Perry Como Show, The Jackie Gleason Show, Kraft Music Hall, celebrity roasts and several appearances on the Hollywood Palace.

One memorable Hollywood Palace episode in 1965 had Groucho as host and Margaret Dumont as one of his special guests. Dumont was Groucho's foil in several Marx Brothers movies, together they re-created one of their classic scenes together.
This was a rare TV appearance for Dumont and her last, she died just a few days after the program was filmed.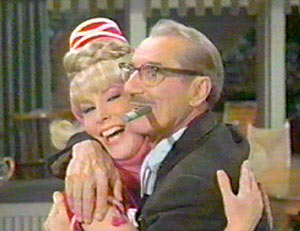 Marx' only sitcom appearances were on single episodes of 'I Dream of Jeannie' in 1967 and on 'Julia' (as Doctor Hackenbush) in 1969. Groucho sat down with Dick Cavett for an hour-long special in the summer of 1969, made an appearance on ABC's The Music Scene in the fall of 1969, and was a guest on The New Bill Cosby Show in 1972.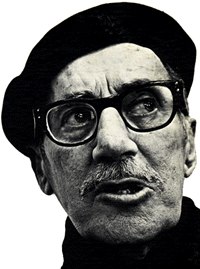 A comeback of sorts came to Groucho Marx in the form of a mini-concert tour that began with a rousing sold-out show at Carnegie Hall in 1972.
An LP recording of the performance ('Groucho at Carnegie Hall') was released and it preserves a remarkable evening that has the comedian singing, telling stories and reprising his greatest hits and bits. Groucho was becoming an icon on college campuses at the start of the 70s, with Marx Brothers movies being rediscovered on television and campus screenings, not to mention Groucho's face could be seen staring down from posters hung in dorm rooms all over the US. Spencer's Gifts probably STILL sells those posters.
The reason for Groucho's sudden busy schedule was his much younger and oh-so ambitious manager/companion Erin Fleming. Introduced by the producer of TV's 'The Odd Couple', the unemployed actress and the dottering old superstar bonded immediately, before long Fleming had taken over all of Groucho's personal and business affairs, using her proximity to stardom to push for roles for herself. Sadly, Groucho's health was failing just as his popularity was rising, the concerts were little more that Groucho standing at a podium reading breathlessly from cue cards while pianist Marvin Hamlisch did his best to prod and cover for him. Groucho suffered another stroke just weeks after completing all but one of his live performances, but bounced back with a funny guest shot on 'The New Bill Cosby Show' in 1972.
A show at the Dorothy Chandler Pavillion in Los Angeles later that year was filmed for a television special but the footage was deemed unusable.
At 85, Groucho was awarded a special Oscar in 1974. Managing a shaky appearance on the awards telecast to accept his statue and a standing ovation from his peers, he publicly thanked Erin Fleming, saying it was she who ³makes my life worth living and who understands my jokes.² That year, ŒYou Bet Your Life' entered syndication and a flurry of books were printed about the comedian. Erin Fleming began to give lavish parties where a multitude of Hollywood's biggest celebrities would drop by and pay homage to a sometimes barely concious Groucho - and here a pitch from Fleming about her latest project. Fleming made the national news when Groucho's son Authur sued to have her removed as his father's caretaker, believing his father was being unfairly manipulated by a failed actress.
Groucho himself (by 1976 reportedly senile) dispelled these accusations in the press and in court, but Arthur Marx felt the comic was being taken advantage of, forced to perform against his will and being physically threatened and abused. While many people felt Erin Fleming did push Groucho too aggressively to perform in the Seventies, she also helped him reach a whole new audience by getting his face before the public. Even if that face was barely recognizable and the voice a painful whisper. Groucho's appearance on a star-studded Bob Hope special in 1976 (appearing alongside George Burns) was his last on television. Writers had to have Billy Barty in a Groucho get-up hovering around the comedian so that the audience could remember who this feeble old man was - he could hardly breathe his lines.
That same year, a walk-on part was prepared for Groucho on 'Welcome Back Kotter', but he backed out of the filming at the last minute - instead putting in an awkward appearance on the set to have his picture taken with the cast. Groucho was so frail that the studio audience didn't recognize him when he walked out and sat in Mr. Kotter's chair for the cast photo. The pictures were never released.
The sight of the shrunken, pitiful star being led around by Erin Fleming that day greatly disturbed several of the cast members, especially Robert Hegyes (who's character 'Epstein' often imitated Groucho on the hit series). "How can I go out and make people laugh after seeing that?" was his stunned reaction. Groucho made his last public appearance at a deposition for the Fleming trial early in 1977, then died that summer from complications due to pneumonia.

Lawsuits tied up the money Erin Fleming was to receive from managing Groucho's career and his estate. Because she wasn't a lisenced manager, she was ordered to pay almost a half-million dollars in penalties and damages to the Marx estate - which she didn't have. In 1990 she was arrested with a .357 Magnum in a Police Station and by mid-decade Fleming was seen by some of Groucho's friends living as a street person, begging for spare change and free meals.
GROUCHO MARX
ON TV
"I remember an episode of 'The New Bill Cosby Show'. At the top of the show, Bill came out to announce he had a very special guest star, Groucho Marx. Then he did a monologue about going to the movies when he was a kid which he ended by putting on a fake mustache and eyebrows and walking around the stage doing some of Groucho's best known lines.
"At the end of this routine, the real Groucho joined him and sang "Hello, I Must Be Going." I remember a very funny interview routine between Bill and Groucho. At one point, Groucho looks at Bill and says "You smoke cigars I see." Bill replies that he really became interested in cigars because of Groucho. Groucho replied, "They're a handy thing to have for a comedian - assuming, of course, you are a comedian!" Bill's genuine affection for Groucho also made a strong impression on me.
"This was the first time I recall ever seeing Groucho Marx. He was well into his 80s, but he still had a great sense of timing and a quick wit. There was something about his personality which really made an impression on me that night. It was the beginning of my fascination with the Marx Brothers, and a desire to learn as much as I could about their lives and careers. I spent the next five or six years reading, watching, and listening to everything I could find about Groucho, Harpo, Chico, Zeppo, and Gummo.
"I appreciate the opportunity to express my appreciation to "The New Bill Cosby Show" for introducing me to a wonderfully interesting family."
- Ernie A. Mehaffey
---
Classic TV / I Love Lucy / Television Shows / TV on DVD / TV Shows on DVD / Prime Time TV / Television Blogs / Groucho Marx
TV on DVD / / Holiday Specials on DVD
TV Commercials on DVD
TV Shows on BLU-RAY