8:00
Adventures
of Raggedy
Ann and Andy / CBS
(debut)

To counter criticism that all Saturday Morning cartoons are based on toys that promote violence, really old favorites like Raggedy Ann are brought out.

It was still based on a product of course - and sales of the doll spiked. In the cartoon, the rag dolls meet wizards, dragons and other things to be attracted to, then run away from. Returned for the 1989-90 season in the 7:00am slot.

The 'Teenage Mutant Ninja Turtles' (already popular in syndication) occupied the 7:30 slot in 1988. They would come to dominate Saturday mornings in the years to come.
---
CBS had some weird, cool transitions for their cartoons in 1988.
Superman / CBS
(debut)
All-new (but not very good) cartoon adventures of the Man of Steel.
Supes had a long Saturday run in the Sixties (CBS, 1966-1970), in the Seventies as a member of the 'Super Friends' (ABC, 1972-1985), and in 1985-86 as part of the 'Super Powers' team.
This 1988 series only ran one year, it was Superman's first solo Saturday series in twenty years.
Each episode ended with a four-minute look at Superman's past.
9:00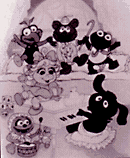 Jim Henson's
Muppet Babies / CBS
Fourth year of the well-executed cartoon series that ran until 1992 on Saturdays mornings and is still seen on cable today. 'Muppet Babies' won three Emmy awards the first year.
The 1987-88 season also had a Henson Saturday entry - 'Fraggle Rock' based on the HBO series - but it didn't catch on like 'Muppet Babies' did.
10:00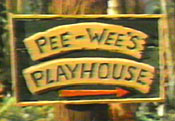 Pee-Wee's
Playhouse / CBS
Third year of five. Based on the long-running punkish stage show that played on LA's Sunset Strip in the early-Eighties, an on-stage parody of television kid shows that actually became one.
The character of Pee-Wee Herman was probably based on Pinky Lee, a famous kiddie host of the Fifties.
The manic set designs were created by underground cartoonist/artist Gary Panter. Pee Wee was CBS's big gamble in 1986, and it paid off - ending up the highest-rated Saturday show of the season with a huge audience of adults tuning in as well as kids.
So many people were taping this show and watching it later that the Neilsen ratings folks thought they might have to overhaul the whole ratings system.
10:30
Garfield and
Friends / CBS
(debut)
Gag me with a spoon!
Hey, Vern,
It's Ernest / CBS
(debut)
Based on the popular commercials that became popular movies then a TV show (now that's a first!) - starring country bumpkin Ernest, and a multitude of other characters brought to life by recently deceased Jim Varney. Some interesting make-up effects, quick cuts and short segments make it fun. Only runs one year.
11:30
Flip! / CBS
(debut)
Magazine style show for kids. Very new-wave and 'sassy' in that Reagan-era way.
Yanked from the schedule after only one month.
Mighty Mouse, the
New Adventures / CBS

Ralph Bakshi ('Fritz the Cat' movie) goes back to his Saturday Morning roots (he worked on 'Mighty Heroes' in 1966) to resurrect Mighty Mouse.

Lots of fun episodes that are sharply satirical and nicely designed by John K of Ren and Stimpy fame.
The network got in a bit of trouble when they aired an episode that seemed to show Mighty Mouse snorting cocaine to get his powers back! (He actually snorted flower petals.)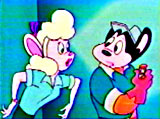 Ratings were soft, but Mighty Mouse was renewed for a second season.
8:00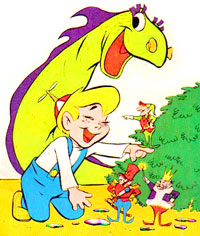 Beany & Cecil / ABC
(debut)
The adventures of a seasick sea serpent, along with Dishonest John and Capt. Huffenpuff.
Based on the memorable, long-running Sixties' cartoon series that was based on the Fifties' live action kid show.
ABC canceled it after only one month because of creative conflicts with John Kricfalusi, whose Spumco studio was animating it for the DIC animation company.
8:30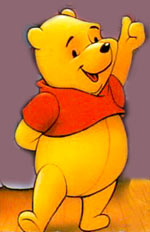 New Adventures of
Winnie the Pooh / ABC
Disney's two 1988 entries ('Gummi Bears' and 'Winnie the Pooh') were competing for viewers on opposite networks - hardball programming.
The next year ('89-'90), the two Disney shows were combined into 'Disney's Gummi Bears/Winnie The Pooh Show', an hour show on ABC. Today, Disney owns ABC.
This show (the first TV series for Winnie) used a higher quality animation than was common for network Saturday mornings because it was originally run on the fledgeling Disney Channel.
So it wasn't REALLY new at all.
9:30


Slimer and the
Real Ghostbusters / ABC
Third of four years for the Ghostbusters, now with 7 and 14 minute 'Slimer' (a kooky ghost) episodes.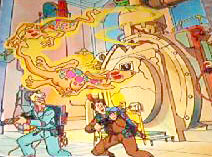 This was called the 'Real Ghostbusters' because it's based on the famous 1984 movie - but that wasn't the FIRST 'Ghostbusters.'
There was a live-action Saturday morning show in 1975 called 'The Ghost Busters' with Larry Storch and Forrest Tucker that lasted only one year.
After the movie hit, there was a syndicated 'Ghostbusters' cartoon launched in 1986 that was based on that original Saturday show, but it lasted only one year.
For years, lawsuits were filed over the name 'Ghostbusters' because of this confusion.
When the Ghostbusters movie was released on DVD in 2005, two episodes of the Real Ghostbusters cartoon were included.
10:30
Pup Named
Scooby-Doo / ABC
(debut)


Featured a younger version of Scooby, Shaggy, Velma and the gang that everyone had been watching on Saturday mornings for over a decade. Scooby runs for three years in this format.
11:00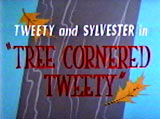 Bugs Bunny
& Tweety / ABC
Tweety appealed more to younger kids, so he got second billing after Bugs Bunny in 1988 - sorry, Daffy!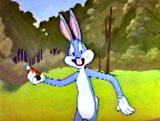 ---
Three Musketeers Candy Bars had some unusual ads in 1988. In an attempt to modernize the candy bar's image, three modern day ('88) teen guys represented the Three Musketeers.
12:00
Animal Crack-ups / ABC

Game show hosted by Alan Thicke ('Pictionary') with four celebrity panelists - people like McKenzie Astin, Charlie Callas, Betty White, Caryn Richman, Harvey Korman, Tina Yothers, Arlene Sorkin and others.
Produced by Vin 'America's Funniest Home Videos' DeBona, this show ran for three years.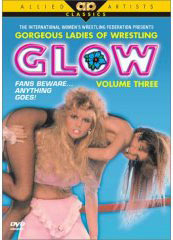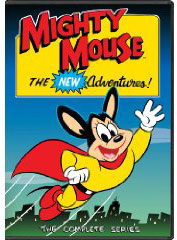 8:00


Kissyfur / NBC
Returned for a second year (after a year off). Kissyfur was a circus bear that lived in the swamp with his father Gus. Featured 'The Popples', Care Bear-looking creatures with hearts for ears. Ran until 1990.

8:30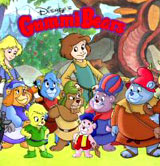 Disney's
Adventures of
The Gummi Bears / NBC
Fourth year for the cartoon show based on the popular candy (?!?). Another first, I guess.
9:00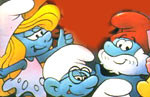 Smurfs / NBC
The Smurfs dominated Saturday mornings as the highest-rated Saturday show for years, until Pee-wee came along. Smurfs was just starting to run out of steam in 1988 after 7 years, this season knocked back from an hour to a half-hour.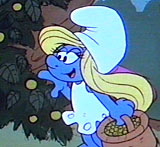 "If you look at cartoons from ten years ago, you can really see the difference. Now there is more of an interest in adding subtle social messages." - Winifred White, NBC VP Saturday Mornings, 1987.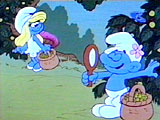 10:00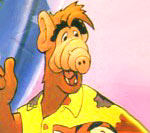 ALF / NBC
Cartoon version of the prime-time hit show about a puppet from outer space, now in the second year of three, expanded to one-hour. Paul Fusco was the voice of Alf.
A weird new segment, 'Alf Tales', is introduced, about life on Alf's home planet - it was spun off into a separate show in 1989.
In 1987, NBC had a Saturday cartoon version of another prime-time hit, 'Punky Brewster', but it was not renewed.
Also dumped by NBC in the fall of 1988 after long runs - The Fraggles, Archie and Foofur.
---
Super Golden Crisp Cereal commercial featuring the artist formerly known as Sugar Bear He's called Honey Bear in the 80s.
11:00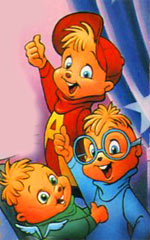 The Chipmunks / NBC
Produced by Ruby-Spears, based on the 1961 prime-time cartoon, now in the fifth of eight years.
In this format, the Chipmunks are hanging out with some teenage girls.
"Kids don't change. If you do a good show, you can rerun it 20 years later and it will be very successful." - Joe Ruby
11:30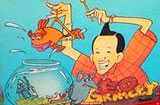 (The Completely Mental)
Misadventures Of
Ed Grimley / NBC
(debut)
Martin Short's geeky 'Saturday Night Live' character comes 'to life' as a cartoon, mixed in with live segments starring Martin Short.
Also featured: Joe Flaherty, Andrea Martin, Catherine O'Hara, Frank Welker, Jonathan Winters and other top talent.
Did very well - ran for a few years.
12:00
2Hip4TV / NBC
(debut)
Starring Ahmet Zappa (son of Frank Zappa) interviewing notable rock stars and presenting musical acts from his funky basement set, complete with bowling alley.
This series lasted only five weeks, failing to attract the older, preteen audience NBC was hoping for.
Ahmet Zappa's co-host was future "Saturday Night Live" regular Colin Quinn, who was also the announcer/sidekick on MTV's game show "Remote Control" at this time.
Too hip, indeed - in 1999 the show was revived (basically) on late-night cable, this time with CO-host/brother Qweezil Zappa but that series only lasted a few weeks as well.
Jacob Gilbert writes: "2 Hip 4 TV (1988) took a break for the Seoul Olympics, and when it came back, Ahmet Zappa was gone, replaced by Barry Sobel (later of "227"). Colin Quinn was actually the host of the show right from the jump, and was still doing "Remote Control" at the same time. I remember this because I was channel-flipping the day Sobel debuted."
---
Trix are for kids, 80's style in this commercial.
Amazon Prime - unlimited streaming
of your fave TV shows and movies!
Get your FREE 30 Day Trial!
PR4 & PR5 Pages for Advertising
Saturday Mornings 1966
Superheros and comic characters spring to animated life.

Saturday Mornings 1967
More flying guys in tights to capitalize on the popularity of Batman in primetime.

Saturday Mornings 1968
The Archies was the top cartoon of the day.

Saturday Mornings 1969
Chase cartoons and Krofft puppets H. R. Pufnstuf ruled Saturday mornings.

Saturday Mornings 1970
Live action shows take over Saturday mornings leading to a new golden age.

Saturday Mornings 1971
Harlem Globetrotters and The Jackson 5 are hits.

Saturday Mornings 1972
More musical shows with cartoon versions of The Jackson 5 and The Osmonds Brothers joining the Saturday shows.

Saturday Mornings 1973
Scooby Doo debuts and shoots to the top of the ratings.

Saturday Mornings 1974
Adaptations of former primetime shows are all the rage on Saturdays now.

Saturday Mornings 1975
Far Out Space Nuts, Shazam and Ark II are just a few of the action, sitcom and musical variety shows this season.

Saturday Mornings 1976
Krofft Super Show, and Ark II are just a 2 of the many action, sitcom and musical variety shows this season.

Saturday Mornings 1977
The most unsuccessful Saturday morning line up of the decade - flops everywhere as the networks lost track of what kids wanted to watch.

Saturday Mornings 1978
Superheros, Tarzan and The Bay City Rollers.

Saturday Mornings 1984
Smurfs, Snorks and Dungeons & Dragons.

Saturday Mornings 1986
Galaxy High, Pee Wee Herman, Teen Wolf are all hits on CBS Saturday mornings in 1986.

Saturday Mornings 1988
Mutant Turtles, Transformers and G.I. Joe.

Saturday Afternoon Shows of the 1960s
Relive those lazy Saturday afternoons with episodes of Sky King, Whirlybirds, Highway Patrol, Robin Hood & more!