8:00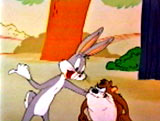 Bugs Bunny / CBS
Returns to a half-hour format, no longer sharing the bill with anyone - but The Road Runner returns next year for a long run.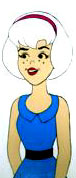 8:30
Sabrina, the
Teenage Witch / CBS
Third year of Sabrina in her own show produced by Filmation. This was a spin-off of the very popular Archie cartoon.
Sabrina was plagued by her aunt witches Hilda and Zelda, uncle Ambrose and Miss Della, the head witch. Her cat was named Salem.
Sabrina made her debut on the second season of the 'Archie' show in 1969 but first appeared in Archie comic books in 1962.
9:00
Amazing Chan and
the Chan Clan / CBS
(debut)
Keye Luke (Master Po on 'Kung Fu') is the voice of Chan in this stereotypical oriental private eye cartoon from Hanna-Barbera.
Musical numbers by The Chan Clan, the five Chan kids. Keye Luke played 'Number One Son' in the popular, long-running 'Charlie Chan' movie series of the Forties. Jodie Foster played Anne Chan.
9:30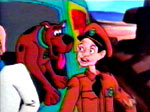 The New Scooby
Doo Movies / CBS
(debut)
Sixty Minutes of the loveable pooch with big name guest-stars in a mystery 'movie' format.
With celebrity guest-voices like the Harlem Globetrotters, Jerry Reed, Phyllis Diller, Don Knotts, Jonathan Winters and Sonny and Cher.
Maybe the best of all the Scooby series.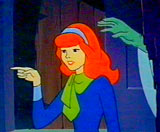 Here's a popular commercial for Peter Pan Peanut Butter - produced by Saturday morning legend Daws Butler.
10:30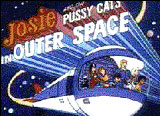 Josie and
the Pussycats
in Outer Space / CBS
(debut)
New format for the Pussycats as they accidently blast into space and encounter alien life forms who refuse to let them leave until they sing.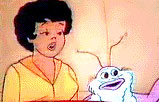 Melody's pet space alien, Bleep, came from the planet Zelcor.
Very entertaining overall for a Hanna-Barbera offering, with cool character designs by the industry's best designer - Alex Toth.
The gang retreated back to earth the next season, the ratings never left the ground.
11:00


The Flintstones
Comedy Hour / CBS
Expands to an hour in a format change - last season, the show was called 'Pebbles and Bamm-Bamm' and it was a smash hit.
As in the previous Saturday show, Pebbles and Bamm-Bamm are teenagers who hang out with their wiggy friends, cruising Bedrock in their cavebuggy. This season Fred, Barney, Wilma and Betty were more involved.
There were lots of musical segments as well. Pebbles was voiced by Sally Struthers ('All in the Family') and Bamm Bamm by Jay North ('Dennis the Menace').
The Flintstones ran from 1960 - 1966 on ABC in primetime with reruns from 1968 - 1970 on NBC Saturday mornings. The series also aired on NBC Saturday mornings for most of the Eighties.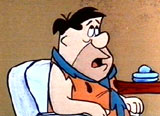 12:00

Archie's TV
Funnies / CBS
Second year of the Riverdale kids and their television station that broadcasts cartoons starring comic strip characters nobody cared about.
Starring the King Syndicate's newspaper comic strips - Dick Tracy, Nancy and Sluggo, Broom Hilda, The Captain and Kids, Moon Mullins, Nancy and Sluggo, et al.
The only Archie format to last more than one season.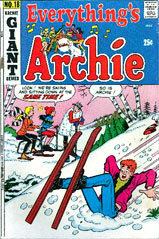 12:30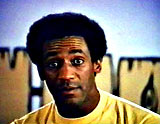 Fat Albert and
the Cosby Kids / CBS
(debut)
Starts an amazing 12-year run. Bill Cosby narrated the animated adventures of the characters he made famous in hit monologue albums in the Sixties.
Each week Weird Harold, Mush Mouth, Bill, Dumb Donald and the gang wrestle with a problem, usually a moral issue, which they solve just the way you should at home.
This show was produced by Filmation and Dr. William H. Cosby, who had recently earned his Doctorate and provided many of the voices.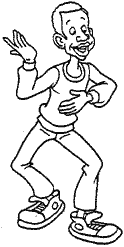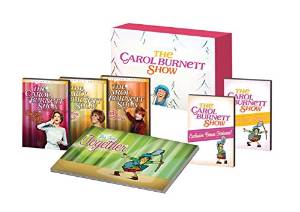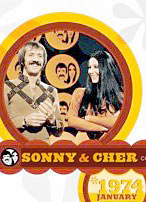 8:00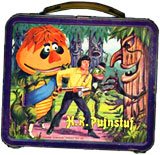 H.R. Pufnstuf / ABC
Networks mostly scheduled reruns in the 8-9 timeslot of popular shows that they weren't ordering new episodes of.
8:30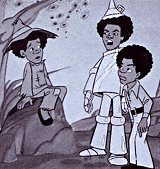 Jackson 5ive / ABC Reruns from the season before, from the producers who brought you the 'Beatles' cartoon in the Sixties. Paul Coker provided the character designs.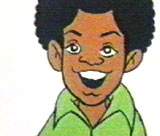 Produced by Rankin-Bass, who provided much of ABC's Saturday morning lineup this year (including the show below).
9:00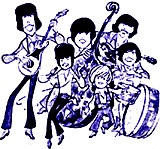 The Osmonds / ABC
(debut)
The Jacksons were a hit last season, so their blanched counterparts were given the cartoon treatment.
Follows the animated adventures of the musical Osmond Family as they travel the world in their flare pants, performing good deeds and hits like "Go Away Little Girl" and "One Bad Apple".
Start of a two year run, the reruns of the show move to Sundays next season. Uses the actual Osmond's voices with Paul Frees as their dog Fugi.
9:30
ABC Saturday Superstar
Movie / ABC
(debut)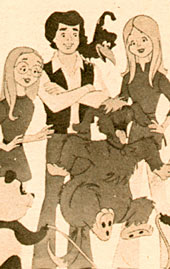 TV-movies were big winners for ABC in primetime.
ABC counter-programmed Scooby movies with cartoon movies of their own - like 'Willie Mays and the Say Hey Kid', 'Yogi's Ark Lark', 'The Mini-Munsters', 'Daffy Duck and Porky Pig Meet the Groovie Goolies', 'Oliver and the Artful Dodger', 'Bewitched', 'Lassie's Rescue Rangers', 'That Girl in Wonderland' and 'Popeye'.
'The Brady Kids' (with original cast members) was on the first episode to launch this new cartoon series.
Highlights: 'Nanny and the Professor' - the original cast of the primetime series (Juliet Mills, Richard Long, etc) is reunited in cartoon form - a spy adventure that starts when the boys find a stolen microdot.
"Robin Hoodnick" Lennie Weinrib does most of the voices for a cartoon version of the goings on in Nottingham Forest.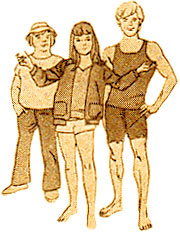 "Gidget Makes The Wrong Connection" - an animated Gidget gets mixed up with gold smugglers.
A lot of the 'movies' were pilots for possible Saturday series, many were picked up for future seasons.
Produced by Filmation, Rankin-Bass, Hanna-Barbera and others.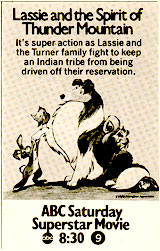 10:30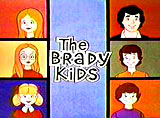 The Brady
Kids / ABC
(debut)
Animated adventures of the singing Brady Kids, who were modeled on the 'Archies'.
Six of the original show's actors provided voices - Maureen McCormick, Eve Plumb, Barry Williams, Chris Knight, Susan Olsen, and Michael Lookinland.
The kids were based out of their club/treehouse. Ran for two years, with just plain awful animation even by 70's standards.
11:00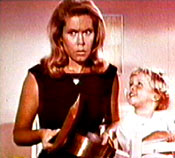 Bewitched / ABC
Reruns of color episodes continue for a second and last season on Saturday Mornings.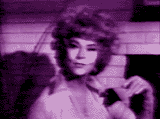 11:30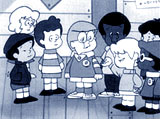 Kid Power / ABC
(debut)
Based on the 'Wee Pals' comic strip, this cartoon was moved to Sunday mornings for the second season. Seventeen episodes were produced by Rankin/Bass (Rudolph the Red Nosed Reindeer).
'Wee Pals' was the first newspaper comic strip created with a racially mixed cast.
A mildly entertaining program meant to be a "multiracial Peanuts" but was more like Fat Albert as the lead character (Oliver) was overweight and the gang was always tackling relevant issues.
In the pilot episode, Oliver directed the Rainbow Club kids (George, Connie, Diz, Rocky, Wellington, Nipper) in the school's production of Uncle Tom's Cabin.
"Red, yellow, black or white White, yellow, black or red It's up to Kid Power, Kid Power!"
12:00

Funky Phantom / ABC
Last of two years, he was getting funky all right.
12:30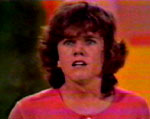 Lidsville / ABC
A few new episodes were shot for this second season of three. Starring Charles Nelson Reilly as the biggest queen ever to parade across the Saturday morning screens - at least until 'Saved By The Bell' debuted.
Lidsville also starred former MGM actress Billie Hayes as Weenie the Genie. She also appeared as Witchie Poo on H R Pufnstuf.
---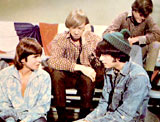 'The Monkees' moved from CBS to ABC for this one season, airing from 1:00-1:30. American Bandstand followed at 1:30.
8:00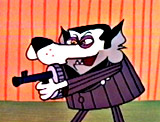 Underdog / NBC
Reruns of the 1964 - 66 series with Simon Bar Sinister vs. Underdog (aka Shoeshine Boy) and his bitch girl-reporter Polly Pureheart.
Returns in 1972 to Saturday Mornings for one year (after a two-year hiatus). Wally Cox was the voice of Underdog. Also features 'The Hunter' cartoons.
8:30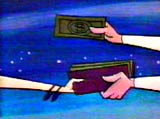 Jetsons / NBC
How many times can American kids watch the same episodes over and over again?
Originally produced by Hanna-Barbera in 1961, 'The Jetsons' had been running on Saturdays since 1964, with only a year break - and no new episodes.
9:00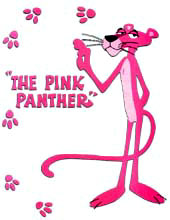 Pink Panther / NBC
Unstoppable in the ratings at this point. New episodes.
Besides Pink there were other cartoon features - The Ant and the Aardvark with an ant that sounded like Dean Martin and an anteater who mimicked Jackie Mason, Misterjaws the nearsighted shark who snuck up on everyone and yelled ³Gotcha!² and The Texas Toads, two hick reptiles.
Pink Panther was the only thing keeping NBC afloat on Saturday mornings and they would expand the franchise in the future.
9:30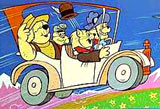 Houndcats / NBC
(debut)
Cat and dog secret agents square off in a 'Mission Impossible' rip-off.
The adventures centered around Stutz, the leader billed as the "Cat of a Thousand Faces," Rhubarb the electronics whizdog, Dingdong the daredog, and Muscle Mutt. They drove a Stutz Bearcat.
This DePathie-Freleng cartoon featured the voices of Aldo Ray, Arte Johnson, Stu Gilliam, Joe Besser (3 Stooges' 'Curly Joe'), and Daws Butler.
There was a Houndcats board game.
10:00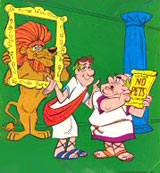 Roman Holidays / NBC
(debut)
Hanna-Barbera cartoon with the voices of Dom Deluise and Hal Perry as the Holiday family - a knock-off of 'All in The Family' set in ancient Rome.
this was bad as it sounds. Roman Holidays tried to position itself right between 'The Flintstones' and 'The Jetsons'and it featured many of the same voices from those two shows, but this derivative dribble only lasted one season.
10:30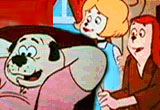 Barkleys / NBC
(debut)
Lower middle-class dog family attempts to bring reality issues to Saturday Mornings in an ill-conceived cartoon rip-off of All in the Family.
Kids said "No, thanks" to this DePatie-Freleng production.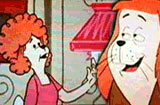 11:00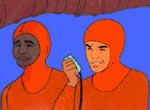 Sealab 2020 / NBC
(debut)
Hanna-Barbera series with Ross Martin ('Wild, Wild West') as the voice of 21st century Sea-lab director Paul Williams as he searches the ocean floor for undersea adventure with his 250 oceanauts.
Captain Mike Murphy and his children, Bobby and Sally joined the Quest when after being rescued by Sealab when their boat sank. Ann Jillian provided voices also.
11:30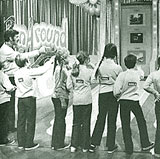 Runaround / NBC
(debut)
Game shows were incredibly popular again on weekday mornings and afternoons, so NBC tried the format for Saturday morning.
Ventriloquist Paul Winchell and Jerry Mahoney (his dummy) returned from the Fifties to host this children's game show.
Danny Bonaduce was a guest on the first episode - Mahoney's other dummy Knucklehead Smiff was also seen as were music and film clips.
Kenny Williams (veteran kid game show announcer of 'Storybook Squares', 'Shenanigans' and 'Video Village, Jr.') was the announcer. Kids competed in quiz contests and feats of skill for the grand prize package.
The series was cancelled after one season.
12:00
Around The World
in 80 Days/ NBC
(debut)
Using the Jules Verne classic as a pretext to teach geography. Written by Chet Stover ('Underdog') and produced in Australia.
If Phineas Fogg can circumnavigate the world in 80 days, Lord Maze will give his daughter Belinda's hand in marriage.
One of the few cartoons that came to a climax as Fogg made it and won his lady love - just in the nick of time, of course. The series came to an end after a single season on the air.
12:30
Talking with
a Giant / NBC
(debut)
Ambitious re-tooling of last season's 'Take a Giant Step'.
This time the series spotlights real-life teenagers talking about issues they are dealing with - would really be a trip to watch today I'm sure! The first show dealt with sexual roles and the uni-sex craze in fashion, another episode featured Olympic skater Peggy Fleming in a rap session about leaving home.
Now reduced to a half-hour show and on at a later time, this production still couldn't find an audience.
Periscope followed at 1:00.
Saturday Mornings 1966
Superheros and comic characters spring to animated life.

Saturday Mornings 1967
More flying guys in tights to capitalize on the popularity of Batman in primetime.

Saturday Mornings 1968
The Archies was the top cartoon of the day.

Saturday Mornings 1969
Chase cartoons and Krofft puppets H. R. Pufnstuf ruled Saturday mornings.

Saturday Mornings 1970
Live action shows take over Saturday mornings leading to a new golden age.

Saturday Mornings 1971
Harlem Globetrotters and The Jackson 5 are hits.

Saturday Mornings 1972
More musical shows with cartoon versions of The Jackson 5 and The Osmonds Brothers joining the Saturday shows.

Saturday Mornings 1973
Scooby Doo debuts and shoots to the top of the ratings.

Saturday Mornings 1974
Adaptations of former primetime shows are all the rage on Saturdays now.

Saturday Mornings 1975
Far Out Space Nuts, Shazam and Ark II are just a few of the action, sitcom and musical variety shows this season.

Saturday Mornings 1976
Krofft Super Show, and Ark II are just a 2 of the many action, sitcom and musical variety shows this season.

Saturday Mornings 1977
The most unsuccessful Saturday morning line up of the decade - flops everywhere as the networks lost track of what kids wanted to watch.

Saturday Mornings 1978
Superheros, Tarzan and The Bay City Rollers.

Saturday Mornings 1984
Smurfs, Snorks and Dungeons & Dragons.

Saturday Mornings 1986
Galaxy High, Pee Wee Herman, Teen Wolf are all hits on CBS Saturday mornings in 1986.

Saturday Mornings 1988
Mutant Turtles, Transformers and G.I. Joe.

Saturday Afternoon Shows of the 1960s
Relive those lazy Saturday afternoons with episodes of Sky King, Whirlybirds, Highway Patrol, Robin Hood & more!