8:00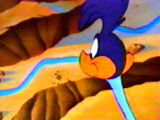 Bugs Bunny /
Road Runner Show / CBS
The show expanded to 90 minutes midseason. By 1985, the series bloated to fill two and a half hours.
Bugs debuted on TV in 1955 when Warner Bros released their theatrical cartoons to the new medium. Local stations and the networks discovered what became arguably television's most valuable asset - certainly the most durable!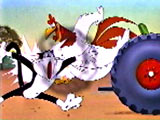 Midseason, the Three Robonic Stooges moved into the 8:00 slot.
9:00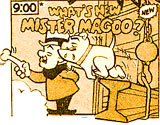 What's New,
Mr. Magoo? / CBS
(debut)
Jim Backus returned as the voice of dear old Mr. Magoo. This time the nosighted Magoo had a nearsighted dog, McBaker.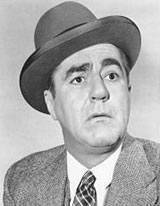 This cartoon failed to catch on and was replaced midseason by 'Speed Buggy' reruns (there was no shortage of humanized cars on Saturday mornings in 1977).
Backus ('Gilligan's Island') gave voice to the nearly blind bumbler in theatrical shorts and TV specials for over thirty years, but this was one of the last times. He died in 1989, somewhat bitter that his long years in the business netted him so little money and respect.
9:30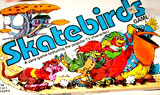 Skatebirds / CBS
(debut)
Three themepark bird characters (ala The Banana Splits) skate around to randomized Hanna-Barbera sound effects while they introduce cartoon and live action segments. Scatman Crothers provided the voice of Scat Cat.
'The Robonic Stooges' cast the Three Stooges as animated robots. An all-star cast delivers the voices - Paul Winchell as Moe, Joe Baker as Larry, Frank Welker as Curly and Ross Martin as their perpetually frustrated boss, Agent 000.
Also seen: 'Wonder Wheels' (a rip off of the Krofft Supershow's 'Wonder Bug') and another haphazardly produced cartoon series, 'Woofer and Wimper' (actually re titledClue Club reruns).
'Mystery Island' was a live action continuing serial with cliffhanger endings that revolved around a group of people that have crash landed on an uncharted island. Pieces of the robot from 'Lost in Space' were used to construct this show's robot.
'The Skatebirds' was cancelled in January after moving to the 8:00 hour, then replaced by 'The Three Robonic Stooges'.
10:30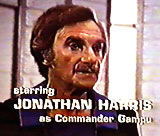 Space Academy / CBS
(debut)
Jonathan Harris, Dr. Smith on 'Lost in Space,' starred as Professor Gampu in this gentle sci-fi series set in the 25th century.
The Space Academy was located on an asteroid and its members included Loki, Paul, Tee Gar, Chris, Adrian and Laura.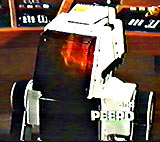 On the first episode, the cadets looked for life forms on a planet about to explode.
Future episodes included: A creature from Loki's home planet tries to trick him, Gampu's brother wants everyone to get back to nature, the Academy enters a mysterious space void, a warrior in suspended animation comes with a ticking bomb and Gampu's lady friend is trapped on a far-off planet threatened by a supernova.
One of the only truly new programs on the 1977-78 schedule that was successful, the program moved to 12:30 midseason and ran for two years in and around the noontime hour.
11:00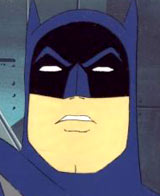 Batman / Tarzan
Adventure Hour / CBS
Another year for Batman on Saturday mornings, this time with some changes - most notably the added 'Batmite' character.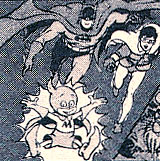 Batmite was a magical elf-like creature who couldn't control his powers or his appetite for mischief. His resulting pranks caused the dynamic duo all sorts of problems and provided opportunities for conflict without violence, a requirement for Saturday morning's strict standards.
Batmite was actually created in the fifties for the comic books, and was clearly a role model for The Great Kazoo from 'The Flintstones.'
Batman and Robin were voiced by Adam West and Burt Ward, stars of the campy prime time 'Batman' series (1966-68).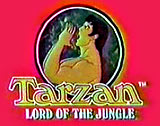 Tarzan adventures from last season rounded out the hour.
12:00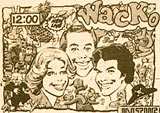 Wacko / CBS
(debut)
Variety show with semi-regular Rip Taylor (seen below). Hosted by Bo Kaprall and Julie McWhirter.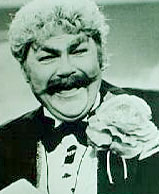 Guest stars included Dick Martin and Dwight Twilley Band. The bassist in this clip is Tom Petty. A song about drinking?
'Wacko' was gone in a very few weeks.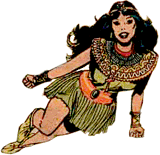 The Secrets of Isis took over this time period in October and 'Wacko' moved to Sunday mornings replacing 'Ark II' reruns. (CBS programmed a small block of time on Sunday mornings to display the corpses of their recently deceased Saturday shows.)
12:30
Fat Albert and
the Cosby Kids / CBS
Episodes this season adopt a darker tone: Cool Roy vandalizes a road sign and causes an accident, the gang is tricked into helping a drug pusher, a neighborhood hero blames Fat Albert for something he didn't do, and the gang all discover what a true friend is all about.
8:00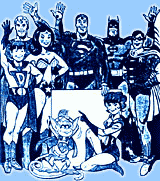 The All-New
Superfriends Hour / ABC
(debut)
The Wonder Twins are introduced, along with Black Vulcan, Rima the Jungle Queen, Samurai, and The Indian Chief, joining the old reliable Superfriends Superman, Batman, Robin and Wonder Woman.
Oh yes, and their monkey Gleek was along as well.
The Superfriends debuted in 1973, this was the second version of the series. This Hanna-Barbera production ran until 1985 in one form or another.
Bill Woodson was the announcer.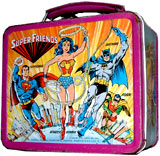 Based on their long-running Justice League publications, DC Comics released the first issue of the Super Friends comic book in 1977.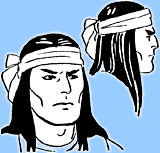 9:00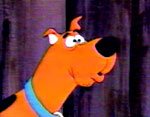 Scooby's All-Star
Laff-A-Lympics / ABC
(debut)
A full two hours long - if the show never ends the kids will stay tuned, right?
Scooby had been tops on Saturday mornings for eight years by this point. In this variation, three cartoon teams comprised of 45 Hanna-Barbera characters compete in contests held around the hand-drawn world.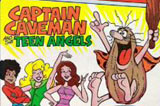 Captain Caveman and the Teen Angels ("the world's first superheroes") were seen in separate segments. The voice of Captain Caveman was Mel Blanc; this cartoon caught on so new episodes were ordered for 1978 and 1980.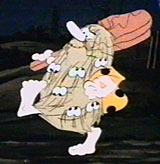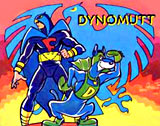 Scooby and Dynamutt segments also appeared in this marathon two-hour show.
11:00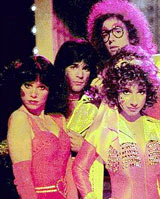 The Krofft
Supershow / ABC
Second season for Kaptain Kool (Michael Lembeck) and the Kongs and their bizarre spectacle of a TV show, with new features for 1977.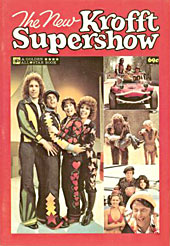 This season the group was joined by the adventures of Bigfoot and the teenager he raised known as Wildboy who did a lot of running and jumping while fighting criminals and shady persons with ecologically unsound principles.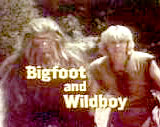 Another live action comedy segment featured the Magic Mongo, a misanthropic Genie.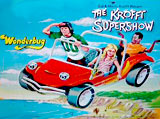 Wonderbug segments were also repeated from the previous year. Three teens rebuild a junked dune buggy - somehow a magic horn gives it the power of flight and a personality.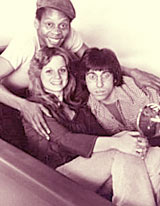 Like so many other Saturday shows, Wonderbug was all about kids fighting crime.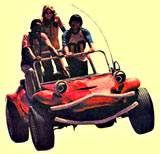 12:00
Weekend Special ABC
ABC Weekend specials were represented in 1977-78 with some excellent, new filmed dramas.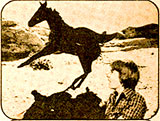 "The Winged Colt" was on the series premier, a three-part series starring Slim Pickens, Keenan Wynn, Jane Withers and Frank Cady. It was about a horse named Comet who sprouts wings and the young boy who chases after him and into danger.
"Sarah's Summer of the Swan" was about a girl's awkward adolescence.
Butterfly McQueen, Prissy from 'Gone With The Wind' ("I don't know nothin' about birthin' no babies!"), starred in "The Seven Wishes of Joanna Peabody." She played a hip fairy godmother that appeared to a little girl on the TV screen.
"Portrait of Grandpa Doc"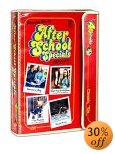 Similar to ABC Afterschool Specials which aired irregularly on weekday afternoons - now on DVD! Afterschool Special reruns often turned up on the Saturday show.
12:30
American
Bandstand / ABC
Smokey Robinson was on the 1977 season opener, along with Kaptain Kool and the Kongs making another of their desperate appearances.
Also on Bandstand this season: Andrew Stevens, David Gates, Yvonne Elliman, Tuxedo Junction, Sha Na Na and the Brothers Johnson.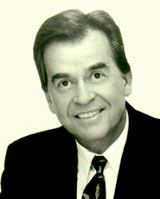 Dick Clark hosted, duh!
8:00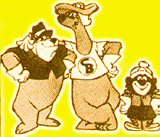 C.B. Bears / NBC
(debut)
C.B. radios were the big thing in 1976, kind of like cell phones are today. But CBs were rapidly becoming passe by 1977.
This cartoon had three bears (bears always came in threes in the seventies) who communicated by CB and introduced Hanna-Barbera cartoon 'treats' - it was cancelled in January, replaced by 'Hong Kong Fooey' reruns and the start of a two-hour 'Go Go Globetrotters'.
9:00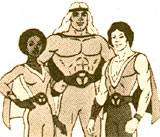 Young Sentinels / NBC
(debut)
Cartoon series about three teenagers (and their robot) trained on another planet to battle villains here on earth. (Isn't that our Iraq strategy?)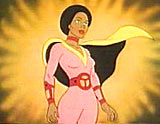 These superheros are based from their spaceship hidden inside a volcano; the trio take on the qualities of Hercules, Astraea and Mercury to fight crime with help from to their mighty alien boss, Sentinel One.
The show was re titled 'Space Sentinels' midseason, there were thirteen episodes.
9:30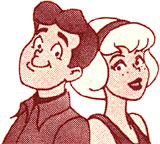 The New Archie
Sabrina Hour / NBC
(debut)
New episodes are mixed with old stuff from past seasons.
Started out as as an hour show, but got reduced to 30 minutes in October and re titled Bang-Shang Lalapalooza, with Super Witch taking over the other half-hour. Both shows were dumped a few months later.
Super Witch?!?
10:30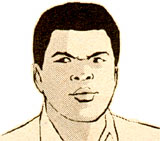 I am the Greatest:
The Adventures of
Muhammad Ali / NBC
(debut)
The World Champion boxer provided his own voice for what was basically the animated adventures of a modern-day, continent hopping Robin Hood.
In the series, Muhammad Ali travels the world helping others who are battling evildoers.
This series didn't even make it through one round, Ali was on the mat in January when NBC revamped their entire kidvid line-up.
Muhammad Ali was replaced by 'Pink Panther' reruns. Oh yeah, cancel the black man and replace him with the WHAT panther?!? I do not make this stuff up!
11:00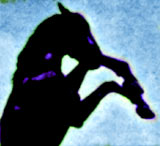 Thunder / NBC
(debut)
Adventures of the black stallion 'Thunder' and his two young companions Cindy and Willie Williams who, "get into tight spots caused by others' misdeeds and thoughtlessness."
The opening show found the three facing a forest fire started by a prankster.
Over the next few weeks the kids and their amazingly intelligent horse were held hostage by escaped criminals, meet a kindly prospector who poisoned Cindy's dog, tangled with a rodeo stage mom, made friends with an angry lioness and Willie got hit with a stray bullet.
Also featured 'Cupcake' the mule. Moved to 12:30 midseason.
11:30
Search and Rescue: The Alpha Team / NBC
Animals like a hawk and a bear are trained to perform rescues by a man and his two teenage sons calling themselves the Alpha Team. Together they rescue hikers trapped in quicksand, a motorcyclist trapped in a ravine, and apprehend a ruthless poacher.
Produced in tandem with Canada's CTV which aired the show in prime time, thirteen episodes were shown in the US before NBC's Saturday mid-year purge.
12:00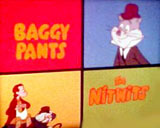 Baggy Pants
and the Nitwits / NBC
(debut)
In The Nitwits, Arte Johnson and Ruth Buzzi reprised their Laugh-in characters, the Dirty Old Man and Gladys. Only in this animated series, the old man's not so dirty and they are crime fighters.
A cartoon cat named Baggy Pants that resembled Charlie Chaplin also took up space here.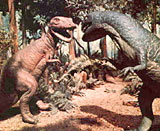 Replaced mid-season by reruns of 'Land of the Lost' which debuted in 1974 for a three year run of original episodes.
12:30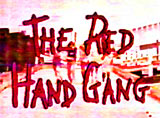 Red Hand Gang / NBC
(debut)
Starring Mathew Laborteaux. Frankie, JR, Doc, Joanne and L'il Bill are amateur preteen sleuths in these serialized live-action adventures with each episode ending in a cliff-hanger. Produced by William P. D'Angelo ('Batman').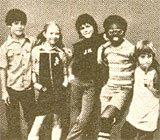 The kids were called the "Red Hand Gang" because they left red hand prints to direct the gang to clues.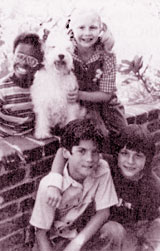 The first five episodes saw the amateur detectives up against a kidnapper played by Anthony Zerbe.
In the next story arc the youngsters foiled a jewelry thief, after that they solved the mystery of a museum robbery after being trapped with a monkey in a cage - then found themselves canceled in January.
Apparently no one thought a show about a gang that leaves graffiti in its wake would be a bad role model for kids.
Followed at 1:00 by the NBC Junior Hall of Fame.
Amazon Prime - unlimited streaming
of your fave TV shows and movies!
Get your FREE 30 Day Trial!
PR4 & PR5 Pages for Advertising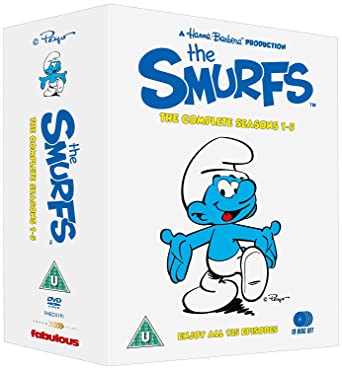 Saturday Mornings 1966
Superheros and comic characters spring to animated life.

Saturday Mornings 1967
More flying guys in tights to capitalize on the popularity of Batman in primetime.

Saturday Mornings 1968
The Archies was the top cartoon of the day.

Saturday Mornings 1969
Chase cartoons and Krofft puppets H. R. Pufnstuf ruled Saturday mornings.

Saturday Mornings 1970
Live action shows take over Saturday mornings leading to a new golden age.

Saturday Mornings 1971
Harlem Globetrotters and The Jackson 5 are hits.

Saturday Mornings 1972
More musical shows with cartoon versions of The Jackson 5 and The Osmonds Brothers joining the Saturday shows.

Saturday Mornings 1973
Scooby Doo debuts and shoots to the top of the ratings.

Saturday Mornings 1974
Adaptations of former primetime shows are all the rage on Saturdays now.

Saturday Mornings 1975
Far Out Space Nuts, Shazam and Ark II are just a few of the action, sitcom and musical variety shows this season.

Saturday Mornings 1976
Krofft Super Show, and Ark II are just a 2 of the many action, sitcom and musical variety shows this season.

Saturday Mornings 1977
The most unsuccessful Saturday morning line up of the decade - flops everywhere as the networks lost track of what kids wanted to watch.

Saturday Mornings 1978
Superheros, Tarzan and The Bay City Rollers.

Saturday Mornings 1984
Smurfs, Snorks and Dungeons & Dragons.

Saturday Mornings 1986
Galaxy High, Pee Wee Herman, Teen Wolf are all hits on CBS Saturday mornings in 1986.

Saturday Mornings 1988
Mutant Turtles, Transformers and G.I. Joe.

Saturday Afternoon Shows of the 1960s
Relive those lazy Saturday afternoons with episodes of Sky King, Whirlybirds, Highway Patrol, Robin Hood & more!