8:00


Go-Go Gophers / CBS
(debut)
Genuinely fun cartoon featuring characters from the creators of Underdog. Voices by Sandy Becker, George S. Irving and
Kenny Delmar.
Pepsi released Go-Go Gophers collector's glasses in 1968.
8:30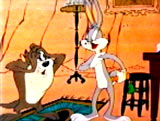 Bugs Bunny
/ Road Runner / CBS
(debut)
This new hour-long format on CBS ran until 1973. Bugs Bunny starred in a solo Saturday series on ABC from 1962-1967 before moving to Sunday mornings in 1967-68.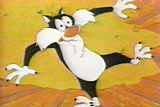 On CBS, Bugs shared the spotlight with Road Runner cartoons - that pairing remained popular for decades.
CBS began the morning an hour earlier than the NBC and ABC. By slotting an hour of Warner Bros. cartoons at 8:30, they locked in the audience, making them less likely to switch channels in the middle of a program to sample the competition.
9:30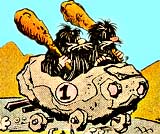 Wacky Races / CBS
(debut)

Hanna-Barbera scored another long-lasting hit that led to two spin-offs in 1969 that were essentially the same show with the same plotlines and characters.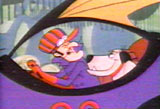 Featured the immortal voices of Paul Winchell (Dastardly and Mutley), Janet Waldo (Penelope Pitstop), Don Messick (Peter Perfect) and Mel Blanc (The Ant Hill Mob).
In order to avoid violent situations, the racing cartoon was born.
10:00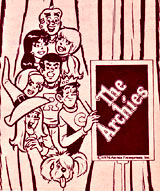 Archie / CBS
(debut)
This was one of the most popular cartoons of the era, the number one Saturday show for 1968-69. Thanks to the success of this and other CBS Saturday hits, programming exec Fred Silverman was given the job of prime-time programmer.
Howard Morris (Ernest T. Bass on 'The Andy Griffith Show') provided the voices of Moose, Hot Dog and Jughead. Jane Webb voiced Betty, Veronica, Sabrina and Miss Grundy.
The Archie's tunes hit the pop charts in 1969 ('Sugar, Sugar' made it to number one) and inspired a multitude of other music-themed cartoons on Saturdays for years to come. Ron Dante sang the songs as Archie.
Archie aired on Saturdays well into the eighties.
10:30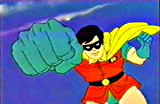 Batman / Superman Hour of Adventure / CBS
(debut)
Superman appeared on Saturday mornings first (1966 and 1967) but Batman had a primetime show on ABC so he got top billing.
The announcer was Ted Knight of MTM fame, he performed the same duties on 'Superfriends' in the 1970s.
11:30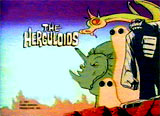 Herculoids / CBS
Reruns of galactic Hanna-Barbera weird pointlessness. Gone after this year.
12:00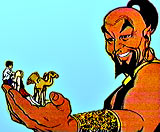 Shazzan! / CBS
By connecting their rings, Chuck and Nancy can call forth the genie 'Shazzan'. The genie looked a lot like Mr. Clean.

12:30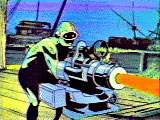 Jonny Quest / CBS
Still popular reruns of the exciting Hanna-Barbera prime time adventure series that originally ran for only one season.
1:00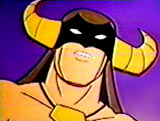 Moby Dick & Mighty Mightor / CBS
Second year for the Hanna-Barbera adventures of caveboy Tor becomes Mighty Mightor when he raises his club and curses the heavens. If only it were that easy!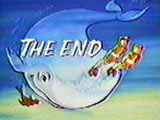 Seen in separate segments - Tom, Tub and their pet whale Moby. Swimming with whales is now illegal.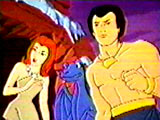 CBS was getting huge ratings on Saturday mornings, so they extended their kidvid schedule by an hour on either end of the morning.
1:30
Lone Ranger / CBS
Reruns from last year, from Format Films. The Lone Ranger and Tonto were embroiled in bizarre adventures with a random array of robots, aliens and villains like The Black Widow voiced by Agnes Moorehead.
Often pre-empted by local stations.

Aquaman could be
seen on CBS Sunday
mornings 9:30-10:00am.
---
Products advertised on Saturday mornings in 1968: Mattel's Major Matt Mason, The Strange Change Machine, Space Food Sticks and Funny Face Drink mix.
:1968 Commercials: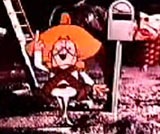 Frito Bandito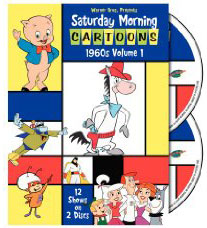 8:00
Local Programming / ABC
(Often Tarzan movies, Popeye cartoons, Our Gang and Three Stooges shorts.)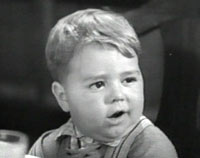 8:30
Local Programming / ABC
9:00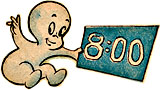 Casper / ABC
If you don't know who Casper is, fugedaboutit!
Casper appeared on ABC in 1963 with new animated adventures, this was the final season of reruns.
Casper the Friendly Ghost started on TV in 1950 with airings of a series of popular theatrical shorts from the forties.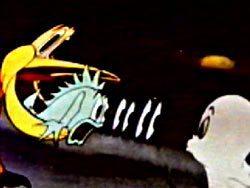 Ginny Tyler was the voice of Casper, the friendliest ghost in town.
9:30

Adventures of Gulliver / ABC (debut)
Ginny Tyler also provided the voice Flirtacia in this cartoon based on the Jonathan Swift novel. 17 episodes ran for two years.
10:00

Spiderman / ABC
A rare second season of new episodes, leading off with the 'Origin of Spiderman'. Stories for 1968-69 were now 30 minutes in length, last season there were two 15 minute episodes per show.
A third season was produced for syndication - the series had the same theme song, but the show took on a darker look and attitude with surrealistic watercolor backgrounds (by DC artist Gray Morrow) and a new guy playing Spidey's voice. Ralph Bakshi produced the third season.
Spidey reruns joined the 'Fantastic Four' in the Sunday morning boneyard in 1970. Spiderman has been revived on Saturdays several times since - and served a stint on PBS' 'The Electric Company'.
10:30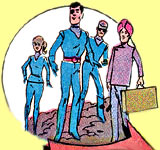 Fantastic Voyage / ABC
(debut)
Cartoon voiced by Ted Knight ('Mary Tyler Moore Show') and Jane Webb, they also provided lead voices for the show that followed.
11:00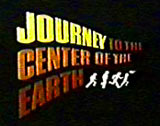 Journey To The Center of the Earth / ABC
(debut)
Season 2 with the voices of Pat Harrington, Jr. ('One Day At A Time'), Ted Knight and Jane Webb.
Produced by Lou Scheimer and Norm Prescott.
11:30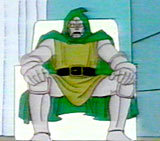 Fantastic Four / ABC
Second season, reruns from the year before. This show moved to Sundays in 1969.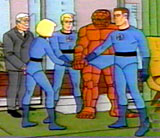 Most of the stories were based closely on the early Stan Lee / Jack Kirby comic book adventures, that made this arguably one of the best of the TV comic book adaptations to date even if the standardized Hanna-Barbera animation was fair at best.
Comic book plotlines included The Red Ghost, Invasion Of The Super Skrulls, Galactus, It Started On Yancy Street and more.
Voices: Gerald Mohr (Mister Fantastic), Jo Ann Pflug (Sue Storm), Jack Flounders (Johnny Storm) and Paul Frees (the Thing).
12:00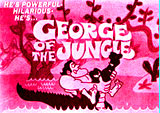 George of the Jungle / ABC
Second season of reruns, George joined the Sunday morning line-up in 1969, then returned to Saturdays in early 1970.
Also seen - 'Super Chicken' and 'Tom Slick'.
Truly excellent, timeless Jay Ward series that showed up again on Saturday mornings in 1992 and 1995!
12:30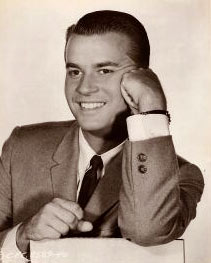 American Bandstand / ABC
Guests this season included Freddy Weller, The Four Seasons, Johnny Nash, The Association and Sandy Nelson.
---
Commercial for
Space Food Sticks:
1:30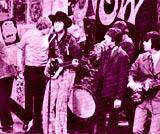 Happening / ABC
Also known as 'It's Happening' 'Happening '68' and 'Happening '69,' similar to a 1965 series, "Where the Action Is."
Beginning in January, 1968 this music show (produced by Dick Clark) followed 'American Bandstand' on Saturdays. That meant this program was seen six days a week in the summer of '68 - a rocking half-hour of bands and bikinis.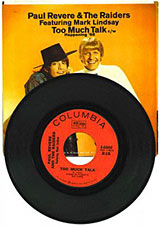 Hosted by Paul Revere and Mark Lindsay, guests included Paul Revere's Raiders, The Monkees, Don Adams, Don Rickles, Linda Ronstadt, Todd Rundgren and Bobby Hatfeild.
Local bands were also seen in weekly competitions with celebrity guest judges. There has never been another national music show like 'Happening,' a TV bright spot in 1968.
---
Peter Max inspired ad for 7-Up:
Major Matt Mason was a popular toy in 1968:
8:00
Local Programming / NBC
(Local stations aired 'Sunrise Semester,' sci-fi and horror movies and the Farm Report early on Saturday mornings.)
8:30
Local Programming / NBC
9:00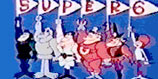 Super 6 / NBC
Year two, ran for three years - well-liked adventures of six super-powered do-gooders available for hire from Super Service, Inc.
9:30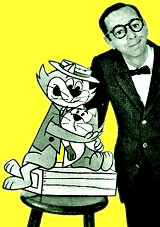 Top Cat / NBC
Another season of repeats from the 1961-62 primetime Hanna-Barbera series. Popular sitcom character 'Sgt. Bilko' was the inspiration. Arnold Stang (shown) was the voice of Top Cat.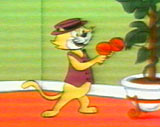 This was one of three former primetime H-B series being rerun on Saturdays - can you spot the other two?
Replaced by 'Cool McCool' in May, 1969. That show is also on DVD.
10:00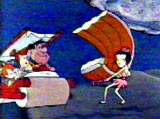 Flintstones / NBC
This classic prime-time animated series went off the air in 1966 and promptly moved over to Saturday mornings for three years of reruns.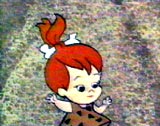 10:30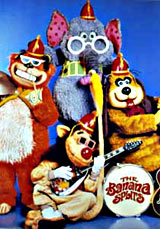 Banana Splits /NBC
(debut)
Hour-long variety show hosted by costumed theme park characters voiced by Paul Winchell, Allan Melvin, Daws Butler, and Don Messick.
Naturally, they made up a bubble gum rock band with songs that included "Wait till Tomorrow" and "I Enjoy Being a Boy."
Cartoon segments ran between the Banana Splits' antics - The Three Musketeers, The Hillbilly Bears, Arabian Nights and Micro Venture.
'Danger Island' (a live action series) was also seen, starring Frank Alletter ('It's About Time') and teen idol Jan Michael Vincent ('Airwolf') who had a career as a kid actor in the sixties with a string of hit Disney movies.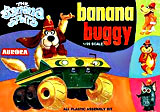 This was the most expensive Saturday morning show to date. Produced by Hanna-Barbera, it was their first live action attempt and the only bright spot on NBC's losing Saturday schedule.
Costumes for 'The Banana Splits' were created by Sid and Marty Krofft, who went on to start their own entertainment factory beginning with H R Pufnstuff in 1969.
11:30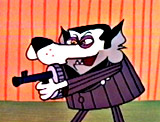 Underdog / NBC
"When Polly's in trouble, I am not slow - it's Hip, Hip, Hip and away I go!"
Underdog ran from 1964-1973, most of those years on NBC.
Also seen: The World of Commander McBragg and Klondike Kat featuring Savoir Faire, a French mouse pursued by Klondike. "Savoir Faire is every-waire!"
12:00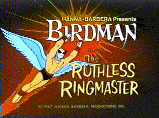 Birdman / NBC
Hanna-Barbera's Birdman was seen in repeats from 1967. This show was originally conceived as a primetime entry.
Replaced mid-season by...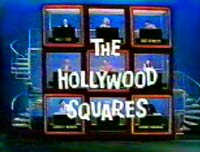 Storybook Squares / NBC
A junior version of the popular NBC daytime game show 'Hollywood Squares' with children as contestants.
In this variation, celebrity guests in the giant ticktacktoe board dressed as storybook characters. They included Paul Lynde (who dressed once as the evil Queen in Snow White), Marty Allen (as Tarzan), Rip Taylor (as Custer), Kaye Ballard, Paul Winchell, Nanette Fabray, Wally Cox, Abby Dalton, Charley Weaver, Jim Backus, Judy Carne, Ted Cassidy, Jo Anne Worley, Carolyn Jones, Arte Johnson, Michael Landon and Barbara Eden.
'Storybook Squares' lasted from January, 1969 - August 1969.
---
Saturday Morning Commercials:
12:30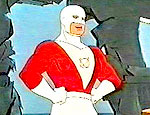 Super President / NBC
Super President's second term was cut short - he was impeached mid-season and replaced with...
Untamed World / NBC
A nature program narrated by Phillip Carey.
One episode featured a colorful look under the sea, especially impressive since many people were buying color TVs for the first time in 1969.
After this first season, the show went into syndication and aired until 1975.
Saturday Mornings 1966
Superheros and comic characters spring to animated life.

Saturday Mornings 1967
More flying guys in tights to capitalize on the popularity of Batman in primetime.

Saturday Mornings 1968
The Archies was the top cartoon of the day.

Saturday Mornings 1969
Chase cartoons and Krofft puppets H. R. Pufnstuf ruled Saturday mornings.

Saturday Mornings 1970
Live action shows take over Saturday mornings leading to a new golden age.

Saturday Mornings 1971
Harlem Globetrotters and The Jackson 5 are hits.

Saturday Mornings 1972
More musical shows with cartoon versions of The Jackson 5 and The Osmonds Brothers joining the Saturday shows.

Saturday Mornings 1973
Scooby Doo debuts and shoots to the top of the ratings.

Saturday Mornings 1974
Adaptations of former primetime shows are all the rage on Saturdays now.

Saturday Mornings 1975
Far Out Space Nuts, Shazam and Ark II are just a few of the action, sitcom and musical variety shows this season.

Saturday Mornings 1976
Krofft Super Show, and Ark II are just a 2 of the many action, sitcom and musical variety shows this season.

Saturday Mornings 1977
The most unsuccessful Saturday morning line up of the decade - flops everywhere as the networks lost track of what kids wanted to watch.

Saturday Mornings 1978
Superheros, Tarzan and The Bay City Rollers.

Saturday Mornings 1984
Smurfs, Snorks and Dungeons & Dragons.

Saturday Mornings 1986
Galaxy High, Pee Wee Herman, Teen Wolf are all hits on CBS Saturday mornings in 1986.

Saturday Mornings 1988
Mutant Turtles, Transformers and G.I. Joe.

Saturday Afternoon Shows of the 1960s
Relive those lazy Saturday afternoons with episodes of Sky King, Whirlybirds, Highway Patrol, Robin Hood & more!