8:00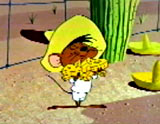 Bugs Bunny /
Road Runner Hour / CBS
Series started in 1968, ended this season, got renewed in 1975 and ran for nine more years.
Bugs Bunny first turned up on Saturday mornings on ABC in 1962, before that he was on in prime-time for two years.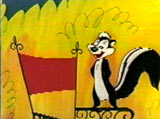 Featuring Yosemite Sam, Tweety Bird and Sylvester, PePe Le Pew and the whole Warner Brothers cartoon stable.
9:00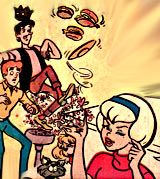 Sabrina and the
Groovy Goolies / CBS
(debut)
The Archies were hot, so Sabrina the Teenage Witch got her own cartoon series that ran for four years.
This was an hour-long show with separate segments starring the Groovy Goolies, who also provided the musical interludes ala The Archies.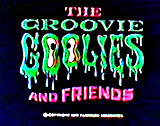 In 1971, Sabrina and the Goolies split into two separate (but practically identical) shows.
10:00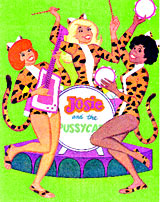 Josie and
the Pussycats / CBS
(debut)
Long-running cartoon series in the Archie vein, from Hanna-Barbera. The ditzy Pussycats are a singing group that reluctantly gets involved in espionage on their whirlwind travels. Janet Waldo as Josie and Cheryl Ladd ('Charlie's Angels') provides the voice of Melody.

"I remember eating about 16 boxes of Sugar Pops to collect the four 45 RPM Pussycats records they put out, and eating something else (I forget what) to get Josie and the Pussycats erasers."
- Hamsterbrain
10:30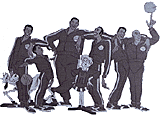 Harlem Globetrotters / CBS
(debut)
The famous basketball team gets the cartoon treatment with Scatman Crothers as the voice of Meadowlark Lemon (he was also the voice for Hong Kong Fooey). The Globetrotters continued on Saturday Mornings for most of the decade in one form or another. In this format, the ballplayers search the world for opponents like robots and wild animals.
11:00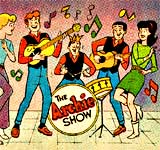 Archie's Funhouse
Featuring the Giant
Jukebox / CBS


The show is revamped with a giant Jukebox and variety show format with more songs and psychedelic montages in an hour-long bombardment. The MTV of the Seventies, with strobe effects and bright, jerky animation.

There was an Archie show on the air every year from 1968 - 1978, but this version was the best and lasted only one year.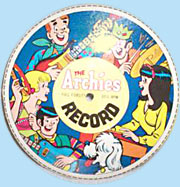 Archies' records could be found on the back of Post Honey Comb cereal - simply cut out the cardboard record and put it on your turntable.
12:00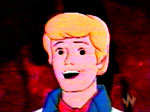 Scooby Doo,
Where are you? / CBS
What would Saturday morning in the Seventies be without Scooby-Doo?
Second season for the show that ran forever, this is the original half-hour format with Shaggy, Scooby, Daphne, Velma and Freddy. Don Messick provides the voice of Scooby, with Casey Kasem as Shaggy.
12:30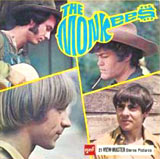 The Monkees / CBS
Reruns of the popular 1966-68 primetime series were a staple of the CBS and ABC Saturday morning schedules for most of the Seventies.
Davy Jones, Peter Tork, Mickey Dolenz, and Mike Nesmith star.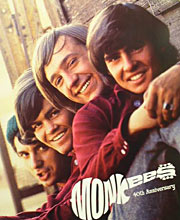 Occupying the 1 PM time period on CBS was Dastardly & Muttley In Their Flying Machines, replays from the previous season.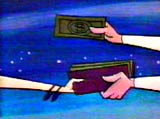 The Jetsons aired
from 1:30 - 2:00pm
8:00
Reluctant Dragon
and Mr. Toad / ABC
(debut)
Based on the "The Wind in the Willow" children's book series by Kenneth Grahame. Lasted only one season. The networks were desperate for non-violent content and were having a tough time finding anything that otherwise appealed to kids. Follows the antics of Sir Malcolm and Tobias, a 400 year-old dragon that freaks out when he sees daisies. A Rankin-Bass ('Frosty the Snowman') production.
8:30


Motor Mouse / ABC
(debut)
Fast cars and chases were popular on the cartoon shows ever since the 'Wacky Races' debuted in 1968 and this show was one of an endless parade of imitations from Hanna-Barbera.
Motor Mouse was featured originally on the 'Chatanooga Cats' Show, starring the voice of Marty Ingels as Auto Cat. 'It's the Wolf' was a pretty funny segment of the show, with the voice of Paul Lynde ('Storybook Squares').
9:00


Lancelot Link,
Secret Chimp / ABC
(debut)
Real life chimps (with human voices overdubbed) act out spy spoofs interspersed with clever songs by the Evolution Revolution - an all-chimp band.
Sixty minutes of pure entertainment featuring Lance and Mata Hairi (a 48 pound Virgo), secret agents of A.P.E. headed by their grey-haired leader Darwin.
Dr. Strangemind, Dragon Woman, Wang Fu, Ali Assa Seen (he rides around in a dune buggy), Creto and Baron von Butcher, head of C.H.U.M.P. were just some the villains.
One highlight was seeing the chimps in leather jackets riding around on motorcycles with training wheels.
Diane Bernard and Jeff Krulick produced a wonderful documentary called I Created Lance Link - a lighthearted look at the guys who wrote and produced this unique series.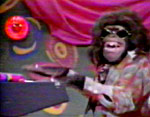 10:00
Will the Real
Jerry Lewis Please
Stand Up! / ABC
Possibly the longest title of any show in television history.
Created by Jerry Lewis, this animated treat ran for two years, longer than his multi-million dollar flop ABC variety show in 1963. Animation by the Filmation studio.
10:30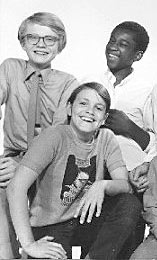 Here Come the
Double Deckers / ABC
(debut)
Produced in England, this live action sitcom about seven Londoners who live on a double-decker bus featured: Billie (Gillian Bailey), Brains (Michael Aunderson), Sticks (Bruce Clark), Scooper (Peter Firth), Spring (Brinsley Forde), Doughnut (Douglas Simmons), Tiger (Debbie Russ) and their older friend Albert (Melvyn Hayes). On the opening episode, a hover-craft causes problems for the gang.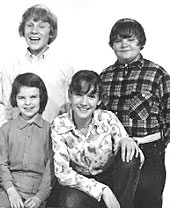 11:00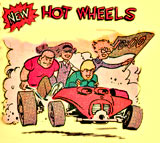 Hot Wheels / ABC
Second and last season for this popular cartoon based loosely on the toy line about a group of teens who form a racing club with their mentor.
Episodes end with safe driving tips, but if you were old enough to drive, why were you watching this show?
11:30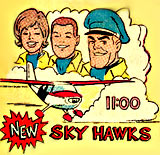 Sky Hawks / ABC
Second season for this cartoon about an air service called Skyhawks, Inc., run by the Wilson family. Grandpa, son and granson perform daring feats of rescue all over the globe. Series ends this year.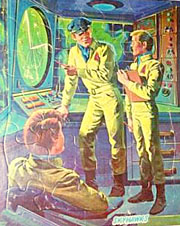 12:00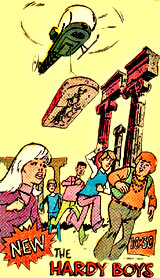 Hardy Boys / ABC
Second season for the animated series about a gang of super-sleuths who are also rock stars touring the world.
There were two albums with songs from the show.
12:30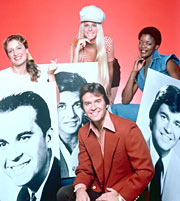 American Bandstand / ABC
Now in its twenty-third year. Starring Dick Clark as the world's oldest teenager, host of the world's longest running dance party. Clark turned forty in 1970, and it made headlines all over the country because he looked so young.
Did you know almost all stars routinely shave 7-10 years off of their real age - the studios and networks would kill me if they knew I told you that!
8:00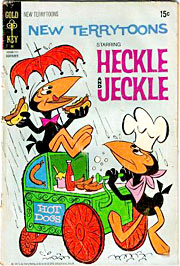 Heckle and
Jeckle / NBC
New Filmation cartoon wrapped around the original Terrytoons creations. This show originally ran in 1955 -1960, came back in 1965 - 66, and back again in 1969. Featuring Gandy Goose and Dinky Duck, Little Roquefort, Percy the Cat and The Terry Bears.
8:30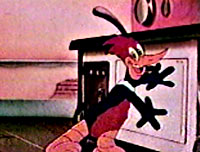 Woody
Woodpecker / NBC
(debut)
More moldy cartoons, another revival of animated short features from the Forties with some new wrap-around material. The first TV incarnation of Woody came in 1957 on ABC and only lasted one year.
This show features Gabby Gator, Chilly Willy, and Andy Panda along with some nice narration and behind the scenes segments with Walter Lantz.
9:00
Tom Foolery / NBC
(debut)
NBC had the lamest cartoons in 1970, and this was one in a long string of losers created to be non-violent and educational. Stories based on the classical children's literature by Lewis Carroll and Edward Lear with characters like the Worrying Whizzing Wasp..
9:30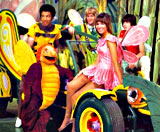 The Bugaloos / NBC
(debut)
H. R. Pufnstuf was a big hit in 1969, so NBC went back to the well for Sid and Marty Krofft at their most bizarre. Martha Raye stars as Benita Bizarre, a witchy-woman surrounded by an odd assortment of theme-park creatures called the Bugaloos that she feels she has to possess.
The Bugaloos are a teen singing group that can fly like bees, played by Caroline Ellis, John Philpott, John McIndo and Wayne Laryea.
10:00
Dr. Doolittle / NBC
(debut)
Animated adventures of the good doctor and his animal pals as they travel the world with The Grasshoppers, a rock group.
10:30
Pink Panther / NBC
In it's second season, understated and clever cartoons by the DePatie-Freleng studio. Features the Texas Toads, Inspector Clouseau, and The Ant and the Aardvark.
11:00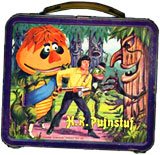 H.R.Pufnstuf / NBC
Second season for this Sid and Marty Krofft classic. Supposedly the H.R. stands for 'Hand Rolled'.
Jack Wild stars as Jimmy, keeper of Freddie the Flute in a strange land of brighly colored foam-padded theme-park characters. Billie Hayes is brilliant as Witchiepoo, this season is all reruns.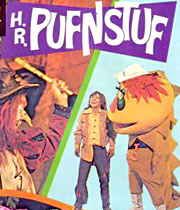 11:30
Here Comes
the Grump / NBC
Last season for the story of Terry Dexter, Princess Dawn and Bib the dog in a magical cartoon-land looking for a key hidden by the Grump.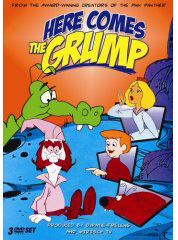 Now on DVD!
Hot Dog / NBC
(debut)

Clever half-hour featuring Woody Allen, Jo Anne Worley, Jonathan Winters and other stars explain how things are made (for instance, what makes bubble gum bubble, how lead gets into a pencil or how money is produced).

Tours of factories and laboratories show step by step how things like popcorn, bricks, footballs, hot dog rolls, noeon signs and sneakers are made, in addition to the wonders of nature and science. Lee Mendelson (Peanuts specials) and Frank Buxton produced.
How Toothbrushes are made with Jonathan Winters.
"I also remember 'Hot Dog'. Each segment would start off with a kid's question like, "How do they put milk in milk containers?" Then they would interview celebrities like Woody Allen and Joanne Worley to get gag answers, and then show a film from some production line. I still remember the episode where they asked how they made hot dog buns with the opening for the hot dog already in them. Woody Allen said that they baked each half of the bun separately, and women with hot dog bun-colored thread would sew them together."
- Fdonrx
12:30
Jambo / NBC
For a second year, Marshall Thompson and Judi the Chimp ('Daktari') tell stories from nature illustrated with films of wild animals in action.
Typical plot: A countess searches for a magic leopard.
Amazon Prime - unlimited streaming
of your fave TV shows and movies!
Get your FREE 30 Day Trial!
PR4 & PR5 Pages for Advertising
Saturday Mornings 1966
Superheros and comic characters spring to animated life.

Saturday Mornings 1967
More flying guys in tights to capitalize on the popularity of Batman in primetime.

Saturday Mornings 1968
The Archies was the top cartoon of the day.

Saturday Mornings 1969
Chase cartoons and Krofft puppets H. R. Pufnstuf ruled Saturday mornings.

Saturday Mornings 1970
Live action shows take over Saturday mornings leading to a new golden age.

Saturday Mornings 1971
Harlem Globetrotters and The Jackson 5 are hits.

Saturday Mornings 1972
More musical shows with cartoon versions of The Jackson 5 and The Osmonds Brothers joining the Saturday shows.

Saturday Mornings 1973
Scooby Doo debuts and shoots to the top of the ratings.

Saturday Mornings 1974
Adaptations of former primetime shows are all the rage on Saturdays now.

Saturday Mornings 1975
Far Out Space Nuts, Shazam and Ark II are just a few of the action, sitcom and musical variety shows this season.

Saturday Mornings 1976
Krofft Super Show, and Ark II are just a 2 of the many action, sitcom and musical variety shows this season.

Saturday Mornings 1977
The most unsuccessful Saturday morning line up of the decade - flops everywhere as the networks lost track of what kids wanted to watch.

Saturday Mornings 1978
Superheros, Tarzan and The Bay City Rollers.

Saturday Mornings 1984
Smurfs, Snorks and Dungeons & Dragons.

Saturday Mornings 1986
Galaxy High, Pee Wee Herman, Teen Wolf are all hits on CBS Saturday mornings in 1986.

Saturday Mornings 1988
Mutant Turtles, Transformers and G.I. Joe.

Saturday Afternoon Shows of the 1960s
Relive those lazy Saturday afternoons with episodes of Sky King, Whirlybirds, Highway Patrol, Robin Hood & more!