8:00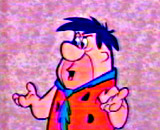 The Flintstones
Show / CBS
Reruns of last year's shows with Pebbles and Bamm Bamm as teenagers.
So popular they're selling tons of cereal and vitamins by now. It would always bug me in those cereal commercials when Barney would tell Fred: "I just ate your Pebbles!"
Replaced mid-season by 'Hair Bear Bunch' reruns.
8:30
Bailey's Comets / CBS
(debut)
Another chase cartoon with Roller Derby teens competing for cartoon glory and a million dollar prize with clues to the finish line given out in rhymes. Reruns ran on Sundays in 1974.
9:00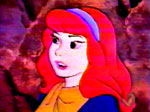 The Scooby
Doo Movies / CBS

Showing re-runs of last season's shows mixed with re-runs of the half-hour shows.
Tim Conway appears in an episode as a coach who helps the gang flush out a ghost. Also seen - The Addams Family, Sonny and Cher, Dick Van Dyke and Sandy Duncan.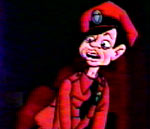 10:00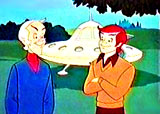 My Favorite
Martians / CBS
(debut)
Surprisingly cute Filmation cartoon take on the Sixties sitcom. Better than the original show in my opinion! Well, maybe not...
The cartoon version has Jonathan Harris (Dr. Smith on 'Lost in Space') providing the voice of Uncle Martin. In this variation, Uncle Martin, his nephew and their dog landing on Earth. Tim and Katy both discover them and try to hide their secret. Howard Morris (Ernest T. Bass) also provides voices.
10:30
Jeannie / CBS
(debut)
Yet ANOTHER sitcom brought to cartoon 'life', this time it's the teenage adventures of Jeannie before she meets her astronaut master. jeannie has a teenage master - Corey Anders, a high-school student/surfer dude who found her bottle on the beach. Jeannie spends most of her time trying to wreck Corey's social life.
11:00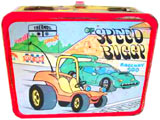 Speed Buggy / CBS
(debut)
Hanna-Barbera series about a friendly flying car with three teen drivers - Debbie, Mark and Tinker, the designers of the car they can control with the help of a remote. This cartoon ran almost every year for the next ten years.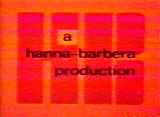 11:30
Josie and the Pussycats
in Outer Space / CBS
Classic Hanna-Barbera with superb character designs by Alex Toth. As good as cartoons got in 1973, Josie and pals accidently blast off into space and try to find their way back to earth. Along the way the meet strange and hostile life forms who inevitably go comatose when the band starts playing.
12:00
Everything's Archie / CBS
Gone are the television station format and the awful King Features cartoons (Dick Tracy, etc) from the last two seasons.
It's back to Archie basics with short stories, songs and blackouts centering around Archie, Veronica, Reggie, Jughead, Moose, Betty and the rest of the Riverdale High gang. A Filmation production.
12:30
Fat Albert and
the Cosby Kids / CBS
The second season opens with dumb Donald getting a new baby brother and learning a few lessons about sharing. Sexism is explored with a girl who plays football while Fat Albert bakes cakes, the gang goes to summer camp.
1:00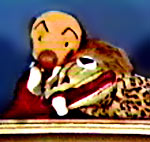 The CBS Children's Film Festival / CBS
Hour long presentation of foriegn films, hosted by Kukla, Fran and Ollie.
One of the films was "Tony and the Tick Tock Dragon", a Hungarian film about a boy looking for time, something his father won't give him.
8:00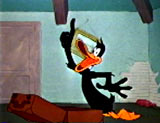 Bugs Bunny / ABC
The "Waskally Wabbit" moves from long-time home CBS to ABC, bringing Tweety, Daffy and the whole gang with him in this half-hour series.
8:30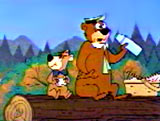 Yogi's Gang / ABC
(debut)
Yogi sides with the 'Crips' in a bloody confrontation in the streets of East LA after Boo-Boo is shot in a drive-by. Actually, it has Yogi battling the cloud-like Mr. Pollution, Mr. Dirt, The Envy Brothers and Mr. Bigot, in these subtle moral tales. Yogi's "Gang" in this show consisted of Huckleberry Hound, Magilla Gorilla, Quick Draw McGraw, Top Cat, Boo Boo, Doggie Daddy, and Wally Gator. Just the kind of guys you want watching your back.
9:00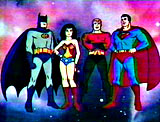 Super Friends / ABC
(debut)
Superman, Aquaman, Batman, Robin and Wonder Woman team with stupid cartoon sidekicks and their dog to become the Justice League of America. So why do they need to call themselves the Super Friends when they've already called themselves the Justice League? And why did ever show have to have teenagers and a dog?
A psychologist was hired by the network to help make sure the Super Friends always do the right thing in every single situation. The Super Friends were on every year but one from 1973 - 1979.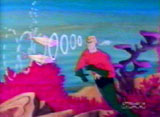 10:00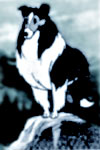 Lassie's Rescue Rangers / ABC
(debut)
Lassie leads a life saving rescue squad of various forest animals. They also go after polluters and environmental foes in this Filmation cartoon featuring the voice of Ted Knight ('Mary Tyler Moore'). Show moves to Sundays in 1974.
10:30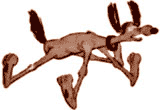 Goober and the
Ghost Chasers / ABC
Hanna-Barbera entry about ghost hunting teenagers, directly ripping off their own 'Scooby Doo', and a pale imitation it was. For kids who just couldn't get enough Scooby. This time it's the dog that can turn invisible and he's teamed with magazine reporters that fit the exact same profile as Scooby's pals.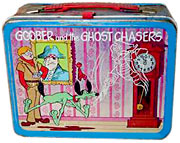 Voices by Paul Winchell (Goober) and 'Partridge Family' kids Danny Bonaduce, Susan Dey, Suzanne Crough and Brian Forster made several appearances. Next season, reruns were seen on Sunday mornings.
11:00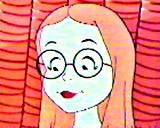 Brady Kids / ABC
Second (and final) season for the animated family.
11:30
Mission: Magic / ABC
(debut)
An animated Rick Springfield singing his 'hits' punctuated this fantasy about six students and their teacher falling through their blackboard and into alternative worlds where things run backwards and that type of thing.
12:00
The New Saturday
Superstar Movie ABC

Despite the 'New' title, only three new episodes aired this season.
Still, the second season starts with a bang - 'Space Family Robinson', the animated adventures of the 'Lost in Space' Robinson family - well, sort of. The original Dr. Smith (Jonathan Harris) was on hand, but (for legal reasons) it's a different Robinson family he's lost in space with.
This was a pilot for a Saturday morning series that was ultimately shelved by Hanna-Barbera. Very weird, guess they decided to do 'Josie and the Pussycats in Outer Space' instead - it was basically the same show. Clever character designs by Alex Toth made it watchable.
Other new features this season:
'Nanny and the Professor and the Phantom of the Circus', basically a Scooby episode with different characters. The original cast of a much-loved primetime series (Nanny and the Professor, 1970-71) is reunited in cartoon form for a second time (see last year).
'Luvcast, USA', a 'Love American Style' cartoon-style with three segments about love potions and feminist werewolves. Now that's scary!
1:00
American Bandstand / ABC
Another year of Dick Clark and the nation's teenagers dancing and rating records. Guest this year included: Redbone, William DeVaughn.
---
Commercial for McDonalds:
8:00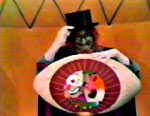 Lidsville / NBC
Show moves to NBC, now all re-runs in the third and last season. All of the NBC shows this year get shuffled around mid-season.
8:30
Inch High
Private Eye / NBC
(debut)
A cartoon about a one-inch high 'Maxwell Smart' clone working for the Finkerton Agency. Annoying.
9:00
Addams Family / NBC
(debut)
Cartoon version of the sitcom with Jackie Coogan (Uncle Fester) and Ted Cassidy (Lurch) providing their original voices. A Hanna-Barbera production, a young Jodie Foster provides the voice of Pugsly.
In the cartoon, the Addams have sold the house and are travelling the country in a spooky RV. Along for the ride: Octo the family Octopus. In the first episode, the family buys Central Park.
9:30
Emergency
Plus Four / NBC
(debut)
Cartoon version of the hot NBC drama that's drawing big ratings on Saturday nights in 1973. Four kids join Roy DeSoto and John Gage (Kevin Tighe and Randolph Mantooth, who provide their own character's voices) as they fight fires and perform dangerous rescues.
10:00
Butch Cassidy and
the Sundance Kids / NBC
(debut)
About a rock group on tour headed by a guy named Butch Cassidy who are actually government agents. Mickey Dolenz provides one of the voices.
10:30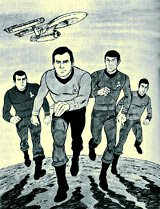 Star Trek / NBC
(debut)
Animated series with the continuing journeys of Capt. Kirk, Mr. Spock and the whole gang.
All of the regulars from the 1966-69 series provided their voices for this show, and the scripts were often excellent science-fiction - going places the live action show couldn't because of budget constraints.
This cartoon is better than the original in many respect.

11:00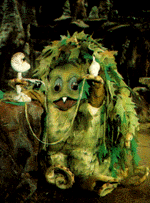 Sigmund and the
Sea Monsters / NBC
(debut)
Sid and Marty Krofft live action show with Billy Barty as Sigmund, a lost sea monster who is kept hidden by two brothers (Johnny 'Family Affair' Whitaker and Scott Kolden) in their clubhouse. Lucy show's semi-regular Mary Wickes also stars.
11:30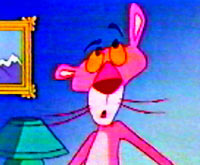 Pink Panther / NBC Pink Panther cartoons were more expensive to animate than the others because they were all action - there was no distracting dialogue to take up time.

---
"Back in the fall of 1973, NBC had comedian Lenny Schultz host the Pink Panther show for a few weeks. I do remember seeing these, but can't remember much beyond Lenny and some kids playing games between the cartoon segments. After a few weeks, the Pink Panther was still there, but no Lenny. Was he fired, or was this an experiment that failed? I've always wondered."
- Tom Stillabower
12:00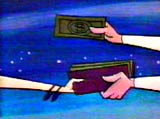 Jetsons / NBC
Hanna-Barbera classic that originally only ran one prime-time season, this is the third year of reruns on Saturday morning.
---
Commercial from 1973 for Freakies Cereal:
12:30
Go / NBC
(debut)
Takes kids to real life places and visits with everyday people. The opening episode focused on the New York City Police department, future episodes featured: behind the scenes on a movie set, a World War I air battle recreation, National Scout Jamboree in Moraine State Park, driving a race car and life in the air with an airline pilot.
Narrated this year by Greg Morris ('Mission Impossible'), the show moved to Sundays for a period of time, then back to Saturdays in 1975.
saturday morning cartoons
Amazon Prime - unlimited streaming
of your fave TV shows and movies!
Get your FREE 30 Day Trial!
PR4 & PR5 Pages for Advertising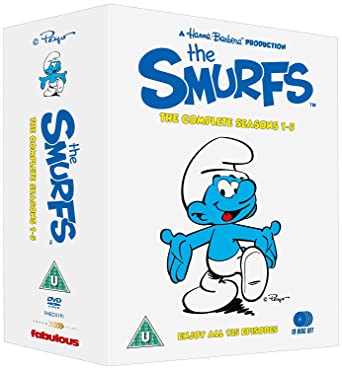 Saturday Mornings 1966
Superheros and comic characters spring to animated life.

Saturday Mornings 1967
More flying guys in tights to capitalize on the popularity of Batman in primetime.

Saturday Mornings 1968
The Archies was the top cartoon of the day.

Saturday Mornings 1969
Chase cartoons and Krofft puppets H. R. Pufnstuf ruled Saturday mornings.

Saturday Mornings 1970
Live action shows take over Saturday mornings leading to a new golden age.

Saturday Mornings 1971
Harlem Globetrotters and The Jackson 5 are hits.

Saturday Mornings 1972
More musical shows with cartoon versions of The Jackson 5 and The Osmonds Brothers joining the Saturday shows.

Saturday Mornings 1973
Scooby Doo debuts and shoots to the top of the ratings.

Saturday Mornings 1974
Adaptations of former primetime shows are all the rage on Saturdays now.

Saturday Mornings 1975
Far Out Space Nuts, Shazam and Ark II are just a few of the action, sitcom and musical variety shows this season.

Saturday Mornings 1976
Krofft Super Show, and Ark II are just a 2 of the many action, sitcom and musical variety shows this season.

Saturday Mornings 1977
The most unsuccessful Saturday morning line up of the decade - flops everywhere as the networks lost track of what kids wanted to watch.

Saturday Mornings 1978
Superheros, Tarzan and The Bay City Rollers.

Saturday Mornings 1984
Smurfs, Snorks and Dungeons & Dragons.

Saturday Mornings 1986
Galaxy High, Pee Wee Herman, Teen Wolf are all hits on CBS Saturday mornings in 1986.

Saturday Mornings 1988
Mutant Turtles, Transformers and G.I. Joe.

Saturday Afternoon Shows of the 1960s
Relive those lazy Saturday afternoons with episodes of Sky King, Whirlybirds, Highway Patrol, Robin Hood & more!