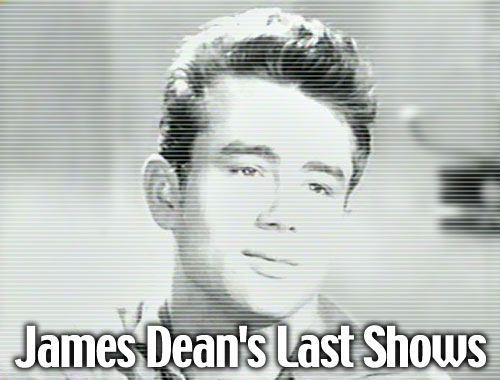 by Billy Ingram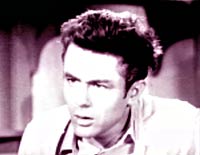 September 30, 2005 marks the 50th anniversary of 24-year-old James Dean's tragic death in a head on car collision.
James Dean made up to forty television appearances between 1952 and 1955 - most often turning up on live dramatic anthology series with prestigious (read: sponsored) names like 'The US Steel Hour' and 'Campbell TV Soundstage.'
From You Tube - James Dean's first TV
appearance was in a 1950 commercial for Pepsi:
Occasionally Dean popped up as a guest on a continuing series like 'Danger' or 'Treasury Men in Action.' A Strasberg School method actor, he honed his skills working in television, developing his on-screen mystique slowly.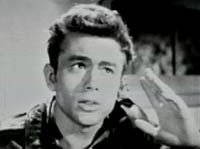 Several impressive TV roles in 1953 found Dean playing the misunderstood, teenaged outcast, performances that brought him to the attention of the motion picture industry. His breakout film 'East of Eden' was filmed in 1954 and released in 1955 to big box office.
There was a remarkable episode of G.E. Theater where
James Dean and Ronald Reagan appeared together in a drama called 'The Dark, Dark Hours', where Dean played a home intruder and Reagan the father who must protect his family. Here are the highlights from that show broadcast live on CBS Sunday, December 12, 1954.
What tragically became James Dean's last television role was presented on the anthology program 'Schlitz Playhouse of the Stars.' The 1955 production was an excellent one (by TV standards), viewers that night were treated to an emerging superstar at his peak, playing the type of role that eventually transformed him into an enduring American icon.
STORY CONTINUES - AFTER THIS AD FOR VIDEO DOWNLOADS:
---
---
In the teleplay, Dean played Jeff Latham, a Korean war vet wandering the countryside who falls into a shady job at a small roadside diner and into love with a local farm girl. Jeff soon finds he's in over his head, tricked into working for some small town gangsters who then set him up for a murder rap.
From You Tube - the end of The Unlighted Road with James Dean: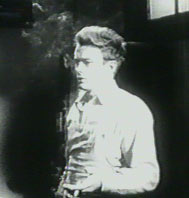 As in 'Rebel Without a Cause,' Dean's character finds himself in a morally ambiguous world where the authority figures are mostly corrupt; Jeff Latham's an innocent caught in a web of deception he's ill-equipped cope with.
One early effective subliminal technique Dean employed in many of his television dramas was his habit of strategically positioning his cigarette smoke to give viewers the impression of steam rising off his body.
Despite a total cop-out ending, the Schlitz Playhouse of the Stars' production of 'The Unlighted Road' was first-class 1950's television, with interesting plot twists, strong co-stars and crisp art direction.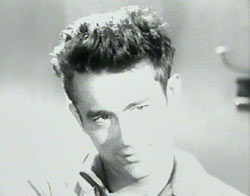 This filmed production was originally broadcast on May 6, 1955. James Dean was killed in that fatal car accident less than six months later.

READ:
Part Two of James Dean on TV:
Dean's posthumous broadcast - with rare video!