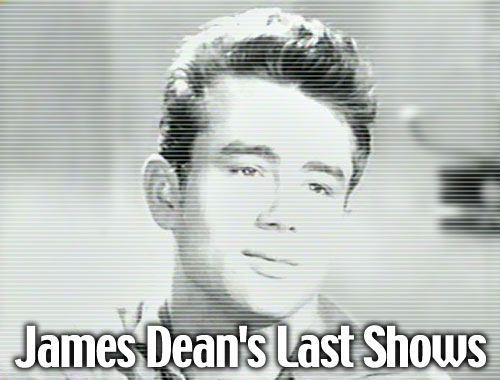 by Billy Ingram
Part Two: Dean's posthumous TV broadcast
Read part one here

As a tribute to the actor a year after his untimely death in a car crash, General Electric Theater (the third most popular show in the nation, hosted by Ronald Reagan) presented the kinescope of a December, 1954 live broadcast featuring James Dean with his 'Rebel Without A Cause' co-star Natalie Wood in a play entitled 'I'm A Fool.'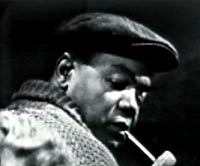 The production (written by Sherwood Anderson) was a stylish one, with imaginative, high-tech scene changes and an effective dramatic performance by Eddie Albert as the narrator. Also featured prominently, actor Roy Glenn (seen right); it was unusual at this time for an African-American to have a major part in a TV production.
From You Tube - the opening to I'm A Fool with James Dean:
The script for 'I'm A Fool' was a pearl necklace of cold-war clichés, but with a cast like this it hardly mattered. In the half-hour drama, Dean played an awkward small-town rube who ventures out into the world alone, landing a menial job at a racetrack.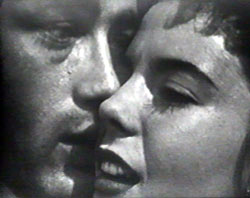 He falls in love trying to impress a tourist gal (Natalie Wood) by pretending he's someone important. Heartache sets in when she leaves and he knows that, because of his deceptions, they will never see each other again.
Although playing against type, this was a role clearly meant to capitalize on Dean's reputation as a heart throb for teen girls. He displayed a firm command of the medium without exerting a great deal of obvious effort.
'East of Eden' was released shortly before Dean's death in 1955; by then he had filmed two follow-ups, 'Rebel Without A Cause' and 'Giant' that were released posthumously. Both are revered classics of the cinema.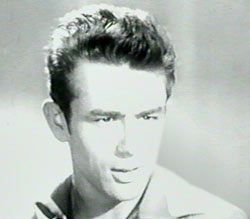 Ironically, the last thing James Dean filmed for television before his deadly car crash was a public service message on auto safety - reminding his fans that, "speed kills."
UPDATE: On March 17, 2010, General Electric presented Reagan's widow Nancy Reagan with video copies of all 208 episodes of General Electric Theater, to be donated to the Ronald Reagan Presidential Library.