Reviews of the newest DVD collections
of your favorite classic TV shows!
Click on the title to order - huge discounts and free shipping through Amazon.com!

---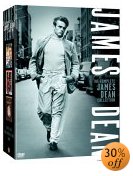 James Dean Collection
There's a lot of excitement surrounding the fiftieth anniversary of the death of James Dean. Fans of the moody method actor have a lot to love in Warner's new collection containing his three seminal films. Giant, East of Eden and Rebel Without a Cause are all presented here in gloriously restored form, with a multitude of extras designed to thrill your film loving soul.

East of Eden - this is this movie's first appearance on DVD and the stunning debut of James Dean on film.
Rebel Without a Cause - scored Academy Award Nominations for Best Supporting Actor (Sal Mineo), Best Supporting Actress (Natalie Wood) and Best Motion Picture - all well deserved.
Giant - stars Rock Hudson, Elizabeth Taylor, and James Dean in his last film appearance. Supporting players Dennis Hopper, Sal Mineo, Carroll Baker, Earl Holliman and Chill Wills make Giant a must see, even if it tends to drag a bit in spots.

Three discs come in a very slick, handsome package with three superb behind-the-scenes documentaries that are fascinating from start to finish, picture galleries and another compelling documentary, "Rediscovering A Rebel" among a multitude of other bonus features. Highly Recommended for film buffs and James Dean lovers!
---
Rebel Without a Cause
Stars James Dean, Natalie Wood, Sal Mineo, Jim Backus, Ann Doran
Directors: Nicholas Ray
Theatrical Release Date: October 27, 1955
Rating . Rated PG-13 for some violence and thematic elements. (2005 re-issue)
Genres: Drama, Romance

Synopsis: Jim Stark is the new kid in town. He has been in trouble elsewhere; that's why his family has had to move before. Here he hopes to find the love he doesn't get from his middle-class family. Though he finds some of this in his relation with Judy, and a form of it in both Plato's adulation and Ray's real concern for him, Jim must still prove himself to his peers in switchblade knife fights and "chickie" games in which cars race toward a seaside cliff.

Giant
Stars Elizabeth Taylor, Rock Hudson, James Dean, Carroll Baker, Jane Withers
Directors: George Stevens
Theatrical Release Date: November 24, 1956
Genres: Drama, Romance, Western

Synopsis: Texan rancher Bick Benedict visits a Maryland farm to buy a prize horse. Whilst there he meets and falls in love with the owner's daughter Leslie, they are married immediately and return to his ranch. The story of their family and its rivalry with cowboy and (later oil tycoon) Jett Rink unfolds across two generations.

East of Eden
Stars Julie Harris, James Dean, Raymond Massey, Burl Ives, Richard Davalos
Directors: Elia Kazan
Theatrical Release Date: April 10, 1955
Rating . Rated PG for thematic elements and some violent content. (2005 re-issue)
Genres: Drama

Synopsis: In the Salinas Valley, in and around World War I, Cal Trask feels he must compete against overwhelming odds with his brother Aron for the love of their father Adam. Cal is frustrated at every turn, from his reaction to the war, to how to get ahead in business and in life, to how to relate to estranged mother.
---
TV on DVD Reviews: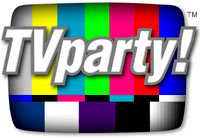 TVparty! for TV on DVD!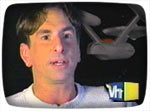 Reviews by Billy Ingram,
as seen on VH1, Trio and Bravo.




Carol Burnett Show on DVD
| | |
| --- | --- |
| FEATURES YOU MIGHT ENJOY: | |
---
Studio: Warner Home Video
DVD Release Date: May 31, 2005
Run Time: 430 minutes
Average Customer Review:
(22 customer reviews)

DVD Features:
Available Subtitles: English, Spanish, French
Available Audio Tracks: English (Unknown Format)

East of Eden
English 5.1, French mono, 2.55 widescreen anamorphic
New digital transfer from restored picture and audio elements
Commentary by Richard Schickel
Theatrical trailer
New 50th-anniversary documentary "East of Eden: Art in Search of Life"
Vintage documentary: "Forever James Dean"
Additional scenes
Screen tests
Wardrobe, costume, and production design tests
3/19/1955 New York premiere footage

Rebel Without a Cause
English 5.1, French mono, 2.55 widescreen anamorphic
New digital transfer from restored picture and audio elements
Commentary by Richard Schickel
Theatrical trailer
New 50th-anniversary documentary: "Rebel Without a Cause: Defiant Innocents"
Vintage documentary: "James Dean Remembered"
Additional scenes (without sound)
New: three segments from the Warner Bros. Presents TV series including Dean's famous Drive Safely commercial TV spot
Rare screen tests
Wardrobe tests

Giant
English 2.0 surround, French mono, 1.66 widescreen letterbox
Commentary by filmmaker/Stevens family archivist George Stevens Jr., screenwriter Ivan Moffat, and critic Stephen Farber
All-new digital transfer from revitalized picture and audio elements
Nearly 3 hours of new and vintage documentaries including the following:
"George Stevens: The Filmmakers Who Knew Him"
"Memories of Giant"
"Return to Giant"
New York premiere TV special
Hollywood premiere and project kickoff newsreels
2 Warner Bros. Presents behind the cameras featurettes
Original/reissue theatrical trailers
Stills and document galleries
Extensive production notes, director filmography, and introduction by George Stevens Jr
---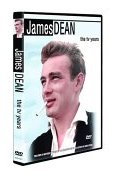 James Dean
TV Shows now on DVD

Product Description:
Before he was a Rebel Without a Cause, fifties legend James Dean hones his craft in live television. Here, on one remarkable DVD, are complete live dramas from the Golden Age of Television, starring the one and only James Dean: THE BELLS OF COCKAIGNE (1953), featuring Dean as a man who comes to the rescue of a sickly child; and I AM A FOOL (1954), with Dean as a poor boy who falls in love with a rich girl.

And, as a special bonus, HOLLYWOOD REMEMBERS: JAMES DEAN, a fascinating look at the remarkable career and tragic life of oneof the cinema's enduring legends.

TV Shows on DVD
Holiday Specials on DVD
TV Commercials on DVD

Amazon Prime - unlimited streaming
of your fave TV shows and movies!
Get your FREE 30 Day Trial!

Everything you're looking for is here:

Shop Amazon's New Kindle Fire
Everything you're looking for is here: