Reviews of the newest DVD collections
of your favorite classic TV shows!
Click on the title to order - huge discounts and free shipping through Amazon.com!

---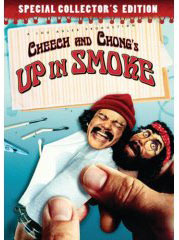 Cheech & Chong's Up In Smoke - (High-Larious Edition)
I normally just review TV shows on DVD but I couldn't resist this new one.
I don't know how many times I've seen Up In Smoke, maybe 5, but every time I watch it it never fails to get me laughing uncontrollably. I found myself busting a gut all over again watching this DVD, the humor never ages - the hallmark of a classic.
From the product description: Cheech and Chong meet up by chance on the highway somewhere in California. They go in search of some dope and are accidentally deported to Mexico where in their desperation to get home they agree to drive a van back to the States so they can get back in time for a gig they are due to play. Unaware of the properties from which the van is constructed they make their way back having aquired a couple of female hitch-hikers whilst all the time avoiding the cops whom they are not even aware are following them.
What a joy this is! It is absolutely, positively one of the funniest movies ever made and this new DVD sheds a whole new light on the film. You, of course, have to have this film in your library, especially now that you can enjoy watching it with the commentary track featuring Cheech Marin and director Lou Adler. It is a revelation and the deleted scenes add considerably to the experience, they're just as funny as the movie itself.
Up In Smoke also features the great character actor Strother Martin (seen in just about every John Wayne movie) and we get more of his role in the deleted scenes.
This is one of those movies you can watch every few years and it's just as funny as the first time.
Look at the extras:
* Commentary by Cheech Martin and director Lou Adler
* Roach clips (deleted scenes)
* Lighting Up: A look back
* Animated music video with Alice Bowie
* "The Man Song"
* 2 vintage radio spots
* Theatrical trailer
Enhanced for 16x9 with Dolby 5.1
It's a real bargain at $12.99 if you order online now.
---
TV on DVD Reviews: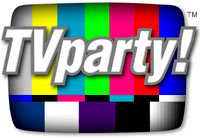 TVparty! for TV on DVD!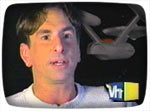 Reviews by Billy Ingram,
as seen on VH1, Trio and Bravo.
On BRAVO'S 100 Funniest Movies this month!
| | |
| --- | --- |
| FEATURES YOU MIGHT ENJOY: | |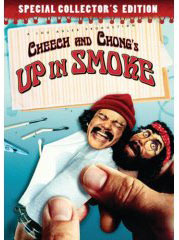 Tagline: It will make you feel VERY funny!

Plot Outline: Two stoners unknowingly smuggle a van - made entirely of marijuana - from Mexico to L.A., with incompetent Sgt. Stedenko on their trail.

There's nothing straight about this movie. But here's the dope anyway: Cheech and Chong make their film debut in this riotous rock'n'roll comedy, bringing with them the same madness, lifestyles and sketches that sold over 10 million records in the early '70s. Cheech and Chong's marijuana-laced humor keeps their spirits high and leads them to an outrageous finale in L.A.'s Roxy Theatre, where Cheech performs in a pink tutu and Chong dresses as a large red quaalude.
---