Reviews of the newest DVD collections
of your favorite classic TV shows!
Click on the title to order - huge discounts and free shipping through Amazon.com!
(Ordering TV shows on DVD from the United Kingdom? Click here! )
---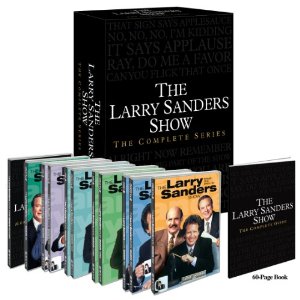 The Larry Sanders Show: The Complete Series
This new DVD collection is absolutely the most impressive in a long, long time and will no doubt top many top ten lists this year, a virtual avalanche of laughter awaits you.
The Larry Sanders Show broke new comedy ground and was nominated for (and won) so many awards it would be a chore to mention them all, one of those rare shows that took off out of the gate on strong footing. (Shout! also offers It's Gary Shandling's Show which I enjoyed when it first aired in the eighties; equally odd as the Sanders show but not nearly as funny.)
I thought I'd seen all of these shows before - not by a long shot. The joy of rediscovering this enormously entertaining series is tremendous. Part talk show, part sitcom, this devilishly delicious concoction was a hit on HBO in the 1990s and the episodes are as fresh today as the day they were unleashed.
Producer/ writer Judd Apatow (Knocked Up) and Peter Tolan (Rescue Me) lent their wicked wit to Gary Shandling's arid dry humor and the writers are a who's who of television's brightest.
Besides Shandling's deft portrayal the production sports one of the sharpest supporting casts anywhere, the proof of which is that the actors all found their way into other hit TV shows - Penny Johnson, (24), Janeane Garofalo (24), Mary Lynn Rajskub (24), Jeremy Piven (Entourage), Rip Torn (30 Rock), Jeffrey Tambor (Arrested Development), and so many others.

And then there are the guest stars, far too numerous to mention them all here, a virtual cornucopia of the hottest celebs in Hollywood in the 1990s, many of which make quick appearances for comic effect. Tim Conway, Ben Stiller, William Shatner, Charles Nelson Reilly, Carl Reiner, Ed McMahon, Bill Maher, Bruno Kirby, Michael Richards, Hugh Hefner, Danny DeVito, John Ritter, Henry Winkler, and David Duchovny are all terrific as their faux selves.
It's the soap opera (but all too real in Hollywood) lives these characters share that make the show so wonderful. Roseanne Barr kills as she tries to straighten out Larry when he tumbles into the abyss, Martin Mull hits the spot as Larry's boorish neighbor, and The Daily Show's John Stewart is absolutely remarkable as Larry's affable substitute host the network is hot for.

So so so many classic episodes - the one with Carol Burnett and the spiders, Larry gets roasted and hates it; Hank's sex tape gets out; Larry goes to war with TV critic Tom Shales; the disastrous anniversary show - The Larry Sanders Show stayed consistently strong throughout the series' run leading to one of the finest, funniest last episodes in TV history.
But wait there's more! Numerous extras can be found on each disc in addition to a bonus disc crammed with amazing features. A phone interview between Gary and Jon Stewart, discussing the writing process with Shandling and Judd Apatow, visits with Alec Baldwin, Jerry Seinfeld, Carol Burnett, Jeremy Piven, Penny Johnson and other major guest stars - you could cruise through the better part of a day immersed in the commentaries, deleted scenes, outtakes and other assorted video treats.
This beautifully designed 17 disc set will have you dazzled for days, weeks, years. I've spent untold hours enjoying this set for the last couple of weeks, on and off, and I still haven't gotten to everything I want to see. It also comes with a colorful booklet that details what's where along with a boffo essay by Howard Rosenberg.
The only drawback - some of the prints are quite grainy, which is surprising for such a recent production, but that kind of thing never bothers me much.
I don't know how you put a price on comedy like this but Shout! Factory manages to deliver one of the best entertainment deals out there for a retail price of $150, a mere $100 if you order now from Amazon. What a great Christmas gift this will be and the price is right! Wow factor? Oh yeah!

Couple this with the new Johnny Carson Tonight Show DVD mega-set and you'll be in talk show heaven!
---
TV on DVD Reviews: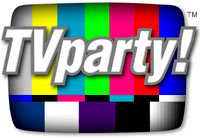 TVparty! for TV Shows on DVD!
Patrick Duffy of Dallas Interview
| | |
| --- | --- |
| | Reviews by Billy Ingram, as seen on VH1, Trio and Bravo. |
---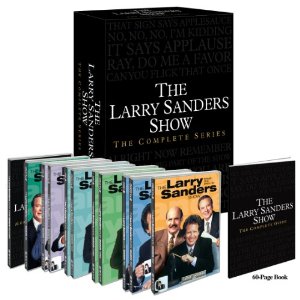 The Larry Sanders Show: The Complete Series
Special Features
Deleted scenes & commentaries
Introduction w/ Shandling
"The Making Of The Larry Sanders Show" doc hosted by Greg Kinnear
Shandling and Apatow on the writer's process
Extended cast interviews
Shandling's personal visits with select guest stars
56-page booklet
Product Description
Live on tape, from Hollywood, its The Larry Sanders Show

The Complete Series: 89 Original Episodes on 17 Discs

At long last, Garry Shandling s comedy series about the twisted inner workings of a late-night talk show, and its host, comes to DVD. All of it.

Larry Sanders (Garry Shandling) is a neurotic late-night talk show host flanked by Artie (Rip Torn), his caustic, foul-mouthed producer, and Hey Now Hank Kingsley (Jeffrey Tambor), his hopelessly insecure, ethically inept sidekick. Off-air it is all train wrecks and egos, but when the lights go down and the theme music kicks in, you get late-night Entertainment Inc. at its finest.

The Larry Sanders Show raised the bar for fearless, acerbic Hollywood satire. The innovative use of both video and film to distinguish on-air events from real-life happenings, displaying the jarring dynamic between the on-camera poise of Larry and his backstage neurosis, was brutally fascinating. And in the company of a patronizing, combative staff and a parade of A-list guests, more than game for putting their own celebrity in the crosshairs, you had a backstage pass to a Hollywood that was shockingly raw and hilarious.

Also starring Linda Doucett, Janeane Garofalo (24), Penny Johnson (24), Wallace Langham (CSI), Bob Odenkirk (Mr. Show, Breaking Bad), Jeremy Piven (Entourage), Mary Lynn Rajskub (24), Sarah Silverman (The Sarah Silverman Program), Scott Thompson (Kids In The Hall), and written and produced by Garry Shandling, Peter Tolan (Rescue Me) and Judd Apatow (Knocked Up), The Larry Sanders Show was the hippest TV show . . . probably ever. Late-night would never be the same again.
PR4 & PR5 Pages for ads - CHEAP!
Carol Burnett Show on DVD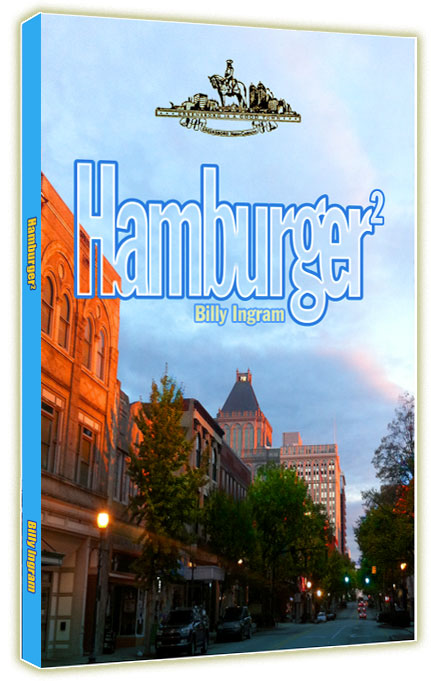 The focus is on Greensboro, NC!
North Carolina Actors / Southern Actors
Everything you're looking for is here:

---
Everything you're looking for is here:
Shop Amazon's New Kindle Fire