Reviews of the newest DVD collections
of your favorite classic TV shows!
Click on the title to order - huge discounts and free shipping through Amazon.com!
(Ordering TV shows on DVD from the United Kingdom? Click here! )
---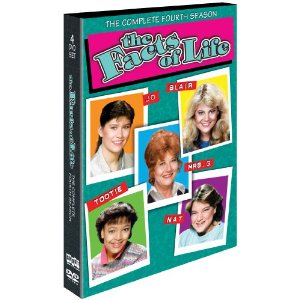 The Facts of Life: Season 4
A much kinder gentler 'South Park'
Watching the recent DVD release of the TV movie "The Facts of Life Goes to Paris" and the 20-something fourth season episodes of that classic '80s sitcom made me think primarily of comments that "South Park" creators Matt Stone and Trey Parker made during an interview several years ago.
Stone and Parker commented that there were times in school that they were the new kid, the fat kid, the Jewish kid, or the poor kid. These descriptions apply to two of the four high school girls who attend the prestigious Eastland School in "Facts," and they even had Mrs. Garrett to fill the role of insightful and caring school cafeteria chef.
The DVD also reminded me of a scene in a documentary about comedy writer Bruce Vilanch, who is best known for writing for Robin Williams and Whoppi Goldberg. Vilanch, who is hilarious, said that a script that he wrote for "Facts" was criticized because his lines were not distinguished as being Tootie sarcastic or Natalie sarcastic.
The Vilanch story is simply an interesting anecdote about the series; it is even more interesting that the show survived at least five time slot changes and an equal number of retoolings, which a modern show would almost never survive. I remember switching back and forth between "Facts" and primetime soap "Dynasty" during the summer of 1982 in this era before even VCRs.
I could relate as well to "Facts" because I attended the oldest boarding school in the United States and was in the same grade as rich WASP Blair and tough scholarship student Jo. The nice dorms and abundant free time differed from my experience, but the closeness of the students who developed very special friendships rang true. My classmates did help me through numerous teen traumas while my parents, like many Eastland parents, had essentially dumped me.
One big difference is that the lives of the Eastland girls seemed much more like what I imagine a Judy Blume novel to be than my own experience. Every episode had at least a good dose touch of amusing humor, but most of them centered around more drama than I had recalled the series containing.
I could relate to parents not showing as promised and other sources of despair that boarding school can amplify. At the same time, the easily 85 percent of the fourth season "Facts" episodes that dealt with serious topics seemed a bit over the top.
The "very special" episodes included topics such as facing suspension for not revealing the identity of a student who had an abortion, an adopted student having a serious argument with her adoptive parents and having to decide whether to meet her biological mother, Jo facing the possibility of not affording Eastland or college, riding with a drunk driver, etc.
Fortunately, the lighter episodes had strong humor that offset the darker moments. I fondly remembered an episode in which the girls pulled an all nighter studying for the last set of finals that Jo and Blair would take at Eastland. Further, an episode in which a squirrel is running free throughout the girls' room and the cafeteria while Mrs. Garrett is trying to entertain a group of sour people from France who do not speak English made me laugh out loud and was my favorite of the season.
The one extra in the set is a 15-question trivia quiz, on which I scored a 100. I am not sure if I should be proud or embarrassed.
This set additionally warrants giving a shout out to Shout Factory for releasing it several years after Sony apparently chose to stop providing it after the third season. (Shout is rescuing "Mad About You" in a similar fashion.)
Shout has developed a strong appreciation of older shows and has great history of releasing seasons every few months. This is a real treat to us sofa spuds out there, and I especially appreciate them enduring my pestering them to push up their release of "Max Headroom."
I would love to hear from other "Facts" fans or classmates who come across this article to e-mail me. I remind them that I left my prep school nickname, which I will not reveal under threat of death, behind. My e-mail is tvdvdguy@gmail.com.
---
TV on DVD Reviews: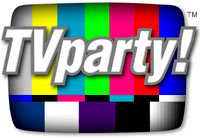 TVparty! for TV Shows on DVD!
Auto huren makes it possible to compare all car rental companies all over the world!
Compare the top sellers of Instagram followers on Buy instagram followers reviews!
An overwiew of guides and gutscheincode with the best tips and tricks to save money! on Ebookers.
Patrick Duffy of Dallas Interview
---
Review by John Stahl

John Stahl is a freelance legal writer who is also a fan of classic and cult television programs. He can be reached at
tvdvdguy@gmail.com
.
---
---
Actors in North Carolina / Southern Actors
PR4 & PR5 Pages for ads - CHEAP!
Carol Burnett Show on DVD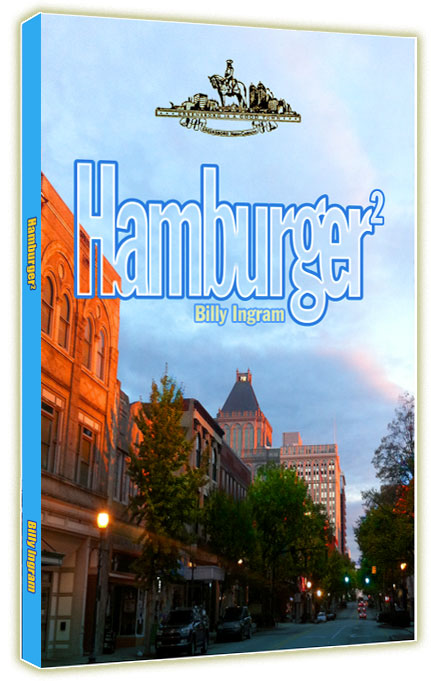 The focus is on Greensboro, NC!
---
Everything you're looking for is here:
Shop Amazon's New Kindle Fire