---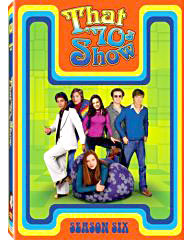 Tagline: Be Groovy. Be Very Groovy.
Plot Outline: A comedy revolving around a group of teenage friends, their mishaps, and their coming of age, set in 1970s Wisconsin.
Plot Synopsis: Eric Forman is a typical high school student growing up in Wisconsin in 1976 with his family and his friends. Together, they have the same kind of joys and sorrows that just about every teenager has while growing up. This show parodied many of the attitudes, events and fads of the 70's, along with those who grew up at the time and are now in their 30's-40's.
DVD Features: Available Subtitles: English Available Audio Tracks: English (Dolby Digital 2.0 Mono)
A '70s Flashback: Debra Jo Rapp
A '70s Flashback: Kurtwood Smith
Six Minutes of Season Six Season 6
Promos
3 Commentaries with David Trainer