Reviews of the newest DVD collections
of your favorite classic TV shows!
Click on the title to order - huge discounts and free shipping through Amazon.com!

---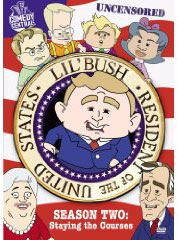 Lil' Bush: Resident of the United States
Season Two Uncensored
Animated shows, like South Park and Family Guy, are able to make even the most devout church member laugh. Yes, indeed, they're offensive alright. And yes, sometimes I feel ashamed at what makes me giggle uncontrollably. But I just can't help it; both these programs are crude, but good (entertainment-wise, at least). Lil' Bush makes me want to react the same way – you know, laugh with a shocked expression on my face -- yet I'm left offended at the crudeness and searching for the good – any good. Unfortunately, I don't find anything redeemable about this series.
This show's general premise is the presentation of the George W. Bush administration as elementary school kids. But while these kids act much too smart for their age, although far too dense for true adults, the South Park kids – on the other hand -- come off nearly exactly like real life 4th graders. Granted, the South Park language gets a little rough, both inside and around the edges, let's face it: so does a typical elementary school playground. In other words, it passes the reality check.
Even though Lil' Bush has a little star quality going for it (Iggy Pop as Lil' Rummy, for example), little of this mean-spirited humor hits its mark. Sure, it's funny at first to watch Lil' Cheney walk around and mumble like the uncaring idiot he is. But that character trait grows old after a while. Mean can be funny; but only when mixed with other kinds of funny. Yet just this one approach comedy gets tiresome fast.
Humorists find something funny about every American president sooner or later. And while they exaggerate the silly side of our leaders, most of these presidential men are still relatively good guys. But George W. Bush turned out to be an extremely poor president; one even most republicans would likely admit to disliking. So episodes such as "Katrina" and "Afghanistan", which poke fun at his real life policy mishaps, deal with wounds that are still too open and exposed to laugh about now. Soon we won't have George W. Bush to kick around anymore. But he'll leave office with our country fighting a messy war and an economy at its lowest point in years. So, anyone that can laugh about this president right now is either high or insane.
There are videos on YouTube of Bush badly dancing on the White House lawn during an Africa Malaria Day gathering. And they're hilarious. If I want to chuckle about our poor president, this is where I'll turn. Sure, he looked stupid, but in the grand scheme of things, this blunder was relatively inconsequential. Yet indelible images of desperate people up on their roofs during Hurricane Katrina are nightmares I cannot get out of my mind. Thus, I certainly don't want to watch a TV program as it fails at making light of these events, as Lil' Bush does.
Now, if watching a dorky white guy dancing on YouTube doesn't cause you to guffaw at length – and it really should – then just stick with crude (but funny) shows, such as South Park and Family Guy. Maybe this particular Comedy Central show will be funny long after our national wounds have healed. But for right now, Lil' Bush is nothing more than one long inappropriate and unfunny joke.


---
TV on DVD Reviews: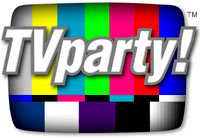 TVparty! for TV Shows on DVD!
Patrick Duffy of Dallas Interview
Lil' Bush: Resident of the United States
on DVD
---
Review by Dan MacIntosh
| | |
| --- | --- |
| FEATURES YOU MIGHT ENJOY: | |