Reviews by Billy Ingram, as seen on VH1, Trio and Bravo.

Watch for Billy Ingram on BRAVO this month!
---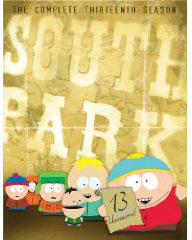 South Park: The Complete Thirteenth Season
Product Details
• Actors: Trey Parker, Matt Stone, Isaac Hayes, Mona Marshall, April Stewart
• Directors: Trey Parker
• Writers: Trey Parker, Matt Stone, Brian Graden, John Frank Rosenblum, Rachel Powell
• Producers: Adrien Beard, Anne Garefino
• Format: Animated, Box set, Color, Dolby, Full Screen, Widescreen, NTSC
• Language: English
• Number of discs: 3
• Rating:
• Unrated
• Studio: Comedy Central
• DVD Release Date: March 16, 2010
• Run Time: 308 minutes


Product Description
All fourteen uncensored episodes from South Park's thirteenth season are now available in this exclusive three-disc set. Roll with the boys as they save the economy, the whales, and a bunch of dead celebrities all while discovering the joys of Fish Sticks. For them, it's all part of growing up in South Park!
| | |
| --- | --- |
| FEATURES YOU MIGHT ENJOY: | |
---