Reviews of the newest DVD collections
of your favorite classic TV shows!
Click on the title to order - huge discounts and free shipping through Amazon.com!

---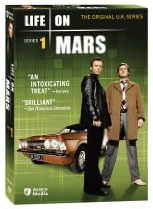 Life On Mars: Series 1 (U.K.)
Proof that Brit. TV kicks colonies' arse
The July 28 release of the 2006 first series, my people call them seasons, of the unique British police drama "Life on Mars" is timely given the controversy regarding the recent arrest of black Harvard professor Henry Louis Gates by Cambridge, Mass., police officers. As shown below, "Mars" depicts how the attitudes of police officers have evolved over the past several decades.
"Mars" is noteworthy as well because it bats a beastly good .666 on my scale of totally awesome DVD sets. I stayed up late to finish watching the set and laid awake most of the night thinking about this review.
The set did not bat a 1,000 because I did not feel a complete compulsion to watch what looked like to be great special features. This included a terrific hour-long documentary on the series, a segment on the wonderfully nostalgic 1970s rock music that prompted me to download "Life on Mars" and other David Bowie songs from i-tunes, and a gag reel that I plan to watch soon.
Before sharing additional thoughts on this extraordinary series, I want to figuratively get on my knees and beg Acorn Media to please, please, a thousand times please release the series two set. You blokes and birds got me drooling for more.
"Mars" also reinforces my beliefs that British originals are almost always better than American remakes. I did not watch the American version of "Mars" but did not hear anything good about it.
I also read about the resolution in the last episode of the American series and have seen the final episode of the British "Mars," which is at the end of its second season. I feel confident saying that the British finale leaves the insipid-sounding American finale in the dust crying for its momma.
"Mars" tells the story of Manchester, England, police detective Sam Tyler who loses consciousness when a car hits him in 2006. He wakes up in 1973 Manchester to find that he is part of a mildly corrupt police team there. Although 1973 Tyler has transferred to that force from the police force in Hyde, England, he is much more Dr. Jekyll than Mr. Hyde.
The wonderful tension between Tyler and his new colleagues revolve around their out-dated attitudes towards women and other segments of the population and the brutal way that these officers treat suspects. For good measure, this group does not object to planting evidence on a suspect who they are convinced is guilty but cannot prove that that is the case.
Tyler must contend too with the primitive forensics technology that would cause the "CSI" teams to have nervous breakdowns. Crime scenes are trampled without a second thought and running the basic tests that are available take a fortnight, my people call it two weeks.
Like any good drama, "Mars" also has terrific humor. An example that can be published in this family-friendly forum has Tyler comparing the brutality of his team to the interrogation methods that are used at Guantanamo Bay. His primary nemesis superior in rank only officer responds in a crude manner that he does not care what they do in Spain.
Another example of good humor is from an outstanding episode in which the adult Tyler, who was four years old in 1973, tries to save his father from being convicted of criminal activity in which he may or may not have been involved. When Tyler introduces himself to his mother, she responds that she has a young son named Sam Tyler. Tyler's superior officer responds that he has a pain in the ass named Sam Tyler.
As if the above were not enough, "Mars" adds the sci-fi element of having communications from 2006 reach Sam in 1973. It seems that he is in a coma and receives news of his progress through people reaching him through television programs, the radio, and connected and disconnected telephones. He is also visited by a very creepy little girl, who appears in his dingy lodgings.
A scene in which Sam gets excited when a radio that has been losing and regaining its signal only to begin playing a song from the '90s is one of my favorites. The audience roots for this "Major Tom" to enlighten his team, achieve justice in 1973, and make his way back to 2006.
I encourage "Mars" fans and even wankers who have watched this show and prefer the American version to e-mail me at tvdvdguy@gmail.com. I would also love to hear from folks who fall in love with this incredible program after buying the DVD set.
---
TV on DVD Reviews: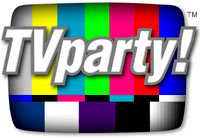 TVparty! for TV Shows on DVD!
Patrick Duffy of Dallas Interview
---
Review by John Stahl

John Stahl is a freelance legal writer who is also a fan of classic and cult television programs. He can be reached at
tvdvdguy@gmail.com
.
---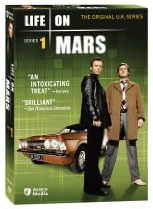 Life On Mars: Series 1 (U.K.)
Product Details
Actors: John Simm, Philip Glenister
Format: Box set, Color, DVD, Widescreen, NTSC
Language: English
Region: Region 1 (U.S. and Canada only.)
Aspect Ratio: 1.66:1
Number of discs: 4
Rating: NR (Not Rated)
Studio: Acorn Media
DVD Release Date: July 28, 2009
Run Time: 466 minutes
Product Description
The time-warping detective series seen on BBC America
Dreaming, delusional, or displaced in time? Police detective Sam Tyler (John Simm, State of Play) must decide which describes him in this intriguing twist on the police procedural that has won two International Emmys® and rave reviews from critics and fans.
Hot on a killer's trail in modern-day Manchester, Tyler gets struck by a passing car and wakes up in 1973. The high-tech tools and respect for proper procedure have vanished. Instead, he finds himself working on a homicide squad where hard drinking replaces hard thinking; forensics takes weeks to analyze; and his boss, DCI Gene Hunt (Philip Glenister, Cranford), has no qualms about roughing up suspects--or Sam himself. Still, Tyler has real-world crimes to solve, even as strange voices call him back to his 21st century life. But when he bonds with sympathetic policewoman Annie Cartwright (Liz White, The Fixer), Sam wonders: does he really want to return?
SPECIAL FEATURES:|
Audio commentaries for every episode with cast and crew
"Take a Look at the Lawman," an hour-long documentary with cast and crew interviews and behind-the-scenes footage
Interview clip with director Bharat Nalluri
"The Music of Life on Mars" featurette with composer Ed Butt
"Get Sykes" featurette with production designer Brian Sykes
Outtakes reel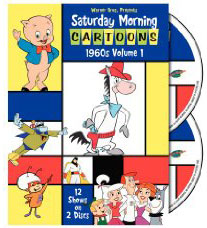 PR4 & PR5 Pages for ads - CHEAP!
Carol Burnett Show on DVD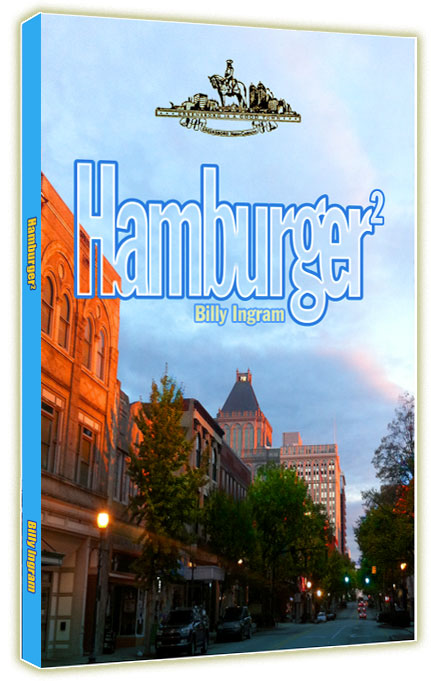 The focus is on Greensboro, NC!
---
Shop Amazon's New Kindle Fire