Reviews of the newest DVD collections
of your favorite classic TV shows!
Click on the title to order - huge discounts and free shipping through Amazon.com!
(Ordering TV shows on DVD from the United Kingdom? Click here! )
---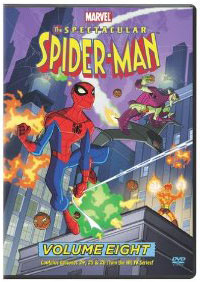 The Spectacular Spider-Man - Season 8
Full of quips and bard
My love of the animated series "The Spectacular Spider-Man" is so great that I agonized over not being able to rave over the recently released volume 8 of this series. The three most recent episodes that comprise this DVD depict the teen angst of the high school era of adorkable Peter Parker well but lack the same degree of humor as earlier episodes.
I particularly missed the wonderful verbal sparring between puny Parker and obnoxious football jock Eugene "Flash" Thompson. Additionally, Thompson is reduced to briefly making an ass out of himself. The better news is that this character is expected to have a major role in "Spider-Man 4" when Sony finally releases it.
Before discussing "Spider-Man" more, it is worth mentioning that new collections of animated series of his fellow Marvel superheroes "Iron Man" and "The X Men" have also been released recently.
The "Spider-Man" episodes wrap up the wonderfully clever parallel stories regarding Spider-Man's battles with super villains and the staging of "A Midsummer Night's Dream" at Parker's high school. The students' performances of scenes from the play provide a Greek chorus to the themes of lost innocence, love triangles, and other woes that Parker/Spider-Man and his classmates are facing. On top of this, the playful Puck in the school production is presented as being very similar to the gleefully evil Green Goblin who delights in tormenting Spider-Man.
The primary difference between these episodes and the 23 that preceded them is that the focus has shifted away from Parker dealing with bullying and a complicated love life at his high school to his well-choreographed battles as Spider-Man. The greatly reduced amount of quips during those battles reflect Parker maturing and the increased seriousness of the threats that the villains are presenting.
The second episode, which has the clever title "Opening Night," is a good example of the new tone of the show. Spider-Man faces a legion of doom style coalition of super villains while testing the security at a new high-tech prison facility. This episode was entertaining but lacked the hilarious verbal taunting of the villains that a similar earlier episode contained. It also involved a serious dilemma regarding the man who killed Parker's uncle.
The final episode, which was titled "Final Curtain," left me wanting more. It resolves the mystery regarding the identity of the Green Goblin, deprives Parker of a happy ending regarding his love life, and ends with a cliffhanger.
"Spectacular" fans or others who share my love of Spidey's humor and nerdy charm are encouraged to e-mail me at tvdvdguy@gmail.com.
---
TV on DVD Reviews: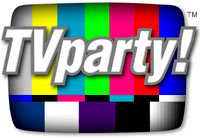 TVparty! for TV Shows on DVD!
Your Classic TV Blog!
News Regurgitator - Political News Links
Patrick Duffy of Dallas Interview
---
Review by John Stahl

John Stahl is a freelance legal writer who is also a fan of classic and cult television programs. He can be reached at
tvdvdguy@gmail.com
.
---
---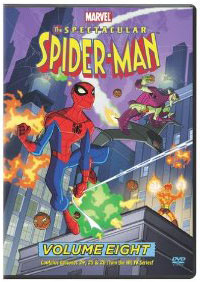 Actors in North Carolina / Southern Actors
PR4 & PR5 Pages for ads - CHEAP!
Carol Burnett Show on DVD
Television's Greatest - local & national TV kid shows
---
Everything you're looking for is here:
Shop Amazon's New Kindle Fire