Reviews of the newest DVD collections
of your favorite classic TV shows!
Click on the title to order - huge discounts and free shipping through Amazon.com!

---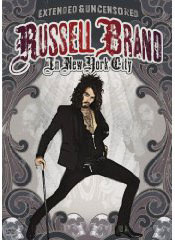 Russell Brand in New York City
A stand-up who should have stayed seated
The DVD, which was released Tuesday, of the stand-up concert "Russell Brand in New York City" presents the tough and rare challenge of reviewing something that you did not enjoy. A true reviewer should wonder if something about him or her causes a strong dislike of a performer who is popular enough to have a large following.
Brand's massive and wild hair and erotic tight goth-style clothing that includes a barely buttoned shirt is fine and definitely catches attention. Similarly, his British accent and frantic nature are entertaining.
An even bigger problem than Brand barely making me smile was the fact that he devoted roughly one-half of his hour-long performance discussing his appearance on the 2008 MTV Music Video Awards and the fallout of his criticism of President Bush on that program.
I share the glee of virtually every American that Bush is out of office, but think that Brand devoted far too much time to this topic. Additionally, this subject seemed very dated six months after the presidential election.
Further, much of this portion of this performance seemed to be even more therapy for Brand than most routines provide comedians. He read several pieces of hate mail that he received and shared a newspaper article that described his depression. If it helps, he is welcome to read this review onstage if his agent is able to book him on another tour.
I am sorry, but Brand simply does not present a very sympathetic persona and should expect criticism if he expresses a strong opinion.
Brand annoyed me as well by expressing anger that the Google "did you mean" tool appears if it seems that you misspelled the term for which you were seeking information. This tool helps me at least once a week, and I do not consider it obnoxious or a comment on my intelligence as Brand rants. The truly nerve-wracking animated paper clip on Windows is a much better target.
Giving credit where credit is due, Brand's routine regarding meeting child star Macauley Culkin, who Brand says now identifies himself as Mac, was amusing. I can relate to having trouble viewing Culkin as a mature adult.
I admit both that fans of Brand will likely enjoy this DVD more than me and that I did not watch the few routines that were included as extras on the DVD. I simply could not tolerate watching any more of Brand.
I am eager to hear from fans of Brand who could help me understand what I do not get about him; e-mail to tvdvdguy@gmail.com.
---
TV on DVD Reviews: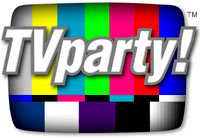 TVparty! for TV Shows on DVD!
Patrick Duffy of Dallas Interview
---
Review by John Stahl

John Stahl is a freelance legal writer who is also a fan of classic and cult television programs. He can be reached at
tvdvdguy@gmail.com
.
---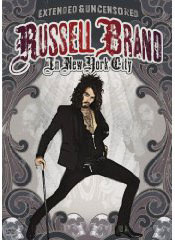 Russell Brand in New York City
Product Details
Actors: Russell Brand
Format: Color, Dolby, DVD-Video, Widescreen, NTSC
Language: English
Region: Region 1 (U.S. and Canada only. Read more about DVD formats.)
Number of discs: 1
Rating: NR (Not Rated)
Studio: Comedy Central
DVD Release Date: May 19, 2009
Run Time: 61 minutes


Product Description
British pop icon. Rock star. Ladies man. The unexpected star and scene-stealer of Forgetting Sarah Marshall and the controversial host of the 2008 VMA's, Russell Brand makes his Comedy Central debut with Russell Brand in New York City. Detailing the difficulty of handling his newfound fame in America, recounting the time he meet the Queen and instructing women on how to approach him, Russell Brand proves he's the hottest thing to come out of Britain since The Beatles.
---
Everything you're looking for is here:
Shop Amazon's New Kindle Fire
Shop Amazon's New Kindle Fire