Reviews of the newest DVD collections
of your favorite classic TV shows!
Click on the title to order - huge discounts and free shipping through Amazon.com!

---
Jack is back and better than ever - 24 season 7 is a heart-pounding thrill ride that had me on the edge of my seat more than once.
Every year Jack finds himself more and more isolated, this go around there's no CTU and no Jack - he's been relocated in secret and given a new identity. When his cover is blown and his former colleagues are murdered he's forced to return to Washington and save the country two or three more times.
You could make an easy argument that this is the best season of 24 ever and I'm a huge fan of the series. I think I've seen them all twice and I fully expected a slide in quality this time. Not so.
Granted, it would have been a tighter season if it had been 19 instead of 24 - it's like they pushed the reset button around episode 19 and tried to have another go at it with mixed results. He's a traitor, he's not a traitor, no he IS a traitor but he's not - stop already! Some of these characters switched teams more often that a bisexual nympho but then 24 has always required a healthy suspension of disbelief.
If only John Wayne were alive to play the role of Jack Bauer. Jack is the Duke in a modern setting, the lawful loner who reluctantly but resolutely picks up his gun to do what has to be done, personal feelings and long held animosities aside.
Like the great old serials of the 1940s the explosive cliffhangers come fast and furious but unlike those quaint tales of old 24 if filled with deep moral hazard and truly frightening scenarios. Due of the length of the storyline the series has tremendous re-watchability, I had so much fun watching season 7 that I dipped back into season 5 and enjoyed the ride all over again. (Season 5 has a rip-roaring final 4 hours and is a blast from start to finish. Season 6 starts out fantastic then quickly descends into silly soap opera punctuated by mindless violence.)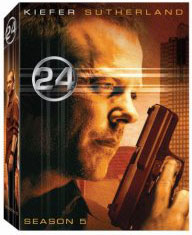 Durable characters and writers who know how to push our buttons are what make 24 the supercharged blast it is. That the series can maintain this level of excitement after 7 years is amazing. This is television drama at its best, entertainment that will stand the test of time, a practical and most enjoyable DVD purchase.
If you haven't watched 24, start with season one; it's truly one of the best seasons any drama has had but you can jump in at any time, they all are top flight. You can purchase the earlier seasons for as low as $18.00 right now if you buy online.
Read another review of 24 Season 7
---
TV on DVD Reviews: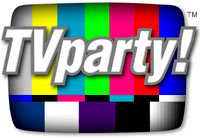 TVparty! for TV Shows on DVD!
---
| | |
| --- | --- |
| | Reviews by Billy Ingram, as seen on VH1, Trio and Bravo. |
---
Read another review of 24 Season 7
Product Description
Actors: Kiefer Sutherland, Mary Lynn Rajskub, Carlos Bernard, James Morrison, Elisha Cuthbert
Format: AC-3, Box set, Dolby, DVD-Video, Widescreen, NTSC
Language: English
Subtitles: English, Spanish, French
Aspect Ratio: 1.78:1
Number of discs: 6
Rating: Unrated
Studio: 20th Century Fox
DVD Release Date: May 19, 2009
Run Time: 1080 minutes
---