Reviews of the newest DVD collections
of your favorite classic TV shows!
Click on the title to order - huge discounts and free shipping through Amazon.com!

---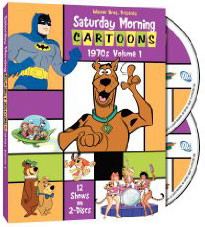 Saturday Morning Cartoons 1970s Volume 1
Great Scooby Doo clones and other nostalgic treats
Watching the DVD set, which will be released May 26, of "Saturday Morning Cartoons 1970s Volume 1" reminded me not only of watching these childhood favorites when they first aired but of watching the two-hour blocks of these shows that Cartoon Network used to run on Saturday and Sunday mornings.
I will review a similar set, which will also be released on May 26, of 1960s cartoons next week.
A comment that a fellow cartoon fan made on a genuinely fun special feature on the Revolutionary War era ghost and modern teenagers debunk ghostly frauds series "The Funky Phantom" in the DVD set summarizes many of these Hanna Barbera shows. He said essentially that the theme of 1970s cartoons was to make a show that was like Scooby Doo, only different.
An episode of "Phantom" is included in this set. Episodes of the similar shows "Josie and the Pussycats," "The Amazing Chan and the Chan Clan," "Goober and the Ghost Chasers," and "Speed Buggy" are also in this set that has a total of 12 episodes of 1970s cartoons.
The "Pussycats" episode in which evil submarine commander Captain Nemo captures the teenage musicians, their friends, and their heroic cat is the best of the lot.
Virtually every show in the DVD set withstood the test of time, and collections of them have already been released on DVD. Complete series sets of "Josie and the Pussycats" and "Hong Kong Phooey" are available and collections with several episodes of "The Jetsons" and "The New Scooby Doo Mysteries" are also in my collection.
A set of episodes from the syndicated 1985 version of "The Jetsons" is being released in June. I will review this one as well.
These shows are great as well because the 1970s was the last great era of Saturday morning cartoons before toys and cereal became the inspiration for these shows, and the number of cartoon series began dwindling.
It is amusing that the innocent mild violence and rare truly harmless stereotypes that appear in the classic '70s cartoons apparently prompted the warning on the set that it is intended for adult collectors and is unsuitable for children. I grew up on them and assure my valued readers that I am not at all racist or violent.
I encourage other children of the '70s or simply lovers of highly entertaining animation to check out this set. You folks and everyone else are encouraged to e-mail me at tvdvdguy@gmail.com.
---
TV on DVD Reviews: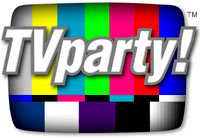 TVparty! for TV Shows on DVD!
Patrick Duffy of Dallas Interview
---
Review by John Stahl

John Stahl is a freelance legal writer who is also a fan of classic and cult television programs. He can be reached at
tvdvdguy@gmail.com
.
---
---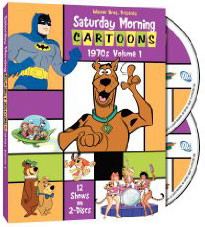 Saturday Morning Cartoons 1970s Volume 1
Product Details
Actors: The Jetsons, Hong Kong Phooey, Speed Buggy, The Batman Tarzan Adventure Hour, Goober and the Ghost Chasers
Format: Animated, Color, DVD-Video, Subtitled, NTSC
Language: English (Dolby Digital 1.0), Portuguese (Dolby Digital 1.0)
Subtitles: English, Portuguese
Region: Region 1 (U.S. and Canada only.)
Aspect Ratio: 1.33:1
Number of discs: 2
Rating: NR (Not Rated)
Studio: Warner Home Video
DVD Release Date: May 26, 2009
Run Time: 352 minutes

Product Description
Re-live your childhood with this collection of 12 cartoons featuring some of the following beloved characters: Speed Buggy, Amazing Chan and the Chan Clan, Funky Phantom and many more!
---