| | |
| --- | --- |
| FEATURES YOU MIGHT ENJOY: | |
---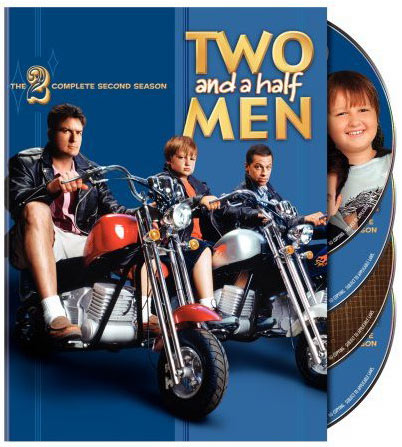 Two and a Half Men - The Complete Second Season
Season 2 is even more hilarious than the first! Don't miss this one.
Tagline: Two adults. One kid. No grown-ups.
Plot Outline: A hedonistic jingle writer's free-wheeling life comes to an abrupt halt when his brother and 10-year-old nephew move into his beach-front house.
Plot Synopsis: The Harper brothers Charlie and Alan are almost opposites but form a great team. After years they had little in common except their dislike for their mundane, maternally cold but domineering mother Evelyn, Allan, a compulsively neat chiropractor and control-freak, is thrown out by his manipulative wife Judith who nevertheless gets him to pay for everything and do most jobs in the house. Charlie, a freelance jingle composer in a luxurious beach-house and irresistible Casanova who rarely gets up before brunch around noon, puts him up 'temporarily' with his son Jake, a lazy fat school kid who shuttles between his parents. This starts off the sitcom around their conflicting lifestyles, such as how to raise the boy (who now has an efficient, caring dad for the boring stuff while having a ball with his fun-loving sugar uncle who teaches him boyish things), be moralistic or have fun, a stickler or popular, what's a 'white' lie... Other fairly regular characters include Charlie's fat cleaning lady Bertha and his rich, obsessively infatuated neighbor-girl Rose who often sneaks in.
Product Description:
Welcome back to the Harpers' Malibu beach house, home to one of the funniest TV comedy hits in a long, long time. Bachelor Charlie's trying (but not very hard) to remember the name of the girl currently taking a shower upstairs. And Alan, Charlie's divorced, uptight brother, who's proud to have been named the San Fernando Valley's Chiropractor of the Year. And Jake, Alan's 11-year-old son, who's happiest with a juice box in one hand and the TV remote in the other. After a year of living together, the guys have figured out how two and a half men equal one family. Sort of. But there are plenty of hilariously rough spots along the way. And you'll share them all in this 4-disc collection that includes all 24 episodes of the series' smart and sparkling second season.
DVD Features:
Featurette
Gag Reel
---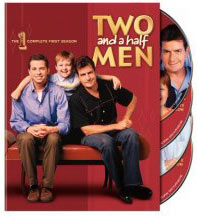 Two and a Half Men - The Complete First Season
Studio:
Warner Home Video
DVD Release Date: September 11, 2007
Product Description:
Charlie Harper is a bachelor in paradise, complete with Malibu beach house, overpaid job and a very active dating life. Then his uptight brother Alan, in the throes of a divorce, moves in - and brings his 10-year-old son Jake with him. Sorry, Charlie. It looks like paradise lost.
This 4-disc set includes all 24 Season-One Episodes of the breezy comedy - the People's Choice Award winner as Favorite New Series - starring Charlie Sheen as Charlie and Jon Cryer as Alan. As the brothers reestablish a sense of family, Charlie also bonds with Jake (Angus T. Jones). Holland Taylor is the guys' domineering mother, Marin Hinkle is Alan's icy ex and Melanie Lynskey is Rose, who thinks one date with Charlie means life-long commitment. Meet the Harper men - two adults, one kid and no grown-ups.
DVD Features:
Featurette / Backstage Tour
Gag Reel