Reviews of the newest DVD collections
of your favorite classic TV shows!
Click on the title to order - huge discounts and free shipping through Amazon.com!
(Ordering TV shows on DVD from the United Kingdom? Click here! )
---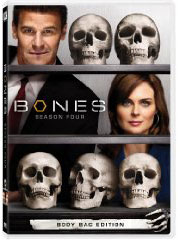 Bones: Season Four
A transitional season
An early episode in the fourth season of the Fox procedural drama "Bones," which was released on DVD several weeks ago, sums up the tone of this season. FBI agent Seeley Booth discusses an upcoming Hawaiian vacation that includes a shark adventure. Whether this formerly much better show, which still had high points, jumped the shark the fourth season is debatable.
The biggest problem with "Bones" is that it has lost most of the uniqueness that distinguished it from the numerous similar shows. I really enjoyed the social awkwardness and/or pop culture illiteracy of forensic anthropologist and best-selling author Doctor Temperance Brennan and her fellow "squints" who analyzed the bones and decaying bodies around which each episode revolved. These traits made these characters interesting and entertaining; I do not recall the last time that a squint said "I don't know what you're talking about" when Booth made a pop culture reference.
The show deserves the biggest "shame on you" for writing Doctor Zac "Zacaroni the King of the Lab" Addy out of the show at the end of the third season. It was bad enough that he was forced to cut his hair and dress more like a grown-up. This adorkably quirky 20-something was one of the best things about the program, and a scene in which he stuns his colleagues by spontaneously belting out a show tune with a Broadway-class voice deserves a place in a list of the best moments on television.
Evaluating the decision to replace Addy with a revolving group of lab assistants played by actors who were unknown at least to me is difficult. On the one hand, these characters who each had their own quirks that included an annoying amount of trivia knowledge and an aversion to any form of personal interaction helped keep things fresh; on the other hand, this prevented connecting with any of them and prompted frustration that the producers did not simply pick one as a permanent replacement.
The other problem with the fourth season is that it continued the shift of the focus of the show from the mysteries to the personal relationship between Booth and Brennan. Beyond the fact that the "will they or won't they" storyline has been done to beyond death, the emphasis on the general attraction that these characters share is not very compelling. There never seems to be any sense that Bones and Booth share a romantic love or even want to do more than discover if a sexual encounter would satisfy them.
This storyline also led to plots that support the theory that the show jumped the shark this season. Examples include a cameo appearance by the character Stewie from the animated "Family Guy" in an episode in which Booth considered donating sperm for artificially inseminating Bones and the season finale episode that I found tedious and disappointing.
On a more positive note, the fourth season included noteworthy episodes. "The Passenger in the Oven" was my personal favorite. This one involved Booth and Brennan having limited resources and racing to solve a murder on their flight to Asia before that flight landed.
The interesting elements of the "Oven" episode included finding a body in the oven in the galley, dealing with a teenage boy who kept sneaking liquor off the drink cart, two older ladies who were fans of Brennan's books getting into the action, and Booth suffering in coach while Brennan enjoyed the luxury of first-class.
The "Oven" episode was great because of its mix of humor; another strong episode, "The Beaver in the Otter," had even more humor.
The victim in "Beaver" was a frat boy who ended up in a costume of the mascot of a rival college that was tortured before burning in a pep rally bonfire. The typically obnoxious frat boys were very amusing, and a scene that involved analyzing the DNA on the boys' sheets was hilarious and revealed that two of the boys enjoyed intimate moments with each other.
The extras included the typical deleted scenes and gag reel and a feature on an androgynous Japanese character who appeared in one episode.
The bottom line is that this set is still a good one for my fellow collectors of the series to own; I recommend that my fellow fans who discovered the show on DVD buy Season One first to get a better sense of this show and see episodes that were nowhere close to the shark tank.
I truly would love to hear the thoughts of other fans regarding the shark issue; my e-mail address is tvdvdguy@gmail.com.
---
TV on DVD Reviews: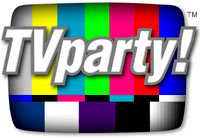 TVparty! for TV Shows on DVD!
Enjoy Obscure 70s Music!
News Regurgitator - Political News Links
Patrick Duffy of Dallas Interview
---
Review by John Stahl

John Stahl is a freelance legal writer who is also a fan of classic and cult television programs. He can be reached at
tvdvdguy@gmail.com
.
---
Product Details
Actors: David Boreanaz, T.J. Thyne, Eric Millegan
Format: AC-3, Box set, Color, Dolby, Dubbed, DVD, Subtitled, Widescreen, NTSC
Language: English
Subtitles: English, French, Spanish
Region: Region 1 (U.S. and Canada only.)
Aspect Ratio: 1.78:1
Number of discs: 6
Rating: Unrated
Studio: Twentieth Century Fox
DVD Release Date: October 6, 2009
Run Time: 964 minutes
I Love Lucy / Lucy Show
Here's Lucy / Life With Lucy
Here's Lucy: Lucille Ball Behind the Scenes
Lucille Ball Specials on DVD Review
PR4 & PR5 Pages for ads - CHEAP!
TELEVISION FOREVER -
TV Shows on DVD Reviews,
DVD releases you might have missed!
Carol Burnett Show on DVD
Television's Greatest - local & national TV kid shows
Actors working in the South / Southern Actors
North Carolina Actors
Southern Actors
---
Everything you're looking for is here:
Shop Amazon's New Kindle Fire
Shop Amazon's New Kindle Fire